Upsuite hosts more than 2,400 verified locations throughout North America, offering our users an extensive selection of great coworking spaces throughout 28 major metropolitan areas. That means thousands of desks, offices, and amenities to choose from for you and your team or small company. However, that much selection can make it difficult to narrow down the right location for your particular needs.
Our map of the best coworking spaces in North America is an easy way to get started on the hunt for your next flexible office environment. In addition, in this article we'll walk you through some of the criteria we've used and we'll provide links to all of our "Best of" lists for your convenience.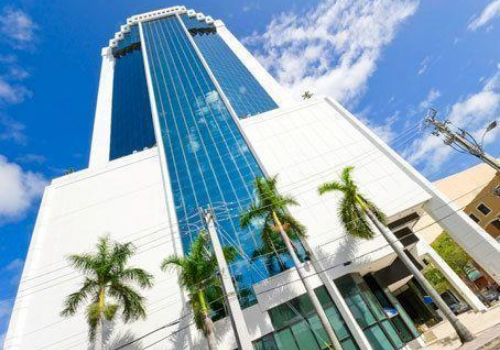 The best coworking spaces in North America by market
We've gone through all of our verified locations to come up with the best ones in each market. We've chosen the ones that stand out in a variety of ways and that offer exactly what you're looking for. Whether you're an entrepreneur, team leader, or a company owner, want a host of amenities or just a quiet place to get more done, we've identified a location that will work for you.
What criteria did we use to determine the best?
How could we begin to break down more than 2,400 coworking spaces into a series of manageable lists for our review of the best coworking spaces in North America? What constitutes "the best" in our view? As always, we took the lead of our members along with our own boots on the ground experiences with these properties.
Member reviews: We know that when it comes to a great coworking space, our members are the true experts. That's why we take their reviews seriously and use them to evaluate the best spaces in each market. Communication allows us to understand what you're looking for so that we can create better recommendations for all of our members.

Interest on our platform: By evaluating the locations that generate interest — either because of their look, their amenities, or their location — we can get a better sense of what you're looking for and what attracts you to a specific location. We can further break down the way individual markets vary, allowing us to better serve our members in those areas.

Teams choosing to locate there: Of course, the ultimate test comes when a team or business owner finds a location through Upsuite, does their research on the platform, then decides to become a member of the space they've identified through us. By looking at the spaces where teams decide to work, we differentiate those that look good on paper from those that actually live up to their own marketing.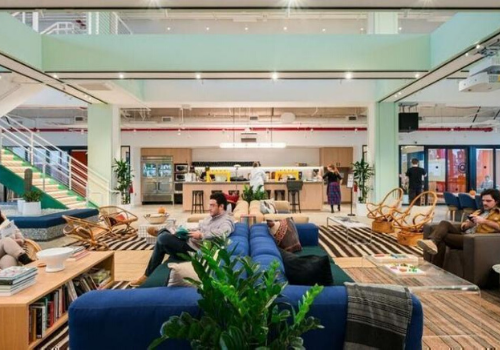 How did we rate the best coworking spaces in North America?
Simply put, we did the research. By evaluating feedback from our users along with real-life site visits, we were able to identify those coworking spaces that truly earned a reputation for excellence. We used a variety of criteria to find out which spaces were located in great areas, which ones added value, and which ones worked for teams and companies of all sizes.
What criteria did we use?
There were two primary types of criteria we used — those spaces that looked and felt great and those spaces that work well for different types of users. In addition, we looked at a variety of amenities to determine what our users are looking for in a truly stellar workspace.
Which coworking spaces have the best feel?
When you're looking at an objective quality like the "feel" of a workspace, you have to define the types of feelings members most desire. Two of the most popular types of feelings in the spaces we chose were Energy and Productivity.
Energy
High energy spaces often featured open-concept spaces, large windows, and a lot of collaborative areas. In addition, they were often located in areas with a bustling commercial district including great dining and nightlife. High energy spaces often featured operators who encouraged professional development and networking, with training, workshops, and social events designed to inspire.
Productivity
Spaces that stood out for productivity often featured more private spaces for individual work and small-group collaboration. In addition, they often had stellar support staff, including hospitality and front-desk services. They also made it possible for members to stay on-task, with in-house features like coffee bars, cafes, and other on-site amenities so that everyone can stay engaged throughout the day.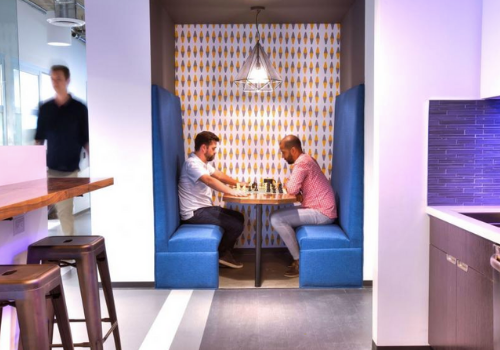 Who is the coworking space best for?
Another way we evaluated space was according to the types of individuals and groups who were best suited for the space. These included professionals, entrepreneurs, small teams, creatives, and corporate employees.
Professionals
Workspaces that work best for professionals are often chosen based on their location. Many are close to central financial districts and to state capitols, judicial buildings, and other government entities. This allows legal teams, CPAs, and other professionals to be right where they want to be and network with the clients and colleagues who make their business run.
Entrepreneurs
Entrepreneurs tend to love workspaces that offer leverage, including support staff and in-house services designed to allow them to host meetings, client pitches, and promotional events. In addition, entrepreneurs often crave the ability to scale up their office space according to their needs and growth trajectory.
Small Teams
Small teams may be working on a specific project or may be working to build a business. They enjoy a variety of spaces depending on their current workload and often seek out spaces with convenient amenities like in-house fitness studios or event spaces. The name of the game for small teams is flexibility and the ability to adapt the space to suit their changing needs.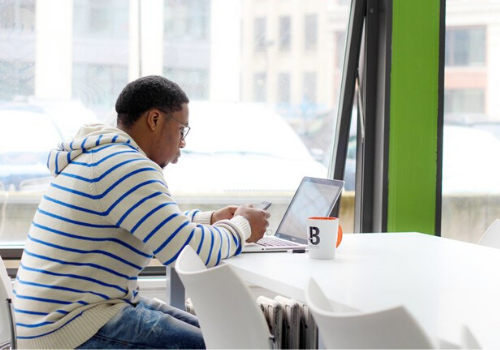 Creatives
Many coworking spaces are focused on creative entrepreneurs and freelance teams, providing both technology and specialty spaces like photography and videography studios, sound booths, podcast studios, and event spaces for exhibits and events.
Corporates
Corporate teams often need additional private office space along with the flexibility to collaborate as needed. Corporate teams are often either working remotely or are looking for collaborative spaces outside of the office for increased security or productivity. Small teams are frequently looking for meeting rooms and high-tech infrastructure, allowing them to get work done while staying in communication with their headquarters or home offices.
What amenities does the coworking space offer and how well do they operate?
For all types of members, amenities matter. Most of the workspaces on our lists provide 24/7 building access and a variety of office sizes and configurations. In busy downtown areas, convenient complimentary parking or close proximity to public transportation is an important feature. In addition, many of the standout spaces on our list include front desk staff and in-house service providers for more convenience.
Some amenities, of course, are more fun, wishlist items. Many coworking spaces offer a variety of freebies, like free coffee, snacks, and even craft beers. Others include outdoor spaces like rooftop decks and open-air collaboration spaces. Many of the better flexible offices include fitness studios featuring showers and dressing rooms. In addition, glamorous event spaces and in-house catering are popular amenities.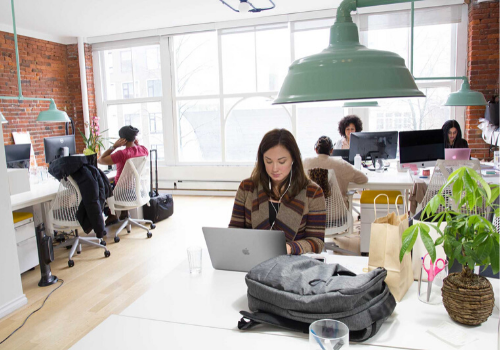 Which operators had the most mentions on the list?
As you might imagine, many of the largest operators had the most mentions on our list based on the sheer number of locations they operate along with the consistently high corporate standards many of them demand. Companies like WeWork, Regus, Novel, Spaces, and Industrious were well-represented throughout the United States, while IQ Offices is a popular brand in Canada's largest markets. 
Who are the highest performing regional operators?
Regionally, the highest performing operators included:
Northeast (Philadelphia, NYC, Boston): Spaces, Convene, WeWork, and Regus

Southeast (Atlanta, Miami, Nashville, Washington DC): WeWork, Regus, Industrious, and Spaces

Midwest (Detroit, Minneapolis, Chicago, Kansas City): WeWork, Regus, and Novel

Southwest (Dallas, Houston, Austin, Phoenix): WeWork, Regus, Industrious

West (Denver, Salt Lake City, Los Angeles, Silicon Valley, San Francisco, San Diego, Portland, Seattle): WeWork, Regus, Industrious, Novel, Spaces

Canada (Calgary, Ottawa, Montreal, Toronto, Vancouver): Regus, WeWork, IQ Offices, and Spaces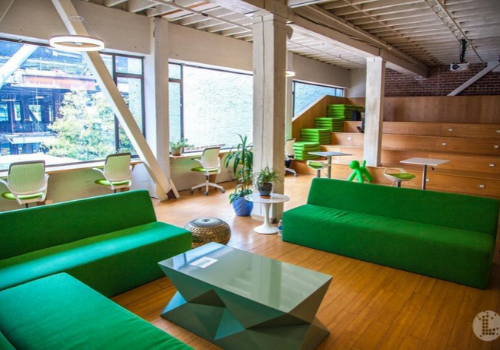 Who are some single location operators of note?
While many of the major brands have a large presence in many markets, the West has many single-location operators. There you'll find San Francisco's EcoSystm and Denver's Alchemy Creative Workspace, both standout spaces for creative teams. In fact, many of the spaces designed for creatives were run by single-location operators. 
In addition, many of the spaces that were considered best for Entrepreneurs and for Productivity were single-location operators. These include Austin's Perch Coworking for entrepreneurs and Silicon Valley's OnePiece Work for productivity.
Find your own best coworking space
Wherever you're looking, we have the best coworking spaces in North America for you and your team or small business. Check out our map of the best spaces in North America, or choose from our list of markets to find the top workspaces for your location.