6 of the Best Coworking Spaces in Boston [2021]
When you are choosing among the available coworking spaces in Boston, there's a lot to consider. Different cultures, space configurations and amenities are all important, not to mention budget and location. When you're building a business or working on a tight timeline, you don't have time to run around town looking at spaces. A Google search won't do either.
What you really need is expert knowledge of Boston's coworking spaces. You need someone who's visited the offices, evaluated their strengths, and put together the information you need so you can make the right decision. That's where we come in. We've got the facts you need to decide which of the many coworking spaces in Boston is right for you and your team.
Your new office in Downtown Boston is such a trophy location, Tom Brady would be jealous. 
Address: South, 10 Post Office Square, Boston, MA 02109
Perks: Located in a spectacular setting close to the waterfront, you'll be proud to host your next client meeting or conference. Located in the Financial District, so you'll be just steps away from the people and places that make your business run. In addition, with some of the city's best dining and shopping just steps away, you're always in the center of the action.
Price: Starting at $299/person
Our business center at 100 Cambridge Street occupies a distinctive high-rise building, formerly known as The Leverett Saltonstall Building.
Address: 100 Cambridge St 14th floor, Boston, MA 02114
Perks: This beautiful space is located close to the government district and is host to a variety of attorneys and state agencies. Here you'll find the setting for all of your most important professional endeavors. Front desk reception ensures that your visitors always receive a warm welcome, while high-tech conference rooms offer added convenience.
Price: Starting at $270/person
Perfectly situated on the corner of State and Kilby, the bustling center of Boston's financial district, Spaces State Street is a high-end collection of designer workspaces.
Address: 75 State St Suite 100, Boston, MA 02109
Perks: Find the right setting for your team's next project with this high-energy spot located in Boston's bustling financial district. Here you'll enjoy a wide array of spaces, from shared desks to private offices to collaborative social spaces. Connected with professionals and creatives and learn as you grow while building your professional network.
Price: Starting at $226/person
Growing the WeWork Boston community to this side of the river, WeWork Mass Ave is Cambridge office space with some serious inspiration.
Address: 625 Massachusetts Ave, Cambridge, MA 02139
Perks: Located between Harvard and MIT, you'll find a setting that makes all of your biggest dreams feel doable. With suites for teams up to 50 strong, you'll be able to grow here as well. This appealing, walkable neighborhood steps away from Central Square Station ensures you can escape the traffic and get to work more easily.
Price: Starting at $1,660/person
A 17,000 sq ft state-of-the-art coworking space, Workbar Downtown stands steps away from many MBTA stations and is surrounded by amenities, including hotels, restaurants, shops and more. 
Address: 24 School St 2nd floor, Boston, MA 02108
Perks: With a convenient location close to some of Boston's most iconic sites, this 17,000 square foot, state-of-the-art facility offers everything you're looking for in a variety of space configurations. Here, you and your team can work your way with your choice of private offices, team suites, and open coworking spaces.
Price: Starting at $2,400/person
We make a difference by providing a mixture of careful program curation and personalized world-class advisory and mentorship.
Address: 55 Court St floor 2, Boston, MA 02108
Perks: Looking for a truly value-added coworking space? This vibrant location in the government district is built for networking and collaboration. A curated program is designed to help you and your team develop new skills and strategies for success. Personalized world-class advisory and mentorship opportunities give you the guidance and support you're looking for every day.
Price: Starting at $295/person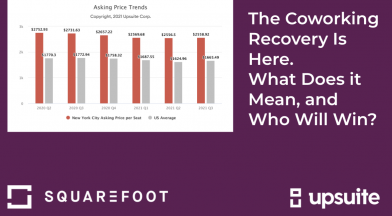 Coworking Trends: The Coworking Recovery Is Here.  What Does it Mean and Who Will Win?…