7 of The Best Coworking Spaces in Salt Lake City [2021]
Coworking spaces in Salt Lake City include a variety of styles and configurations. Each has its own unique culture, style, and list of amenities. In addition, you and your team may be focused on a specific location or you may be working on a tight budget. You may need specialized spaces like high tech training rooms or event spaces for hosting clients and colleagues.
What you need is expert knowledge of the various coworking spaces in Salt Lake City, plus a boots-on-the-ground perspective. That's what we do. We've visited the spaces and looked at your options in various areas in order to find the best coworking spaces for your team or startup.
Just steps from the Trax, our sophisticated workspace has instant access to the best shopping, dining, and entertainment in the city.
Address: 136 S Main St Suite 400, Salt Lake City, UT 84101
Perks:  If you're looking for an all-in-one solution for your team, look no further. With a location just steps from the Trax and a host of amenities on-site, you're able to do it all here. A rooftop terrace offers you the chance to get out for a breath of fresh air. Event space and high-tech conference rooms make this the elegant setting for your next meeting, working lunch, or training.
Price: Starting at $450/person
At the heart of Lehi's technology scene, WeWork's shared office space at Innovation Pointe fuels connection and productivity.
Address: 1633 W Innovation Way 4th floor, Lehi, UT 84043
Perks: Surrounded by the corporate campuses of Microsoft, Adobe, and Oracle, this Lehi coworking space is a light-infused hub for tech teams and startups. Boasting panoramic views of the city and mountains, you'll find inspiration around every corner. Incredible amenities and offices for up to 20 ensure you and your team have everything you need to accomplish more every day.
Price: Starting at $275/person
Located in the heart of the Sugarhouse area, the Sugarhouse Center boasts panoramic views of Sugarhouse Park, the Salt Lake Valley and the Wasatch Mountains.
Address: 2150 S 1300 E Suite 500, Salt Lake City, UT 84106
Perks: Panoramic views of Sugarhouse Park, the Salt Lake Valley, and the Wasatch Mountains make this the beautiful setting for your small team's next project. Close to downtown, Park City, and only 15 minutes from the airport, you'll enjoy the convenience of collaboration with others. High tech conference rooms allow you to meet virtually without ever leaving the comfort of your office.
Price: Starting at $450/person
A force of possibility for Salt Lake City, INDUSTRY SLC will utilize purposeful placemaking to continue in reigniting the Granary District neighborhood.
Address: 650 500 W, Salt Lake City, UT 84101
Perks: This historic space offers beauty, character, and room to grow in the heart of the Granary District. Here you can choose from meeting rooms, open collaborative spaces, and event space, making this the perfect place for all of your team's needs. Dog-friendly and located in one of the area's most vibrant culinary and brewery destinations, you'll love coming here to work and play.
Price: Inquire For Pricing
We are the world's largest network focused on building entrepreneurial communities for impact at scale.
Address: 150 S State St #1, Salt Lake City, UT 84111
Perks: If you're looking for a place to launch your next entrepreneurial endeavor, you'll love this community-oriented workspace. With an emphasis on impact at scale, this group of innovators are dedicated to solving some of the world's most pressing problems. Learn and grow with like-minded professionals in the heart of downtown SLC.
Price: Starting at $80/person
CommonGrounds Salt Lake City location is in a historic treasure, The Orpheum Theater.
Address: 150 S State St #1, Salt Lake City, UT 84111
Perks: You'll feel totally welcome here, with customization options designed to make you and your team right at home. 24/7 support, member wellness programs, and a host of amenities keep you working at maximum capacity. Enterprise-grade technology keeps you at the top of your game and makes everything easier.
Price: Starting at $1,010/person
Established in 2012, Work Hive is a locally owned and operated shared workspace in the heart of the downtown Salt Lake City.
Address: 159 W Broadway Suite 200, Salt Lake City, UT 84101
Perks: Locally owned and operated, this flexible office environment puts an emphasis on flexibility and affordability. That means you and your team will be more productive. This beautiful space offers a host of options including private meeting rooms of various sizes, larger coworking and collaborative spaces, and private phone booths. Enjoy the energy of this downtown location to fuel your team's creativity.
Price: Starting at $150/person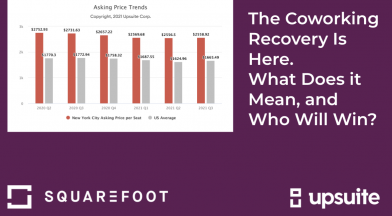 Coworking Trends: The Coworking Recovery Is Here.  What Does it Mean and Who Will Win?…
The average cost per person for a coworking space in 2021 is $374. Find more about coworking space costs.