Qualities of a Coworking Space Owner
What makes for a great building owner? What do the best building owners bring to the table when serving their commercial tenants? How can exceptional ownership offer significant advantages both at the beginning of your tenancy and throughout?
When you're first moving into your space, the best building owners can offer you flexibility and customization options for your new office. This could include branded spaces, enhanced privacy and security, and a streamlined onboarding process to help you settle in.
During your tenancy, a great building owner will ensure that you enjoy regular communication about anything that could affect your building access or workday efficiency. In addition, building owners will consistently maintain and update the building, offering enhanced technology upgrades and promptly addressing any repair or maintenance needs.
If you have signed an office space agreement or commercial lease, the best building owners will communicate with you in a timely manner well in advance of the end of your agreement. You'll be notified of your renewal options or, if your space needs have changed, you'll be able to find out if there are other spaces available that better fit your needs.
Want to know who the best building owners and operators are in your market? Contact us to talk about your space and amenity needs — and find some locations that you'll love — to get started.
Why Use Upsuite?
Largest Selection of Coworking and Private Workspace
No Cost Advisor
Save 90% of Time Looking for Space
Save 15 to 50% on Rent
Upblog: Coworking, Private Workspace, and the Future of Work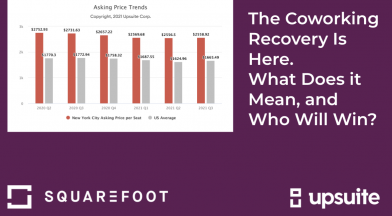 Coworking Trends: The Coworking Recovery Is Here.  What Does it Mean and Who Will Win?…
Thanks for all your help – Upsuite provided very excellent service.
Thanks so much! Straightforward and a pleasure to work with.
Thanks for all you did in helping Techstars secure a facility in Denver. The process was seamless.