6 of the Best Coworking Spaces in Brooklyn [2021]
Brooklyn is among the most exciting and eclectic areas in NYC. Establishing a professional home base in this area means choosing from among the coworking spaces in Brooklyn that are just right for you and your team. What are you looking for? Specialized technology? High-tech meeting rooms? A collaborative approach or private office space for your team? How can you find a location that works for everyone on your team — and how much will you have to pay?
You've got too much to do to spend days or weeks making in-person visits to find your next office space. Upsuite's in-person evaluations provide reliable information on the market, amenities, and services offered by Brooklyn's best coworking spaces. We offer the insights you need to find the Brooklyn coworking space that's right for you — and your team.
Spaces Fort Greene offers a creative working environment in the heart of downtown Brooklyn.
Address: 41 Flatbush Avenue Fort Greene, 1st and 2nd Floor, NY 11217
Perks: Be inspired by this spectacular space located in downtown Brooklyn. Conveniently located near public transportation and all three major airports, so your team can operate on the fly. Offering a variety of office spaces for teams of all sizes with flexible contracts, you're sure to be inspired every time you walk in the door. Make an impression on clients and colleagues in this beautiful Brooklyn flexible office environment.
Price: Starting at $226/person
Our elegant space nestled between the brownstones of Prospect Park incorporates neighborhood charm, innovative design, and full-service amenities to foster a warm and welcoming environment.
Address: 594 Dean St, Brooklyn, NY 11238
Perks: Charmingly nestled between the brownstones of Prospect Park, this light-infused space is sure to keep your whole team energized and inspired. A host of amenities and spaces including high-tech conference rooms, meeting rooms, event spaces, and more, so you can get right down to business no matter what's on the calendar.
Price: Starting at $1,235/person
Regus Dumbo is your way into Brooklyn's innovative business community.
Address: 175 Pearl Street, 1st 2nd & 3rd floor, Dumbo, 11201
Perks: With NYC's highest concentration of tech firms, Dumbo is Brooklyn's leader in tech. You and your team will find an ideal location and spaces designed to make an impression. Enjoy the flexibility you need to meet the demands of every day, along with all of the amenities and service you expect so your team stays productive and energized.
Price: Starting at $540/person
Virtual tours and information sessions are currently taking place at our Dumbo Heights location at 81 Prospect St. 
Address: 1 Dock 72 Way, NY 11205
Perks: Here you'll find a waterfront space designed to inspire, so you can launch all of your best ideas into reality. Private outdoor terraces, a Rise by We wellness center, and a basketball court allow you to escape the confines of business as usual, while the many dining options — both on-site and in neighboring restaurants — provide the fuel for your team's workday.
Price: Starting at $475/person
Conveniently located at the border of Williamsburg and Greenpoint, The Yard's first location opened in 2011 and has served hundreds of businesses, freelancers and creative professionals from Brooklyn and beyond.
Address: 33 Nassau Ave, Brooklyn, NY 11222
Perks: Located at the corner of Williamsburg and Greenpoint so you're immersed in the best of Brooklyn, past, present, and future. Cozy spaces in a variety of configurations, from private offices to collaborative meeting rooms so that you and your team can work your way. Rub elbows with the people who drive Brooklyn innovation — and grow alongside them.
Price: Starting at $300/person
FRIENDS is a Brooklyn-based coworking community and the work home to 35 creatives — designers, filmmakers, writers, illustrators, developers, photographers, and people doing generally awesome (creative) work.
Address: 47 Bergen St floor 3, Brooklyn, NY 11201
Perks: True to its name, this Brooklyn coworking space is designed with community in mind. A hub for creative Brooklyn — including designers, filmmakers, writers, illustrators, developers, photographers, and more —  so you and your team can grow alongside some of the best talents in the country.
Price: Starting at $675/person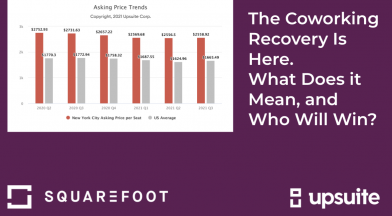 Coworking Trends: The Coworking Recovery Is Here.  What Does it Mean and Who Will Win?…
The average cost per person for a coworking space in 2021 is $544.2. Find more about coworking space costs.