Why Lease Office Space?
Want a long-term office space solution for your team, startup, or small business? You may want to explore the process required to lease office space in your target market.
– What is a leased office space?
Leased office space offers a more long-term solution to your business's space utilization needs. This can help you establish yourself geographically and may provide a greater sense of stability and security for your staff and clients.
– Leased office space benefits and properties
Leased office spaces often include buildout and branding, allowing you to tailor the space to the needs of your business. You'll need to take into account the costs associated with updates, upgrades, and infrastructure changes associated with the transition as well as ongoing maintenance and staffing.
– Different types of leased office space
There are a variety of options available for leased spaces. These may include a traditional office environment only, one with a retail or public-facing space, one with a warehouse or shipping facility, or some combination of all of these. In addition, there are different types of leases, from those covering the space only, with all management, maintenance, utilities, taxes, and insurance paid by the tenant, to those that are all-inclusive and provide flat-fee convenience.
– How do I lease office space?
You may choose to work with a commercial real estate broker to find and negotiate the lease of a commercial space. You may also identify a space and contact the listing agent directly to find out what terms are available for the lease.
– Get expert help
Ready for more information? Contact Upsuite to find out more about commercial leases and leased office space. Know what to expect and determine how to ensure the best possible terms for your commercial real estate lease, then connect with a CRE broker in your market.
Why Use Upsuite?
Largest Selection of Coworking and Private Workspace
No Cost Advisor
Save 90% of Time Looking for Space
Save 15 to 50% on Rent
Upblog: Coworking, Private Workspace, and the Future of Work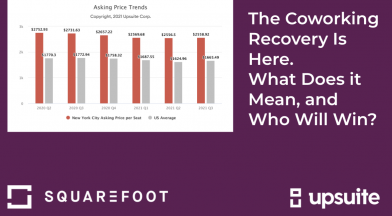 Coworking Trends: The Coworking Recovery Is Here.  What Does it Mean and Who Will Win?…
Thanks for all your help – Upsuite provided very excellent service.
Had a really great experience working with Upsuite! Very professional, fast service – Upsuite helped me find the perfect space within days.
Thanks so much! Straightforward and a pleasure to work with.