WeWork: Guides and Resources
WeWork is almost synonymous with the popularity and growth of flexible office spaces across North America. Founded in 2010 in New York City's SoHo neighborhood, WeWork maintains spaces in hundreds of buildings all over the world. 
Looking for more information about WeWork? Here are some of our posts related to the company so that you can better understand how WeWork works — and the impact it has had on the coworking and flexible office space industry.
[2021] The Largest Coworking Companies: WeWork & Top Competitors
Find out how WeWork has led the growth of coworking and flexible office spaces and which companies are part of the next generation of industry leaders.
What WeWork Can Teach Coworking and Flex Office Operators About Acquiring Customers
Find out what WeWork's early achievements — and subsequent growing pains — can teach coworking and office space operators about their own businesses.
Learn about WeWork's game-changing strategies for the growth and development of the coworking and flexible office industry.
Coworking Space in Chicago is Exploding, Led by WeWork
Find out why this Midwestern metropolis became a hub for growth in the flexible office industry, led by WeWork's portfolio of commercial real estate properties.
Growth in the Coworking Movement is Much More Massive: Why WeWork is Only Part of the Story
The coworking movement has created a sea change in the way we do business. Find out how WeWork and other commercial property pioneers have created this shift.
Want to know more about WeWork and other industry-leading office space operators? Contact us to find out what leading space providers are conveniently close to you and learn more about how we can help you identify your ideal office space.
Why Use Upsuite?
Largest Selection of Coworking and Private Workspace
No Cost Advisor
Save 90% of Time Looking for Space
Save 15 to 50% on Rent
Upblog: Coworking, Private Workspace, and the Future of Work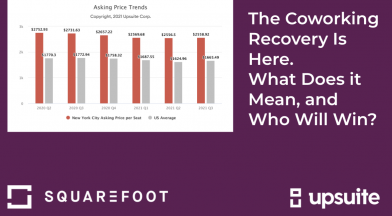 Coworking Trends: The Coworking Recovery Is Here.  What Does it Mean and Who Will Win?…
Thanks for all your help – Upsuite provided very excellent service.
Had a really great experience working with Upsuite! Very professional, fast service – Upsuite helped me find the perfect space within days.
Thanks for all you did in helping Techstars secure a facility in Denver. The process was seamless.