10 of the Best Coworking Spaces in Manhattan [2021]
One of the most storied cities in the United States, Manhattan is the heart of NYC excitement and resiliency. Here you'll find every possible industry, amenity, and professional opportunity for you and your team, and dozens of operators that are working hard to provide clean, healthy spaces for you to occupy. That means you need a professional home that is as glamorous and exciting as the Big Apple itself. You need Manhattan coworking space designed so you can create and collaborate, with high-tech conferencing capabilities, and event space. Of course, budget is a consideration, especially when space is at a premium.
Why waste time and effort looking all over town for your next office space? With on-site evaluations and information on the market, services, and features you want, Upsuite offers you the facts you need to make better decisions. Find the right Manhattan coworking space for you and your team with our expert insights.
Spaces Hudson Yards is a designer workspace located in the heart of Manhattan's thriving and energetic West Side.
Address: Floors 7 – 9, 424 W 33rd St, Boulder, CO 80305
Perks: This exclusive West Side location features everything you and your team need, and more than you expect. Here you'll find close proximity to one of the most bustling sections of Manhattan, so you're in the center of it all. What's more, you'll have the privacy you need to get more done. A variety of colorful and creative spaces lend themselves to collaboration or singular focus — the choice is yours.
Price: Starting at $226/person
We believe that a modern workplace should offer more.
Address: 530 5th Ave, New York, NY 10036
Perks: Conveniently located between Bryant Park and Grand Central, this upgraded space offers a variety of spaces, from single desks to meeting and conference rooms and event spaces. A five-star culinary program in-house means you can play host for everything from team lunches to grand events for clients and colleagues.
Price: Starting at $700/person
CitySpire is situated just minutes from Central Park, allowing seamless access to the greenspace as well as numerous food, beverage and transportation options.
Address: 156 W 56th St CitySpire, 3rd Floor, New York, NY 10019
Perks: With close proximity to Central Park, you'll find plenty of inspiration in this gorgeous and luxurious flexible office space. This Midtown location offers you the best of everything, including free snacks, in-house staffing and services. You'll also find conference rooms with advanced tech infrastructure. With event space in-house, you'll have room for anything you can dream up.
Price: Starting at $700/person
Overlooking the Vessel art installation, our unparalleled office space at Hudson Yards is the ultimate workplace destination. 
Address: 31 Hudson Yards 11th Floor, Boulder, CO 80305
Perks: Come on in and feel right at home at this high-end Manhattan coworking space. Free beer and free snacks offer you the opportunity to host informal gatherings, while event space allows you to plan more upscale soirees. Bike storage and a convenient location mean you're the hub for all of the meetings, conferences, and collaborations you've got planned, plus front desk reception to greet your guests.
Price: Starting at $1,645/person
Workville is NYC's best coworking space, offering multiple size private offices and open workspaces in midtown Manhattan.
Address: 1412 Broadway 21st Floor, New York, NY 10018
Perks: Imagine a location just steps from Times Square, Penn Station, Grand Central, and all major NYC subways. Think it's just a dream? Make home base for your startup light bright space featuring a variety of collaborative and private workspaces. Challenges occur around the clock, so with 24/7 access you and your team are always ready to respond.
Price: Starting at $350/person
Just North of Madison Square Park on the corner of 31st and Madison Ave, near the iconic Flatiron Building, Blender is conveniently located to some of the best the City has to offer.
Address: 135 Madison Ave floor 8, New York, NY 10016
Perks: Located near the iconic Flatiron Building, you'll find luxurious appointments and high-end finishes in this stunning space. Front desk reception ensures your guests are always welcome, and event space allows you to host on an even grander scale. Every day in this beautiful space is a pleasure, so you and your team can be even more productive.
Price: Starting at $395/person
Located at 157 East 86th Street, The Commons is a coworking space just steps from the 4-5-6 and Q subways and right in the heart of New York's Upper East Side.
Address: 157 East 86th St #5F, New York, NY 10128
Perks: Located in the heart of the UES, you'll find a variety of workspaces here to meet the needs of your small business. Looking for private offices, collaborative spaces, or short-term spaces for visiting colleagues and team members? You'll find it all here. Friendly reception and a variety of meeting rooms come standard, so that your small business has the perfect setting for whatever comes next.
Price: Starting at $395/person
A penthouse escape, our first-born space is cozy, bright, and home to one of Manhattan's best roof decks, if we do say so ourselves.
Address: 45 E 20th St, New York, NY 10003
Perks: Looking for a more beautiful setting for writing your professional story? This gorgeous space is a penthouse escape, with an emphasis on fueling a community of women. Be more inspired when you gather your team here. Take advantage of a host of unique perks and programming geared toward the unique needs and desires of professional women.
Price: Starting at $150/person
The latest addition to Bryant Park Coworking Office Space and Workspaces, and steps from Bryant Park, this location provides a collaborative work environment for small businesses to thrive.
Address: 510 5th Ave, New York, NY 10036
Perks: This iconic, award-winning Fifth Avenue location is the setting for your team's next big idea. Located just steps from the park amid the hustle and bustle of Midtown, you'll enjoy a variety of space configurations so that you and your team or small business can work together in comfort. Incredible on-site amenities like an art gallery, a wellness program, and a variety of neighborhood discounts and perks ensure that everyone is happier and more productive.
Price: Starting at $420/person
Located in the heart of the financial district, TKO Suite's beautiful, and newly built office space provides flexible rental options that aren't short in quality. 
Address: 42 Broadway, 12th Floor
Perks: More than a conventional office space, TKO Suites – 42 Broadway provides affordable, customizable, and ready-to-work office spaces so that you can focus on growing your business. They offer a variety of lease options, allowing you to rent on an hourly, daily, or monthly basis. TKO Suites aims to provide you with unparalleled flexibility and affordability in one of the most expensive real estate markets. The management understands your business is unique and will work with you to customize your office space to your exact needs. To top it all off, no need to worry about paper-thin walls or noisy neighbors at this location. Their suites optimize privacy, peace, and quiet for top productivity. If you're looking for a productive and professional work environment, check out TKO Suites – 42 Broadway in Manhattan's FiDi.
Price: Starting at $650/person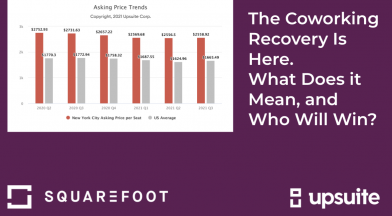 Coworking Trends: The Coworking Recovery Is Here.  What Does it Mean and Who Will Win?…
The average cost per person for a coworking space in 2021 is $584.3. Find more about coworking space costs.