6 of the Best Coworking Spaces in Vancouver [2021]
Finding a new coworking space in Atlanta may have you thinking through how you and your team work best. Maybe you're a collaborative group looking for plenty of space to spread out. Maybe you need advanced high tech infrastructure not found in most coworking spaces. Perhaps budget is the most important item on your list. Maybe location outweighs everything. 
With a variety of styles, layouts, and amenities, choosing the right coworking space in Vancouver is all about determining what works for your team. Are you focused on a specific neighborhood or proximity to transportation? Maybe budget is your biggest concern. On the other hand, your work may have you playing host to clients or planning events. Whatever your requirements, it's important to find the right space with the options you're looking for.
Don't leave your coworking space search to chance. Draw on the knowledge and experience of your Upsuite team to find your team's next Vancouver coworking space. We've visited the spaces and looked at all of the options. Then, we created a list of the best coworking and flexible office spaces in Vancouver. Find the one that's perfectly suited for your needs.
Marking WeWork's introduction to the city of Vancouver, WeWork Burrard Station spans five floors of a building that's truly a lifestyle hub.
Address: 595 Burrard St, Vancouver, BC V7X 1L4, Canada
Perks: You and your team can draw on the energy you'll find in this Burrard Station location featuring retail and fitness options as well as world-class dining. Proximity to the Burrard Street SkyTrain Station, convenient bus service, and outstanding walkability mean that you're always connected, energetic, and inspired.
Here you'll find an emphasis on ergonomics and comfort so that you can get down to work and keep moving forward. Natural light, sound minimizing tech, and high quality furnishings keep you on task. Built-in tech upgrades and unlimited scanning, printing, and copying helps you do more — and do it affordably.
Price: Starting at $495/person
We provide a comfortable, inspiring, and affordable space for individuals and small businesses to realize their unique projects and connect with a community of like-minded, forward thinking creators.
Address: 997 Seymour St #250, Vancouver, BC V6B 3M1, Canada
Perks: VanCubers is a division of MobiBlossom Solutions Inc.  A local software development start up company.  Vancouver's office rental prices are absolutely crazy, we can see why it is difficult to start a business and cover all the expenses.  We understand that frustration.  Our goal at VanCubers is to provide a class A co-working space as a greatly reduced price.
Price: Starting at $350/person
The remarkable, award-winning MNP Tower at 1021 West Hastings Street is home to professional, modern office space in our Regus Business center. 
Address: MNP, 1021 W Hastings St Tower, 9th Floor, Vancouver, BC V6E 0C3, Canada
Perks: Boasting bright, professional space and an iconic waterfront location, Regus MNP Tower puts you right in the heart of the action. It's close to Vancouver's best hotels, shopping, dining, and event spaces, so you'll enjoy exceptional flexibility and proximity to the best of the city.
Price: Starting at $1,220/person
Mixed development locations are incredibly well-suited to modern professionals. 
Address: 301- 3450 Uptown Blvd Suites 301, 305 and 307, Victoria, BC V8Z 0B9, Canada
Perks: Enjoy the inspiration you'll find in this bright, beautiful space located in an amenity-rich mixed-use development. Offering a variety of spaces and services, plus a vibrant neighborhood with nearby greenspaces, you'll experience unparalleled convenience every day.
Price: Starting at $272/person
We provide a comfortable, inspiring, and affordable space for individuals and small businesses to realize their unique projects and connect with a community of likeminded, forward thinking creators.
Address: 319 W Hastings St #400, Vancouver, BC V6B 1H6, Canada
Perks: This Gastown coworking space is sure to inspire you and your creative team. Most of the members here are in design, marketing, PR, ecommerce, animation, UX, writing, content creation and innovative tech, so you'll easily find your tribe. Heritage building close to the best shopping, dining, and fitness options makes every day beautiful.
Price: Starting at $195/person
A jewel of Vancouver coworking and office space rentals, iQ Offices – 1055 West Georgia St occupies the entire 21st & 24th floors of the famed Royal Centre at the corner of West Georgia and Burrard Streets, with direct underground access to Burrard SkyTrain Station and retail amenities.
Address: 1055 West Georgia St
Perks: This stunning location offers a variety of workspaces for your every need. Whether you are looking for a private office, meeting room, virtual office or an on-demand office, iQ Offices has you covered. Get inspired by the 360-degree Vancouver skyline views, unwind with a professional massage, or network with like-minded entrepreneurs at happy hour. This workspace is beautifully designed to spark creativity and be supremely functional. iQ Offices features an on-site administrative team to support your every need, so that you can focus on growing your business. Head on over to iQ Offices at 1055 West Georgia St, to experience the Vancouver jewel yourself
Price: Starting at $1,200/person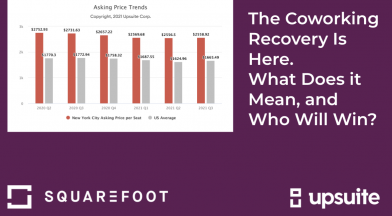 Coworking Trends: The Coworking Recovery Is Here.  What Does it Mean and Who Will Win?…