5 of the Best Coworking Spaces in Atlanta [2021]
Finding a new coworking space in Atlanta may have you thinking through how you and your team work best. Maybe you're a collaborative group looking for plenty of space to spread out. Maybe you need advanced high tech infrastructure not found in most coworking spaces. Perhaps budget is the most important item on your list. Maybe location outweighs everything. 
How will you choose between an online search and a time-consuming site visit to each Atlanta coworking space in your area? Thanks to Upsuite, you don't have to choose. We visit coworking spaces throughout the metro Atlanta area, providing an insightful and meaningful analysis that will help you find the right home for your team or startup.
The Regus Proscenium office space in is located in the cosmopolitan district of Midtown
Address: 1170 Peachtree Street, Suite 1200 Atlanta, GA 30309
Perks: Close to both Georgia Tech and Piedmont Park, your clients and colleagues will be wowed by the welcome they receive at this Midtown office space. Take advantage of the cowork space's many amenities including an on-site gym, cafe, drop-in business lounge, and coffee bar. This will be everyone's first choice for your next meeting, or for a collaborative event.
Price: Starting at $270/person
Located alongside two of Atlanta's most iconic shopping destinations, the LEED Gold Certified Alliance Center makes a stunning home for your next meeting with clients or colleagues. 
Address: 3 Alliance Center, 3550 Lenox Road NE, 21st Floor Atlanta, GA 30326
Perks: This secure conference space offers state-of-the-art technology, privacy glass, enterprise-grade WiFi and enterprise-compliant network infrastructure to fuel your most ambitious events.
Price: Starting at $399/person
Coworking space in the Old Fourth Ward, with direct access to the BeltLine.
Address: 8500 & NE223, 675 Ponce De Leon Ave NE Suite 7500, Atlanta, GA 30308
Perks: You and your team will be located in one of the city's most desirable spots. Premium amenities, including office supplies, color printing, breakfast and snacks, and a friendly and professional on-site staff ensures that all of your needs are met before you even think to ask.
Price: Starting at $500/person
Amenity-filled workspace located in Atlanta's live/work/play community of The Battery at SunTrust Park, home of the Braves.
Address: 800 Battery Avenue Southeast The Battery, Suite 100, Atlanta, GA 30339
Perks: Find excitement, energy, and an iconic location in the heart of one of the city's most thrilling professional, entertainment, and retail environments. Spaces – The Battery offers you the opportunity to work with some of the region's most accomplished professionals. Here you'll be inspired not only by the setting, but also by the wide range of amenities and space options.
Price: Starting at $226/person
Hospitality is what Atlanta is best known for, and this stunning workspace delivers on that warm welcome.
Address: 3344 Peachtree Rd NE Suite 800, Atlanta, GA 30326
Perks: Here you'll experience a sanctuary designed with your comfort and convenience in mind. With a variety of workspace options, high-tech conference space, a curated reception area, and more, plus access to The Buckhead Club with access to event, entertaining, and collaboration space, you and your team are limited only by your imaginations.
Price: Starting at $750/person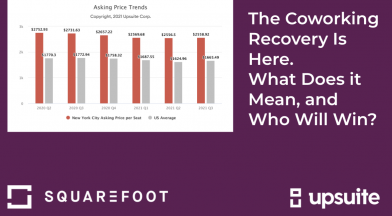 Coworking Trends: The Coworking Recovery Is Here.  What Does it Mean and Who Will Win?…
The average cost per person for a coworking space in 2021 is $311.6. Find more about coworking space costs.