5 of the Best Coworking Spaces in Minneapolis [2021]
Choosing the right coworking space in Minneapolis requires balancing a number of different priorities. Maybe you're focusing on a particular location with access to the clients, colleagues, and industries that drive your business. Maybe you're more price-sensitive, looking for style, function, and rates that are right for your budget.
If coworking in Minneapolis is the right move for you, you need to draw on Upsuite's market expertise when making your decision. With boots-on-the-ground knowledge and experience in the Minneapolis marketplace, we bring you this list of the best shared office space in Minneapolis, no matter what size your team or company.
Located Uptown near Calhoun Square, you'll find the best design and amenities in this stunning space. Do you need private office space, informal meeting space, or conference rooms — or a combination of all three? You'll find it in this convenient location. Outdoor space, an on-site fitness studio, great local shopping and dining and easy access — it's all here for you and your team. 
Enjoy an historic building, prime location, and unparalleled connectivity in this Downtown West coworking space. Part of the Minneapolis Skyway System, you'll enjoy on-site parking, a short walk to public transportation, and proximity to the best of the business district. Just two blocks from Target Plaza, you'll find everything you're looking for, from office space to event space. 
Situated in the fastest-growing neighborhood in Minneapolis with easy access to both the Warehouse and Gateway Districts, Spaces allows the energy of the city to fuel your team's endeavors. Whether you need breakout spaces for private work or prefer a more collaborative approach, there's plenty of flexibility here to suit your team's style. 
If a prime Minneapolis location is at the top of your list, you'll love Industrious's North Loop shared office space. Forget crowded roads and parking frustration. This convenient location offers walkability and easy access to Minneapolis's public transportation options. Designed for teams of all shapes, sizes, and styles, you're sure to enjoy all of the benefits of Minneapolis coworking here.
Get more done when you work in this downtown location offering Skyway access to the best of Minneapolis business, government, and hospitality. Here you'll find in-house services to simplify your day and more ways to connect with the clients and colleagues that keep your business running smoothly. That will make every day, and every member of the team, more effective.
Are you ready to start your search for coworking space in Minneapolis? We're here to help, whether you are:
Upsuite can provide the options you need, along with pricing, availability, reliable reviews and more. Contact us today to get started!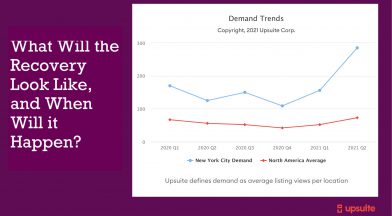 Coworking Trends: What Will the Recovery In the Coworking and Flexible Office Markets Look Like,…
The average cost per person for a coworking space in 2021 is $504.9. Find more about coworking space costs.