8 of the Best Coworking Spaces in Phoenix [2021]
Choosing among the many great coworking spaces in Phoenix requires you to choose among your own priorities. Are you more concerned with finding the right location for your team? Perhaps you're interested in the overall energy and opportunities for collaboration. Do you host events for clients or colleagues? If so, event space may be a must-have. And, of course, for many teams, budget is a primary concern.
Whatever is most important to you, you need expert insight into Phoenix flexible office environments — something you just won't get from a Google search. That's why we conduct in-person site visits and analyze amenities, accommodations, location, and more. That allows us to tell you about the best coworking spaces in Phoenix for you and your team.
Located in the heart of Midtown on the Central Corridor, this Expansive location features 9th and 10th floor private offices with floor-to-ceiling city views, as well as coworking memberships and office suites for teams of up to 100.
Address: 2828 N Central Ave, Phoenix, AZ 85004
Perks: If fabulous spaces and top-flight amenities are on your wishlist, look no further. This stunning space includes office space for teams up to 100. In addition, you'll find event space, an espresso bar, and local beer on tap. That means you can host everything from a working lunch to an after-work happy hour or a client appreciation event onsite.
Price: Starting at $235/person
Galvanize Phoenix is located in the number two metro region for software jobs in the country and offers coding bootcamps and coworking space. 
Address: 515 E Grant St, Phoenix, AZ 85004
Perks: The best way to grow your business is through connecting with like-minded professionals. This Phoenix coworking space is designed to supercharge your growth, with amenities, spaces, and events to help you make the most of every day. Here you'll find an emphasis on tech and a variety of educational and networking opportunities so your team is more productive.
Price: Starting at $250/person
The business center is located in the midtown area, with the neighboring Willow historic home district, light rail flowing through the heart of the district, and museums enriching its visitors, has slowly become the new hub for entrepreneurs, banks, law offices, communication companies and more.
Address: CenturyLink Tower, 20 E Thomas Rd Suite 2200, Phoenix, AZ 85012
Perks: Located in the heart of midtown but with views of the Camelback and Squaw Peak Mountains, you'll find everyday inspiration is this coworking space high above Phoenix. With office suites designed for a variety of team sizes and meeting rooms for collaboration, you can work the way you like. Front desk reception can greet your guests while mail and package handling allow you to work uninterrupted.
Price: Starting at $210/person
Remodeled and returned to its original use in 2002, First Studio is home to several of the Valley's most creative entrepreneurs.
Address: 631 N 1st Ave, Phoenix, AZ 85003
Perks: You'll love the vibe in this fun downtown space, but what you'll love even more is the on-site studio. Help your creative team achieve their vision with a specialty space designed for photo and video shoots. High tech conference rooms, meeting rooms, and event space offers you the opportunity to host events of any size — the choice is always yours.
Price: Inquire for Pricing
Our Executive Office solutions are the perfect choice for startups, small business owners, and individuals who have outgrown their home offices like lawyers, CPA's or whomever else needs a professional setting to conduct their business.
Address: 67 E Weldon Ave, Phoenix, AZ 85012
Perks: If you're looking for a sophisticated professional space for your firm, you'll find it here. With executive offices, virtual offices, and meeting rooms, you can work your way 24/7. Meeting rooms and high-tech conference rooms, plus exceptional amenities allow you and your entire team to achieve more.
Price: Starting at $1,100/person
The Grid.Works is a beautifully designed co-working space that provides a professional atmosphere for highly motivated individuals.
Address: 5227 North 7th Street Phoenix, AZ 85014
Perks: Plenty of light, bright space and a fabulous location make this the coworking space for keeping your team inspired and motivated. Take your team out for a working lunch or have your next meeting catered from some of the best restaurants in Phoenix. This elegant location will be the setting for your team's best times and brightest ideas.
Price: Starting at $130/person
Located in Tempe, 10 minutes from Phoenix Sky Harbor International Airport, and 15 minutes from Arizona State University, the MAC6 Entrepreneurial Center offers 150,000 square feet of space.
Address: 1430 W Broadway Rd, Tempe, AZ 85282
Perks: Speaking of bright, you'll love this vibrant flexible office environment — and its exceptional location. Set ten minutes from the airport and 15 minutes from ASU, you'll find 150,000 sq ft of space with office suites, collaborative environments, and a unique light co-manufacturing space. What an amazing place to accomplish anything you set your mind to.
Price: Starting at $129/person
Founded in 2010 in downtown Phoenix by Jenny Poon and Odeen Domingo in response to the economic recession and a need for a central innovation hub for emerging entrepreneurs.
Address: 221 E Indianola Ave, Phoenix, AZ 85012
Perks: With an emphasis on inclusiveness and innovation, this well-known space has become the hub for more than 280 solopreneurs, small businesses, and startups. Designed to nurture your small business's needs throughout each phase of your growth, you'll find the spaces and infrastructure you need here, along with a team devoted to your development.
Price: Starting at $99/person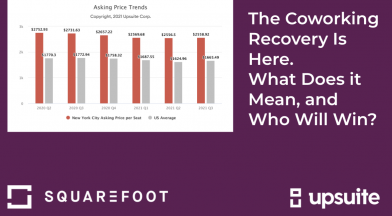 Coworking Trends: The Coworking Recovery Is Here.  What Does it Mean and Who Will Win?…
The average cost per person for a coworking space in 2021 is $311.6. Find more about coworking space costs.