8 of the Best Coworking Spaces in Phoenix [2021]
Choosing among the many great coworking spaces in Phoenix requires you to choose among your own priorities. Are you more concerned with finding the right location for your team? Perhaps you're interested in the overall energy and opportunities for collaboration. Do you host events for clients or colleagues? If so, event space may be a must-have. And, of course, for many teams, budget is a primary concern.
Whatever is most important to you, you need expert insight into Phoenix flexible office environments — something you just won't get from a Google search. That's why we conduct in-person site visits and analyze amenities, accommodations, location, and more. That allows us to tell you about the best coworking spaces in Phoenix for you and your team.
If fabulous spaces and top-flight amenities are on your wishlist, look no further. This stunning space includes office space for teams up to 100. In addition, you'll find event space, an espresso bar, and local beer on tap. That means you can host everything from a working lunch to an after-work happy hour or a client appreciation event onsite.
The best way to grow your business is through connecting with like-minded professionals. This Phoenix coworking space is designed to supercharge your growth, with amenities, spaces, and events to help you make the most of every day. Here you'll find an emphasis on tech and a variety of educational and networking opportunities so your team is more productive.
Located in the heart of midtown but with views of the Camelback and Squaw Peak Mountains, you'll find everyday inspiration is this coworking space high above Phoenix. With office suites designed for a variety of team sizes and meeting rooms for collaboration, you can work the way you like. Front desk reception can greet your guests while mail and package handling allow you to work uninterrupted.
You'll love the vibe in this fun downtown space, but what you'll love even more is the on-site studio. Help your creative team achieve their vision with a specialty space designed for photo and video shoots. High tech conference rooms, meeting rooms, and event space offers you the opportunity to host events of any size — the choice is always yours.
If you're looking for a sophisticated professional space for your firm, you'll find it here. With executive offices, virtual offices, and meeting rooms, you can work your way 24/7. Meeting rooms and high-tech conference rooms, plus exceptional amenities allow you and your entire team to achieve more.
With an emphasis on inclusiveness and innovation, this well-known space has become the hub for more than 280 solopreneurs, small businesses, and startups. Designed to nurture your small business's needs throughout each phase of your growth, you'll find the spaces and infrastructure you need here, along with a team devoted to your development.
Plenty of light, bright space and a fabulous location make this the coworking space for keeping your team inspired and motivated. Take your team out for a working lunch or have your next meeting catered from some of the best restaurants in Phoenix. This elegant location will be the setting for your team's best times and brightest ideas.
Speaking of bright, you'll love this vibrant flexible office environment — and its exceptional location. Set ten minutes from the airport and 15 minutes from ASU, you'll find 150,000 sq ft of space with office suites, collaborative environments, and a unique light co-manufacturing space. What an amazing place to accomplish anything you set your mind to.
Choosing among the various coworking spaces in Phoenix doesn't have to be hard. You'll find the insights you need, including pricing, location, and availability, to help you make a better choice.
Are you a coworking operator in Phoenix who's looking for more member teams to fill your space? List with Upsuite and find the people and teams who are looking for you.
Are you a Phoenix CRE broker? You'll do more business when you become an Upsuite Broker Partner.
Your new Phoenix coworking space is out there — and finding it is easier than you think. Contact us to get started.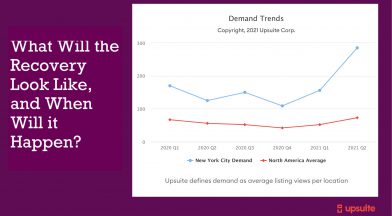 Coworking Trends: What Will the Recovery In the Coworking and Flexible Office Markets Look Like,…
The average cost per person for a coworking space in 2021 is $311.6. Find more about coworking space costs.