Covid-19 Resources
Throughout the COVID-19 pandemic, Upsuite has offered resources designed to help business owners, team members, and stakeholders at every step of the office space decision-making process. From insight to resources to the latest options and opportunities, we've been here to help you make better and more informed decisions.
Here are just a few of the articles you can review to get up to speed on the current thinking around commercial spaces — and to find out what's still on the horizon.
What will the recovery in the coworking and flexible office markets look like and when will it happen?
Learn from Upsuite's Flex Office Pro Coworking Trends and Insights Platform data, and determine how coworking will be leading the future of work during and after the COVID-19 recovery.
Resources for your coronavirus office policy
If you are in charge of developing your company or team response to the challenges of the Coronavirus, this guide is designed to help you make better predictions based on standards and guidance from the World Health Organization (WHO) and Centers for Disease Control (CDC).
Why Use Upsuite?
Largest Selection of Coworking and Private Workspace
No Cost Advisor
Save 90% of Time Looking for Space
Save 15 to 50% on Rent
Upblog: Coworking, Private Workspace, and the Future of Work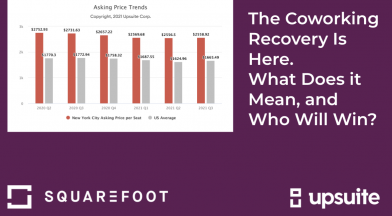 Coworking Trends: The Coworking Recovery Is Here.  What Does it Mean and Who Will Win?…
Thanks for all your help – Upsuite provided very excellent service.
Had a really great experience working with Upsuite! Very professional, fast service – Upsuite helped me find the perfect space within days.
Thanks for all you did in helping Techstars secure a facility in Denver. The process was seamless.