8 of the Best Coworking Spaces in Hollywood [2021]
Finding the right space for coworking in Hollywood means putting together a list of your priorities. Do you and your team need specialized spaces or upgraded technology? Do you need collaborative spaces or private offices? Will you be meeting with clients? Hosting events? What location is most convenient for everyone? How much is your budget?
A Google search is just not enough to determine whether or not you'll be happy with your coworking space. Therefore, Upsuite makes site visits and puts together the information you need so you can better evaluate the market, amenities, and services you're looking for. That way, you know that the space you find for coworking in Hollywood will be the right one for everyone on your team.
Fall in love with this elegant workspace in the heart of Beverly Hills.
Address: 407 N Maple Dr, Beverly Hills, CA 90210
Perks: With a 40-person screening room, a recording studio, and a production room, this is the space that Hollywood dreams are made of. An array of luxe amenities ensure that you never need to look elsewhere for meetings, client pitches, or special events. Exceptional design and an iconic location — so what's not to love?
Price: Starting at $400/person
From its prime Wilshire Boulevard frontage to its renovated marble-lined walled lobby, the 27-story building is every inch a landmark.
Address: 5670 Wilshire Blvd #1800, Los Angeles, CA 90036
Perks: From its prime Wilshire Boulevard location to its spectacular interior design, you'll love working in this beautiful landmark office space. Make a terrific first impression on clients and colleagues, hold memorable meetings and conferences, or make your next training event truly special. Offering a variety of suite sizes, you and your team have room to grow.
Price: Starting at $480/person
IgnitedSpaces builds innovative, customized environments for your business or event by serving as responsive, committed partners determined to service your unique needs with the utmost hospitality.
Address: 7080 Hollywood Blvd Suite 1100, Los Angeles, CA 90028
Perks: Forget cookie cutter workspaces. Here you'll enjoy the opportunity to customize the setting for your specific needs. Feel inspired by some of the most iconic landmarks in Hollywood so you can create your own piece of Tinseltown history. Penthouse spaces, private offices, event spaces and more ensure you can do it all right here.
Price: Starting at $200/person
At Rita House, we are focused on bringing together the most creative, determined and innovative minds of all generations to inspire conversation and collaboration among our members.
Address: 5971 W 3rd St, Los Angeles, CA 90036
Perks: You'll be inspired by the history you'll find all around you in this eclectic workspace. A former Hollywood prop house, costume house, and even a violin factory, you'll enjoy the opportunity to work alongside some of the most talented and creative minds in the business. In-house services, event space, and amenities ensure you have the tools to bring your best ideas to life.
Price: Starting at $250/person
Whether you need a quiet desk for one, a permanent office for your team, or a space at our communal desks, membership at NeueHouse is designed to meet your working needs.
Address: 6121 Sunset Blvd, Los Angeles, CA 90028
Perks: Find the spectacular setting for your professional life, with a host of ways for you to connect with your colleagues and teammates. Enjoy a variety of space configurations, including everything from small group settings to large meeting spaces and high-tech conference rooms. Here you'll find flexible, short-term options, so your space works however you want it to.
Price: Starting at $595/person
Located in the heart of Los Angeles, our Koreatown space is where dreamers can share, gather, associate, evolve, focus, make commitments, accomplish their dreams, and become doers
Address: 3435 Wilshire Blvd 14th floor, Los Angeles, CA 90010
Perks: This spectacular Koreatown space offers you a picture-perfect setting for events of any size. When you're hosting clients, training events, conferences, or meetings, you'll find customizable spaces dedicated to your success. Host everything from holiday parties to pop-up promotional events — and all set against an iconic Hollywood backdrop.
Price: Starting at $300/person
Between its panoramic views of the city, elegant interiors, and best-in-class amenities, you've never seen a workspace like this.
Address: 9255 Sunset Blvd Suite 1100, West Hollywood, CA 90069
Perks: Located in the heart of one of the area's most iconic neighborhoods, you'll find both a prestigious Sunset Boulevard address and incredible views of LA. Here you'll find exceptional amenities and high-tech infrastructure that allows you to accomplish everything on your to-do list. You'll also enjoy a host of in-house support services and proximity to the area's best shopping, dining, and entertainment venues.
Price: Starting at $580/person
Create a unique identity in the heart of Los Angeles with Spaces in West Hollywood. 
Address: 145 South Fairfax Avenue Beverly Grove Suite 200 and 300, Los Angeles, CA 90036
Perks: The emphasis here is on light, bright open space that makes your team more productive and motivated. Here you'll find plenty of open interior space plus an outdoor patio for al fresco meetings and conversations. In addition, you'll find team suites and private offices with glass walls so that you can bring the outdoors in. Now add exceptional amenities, services, and tech features and you'll find that everything is brighter here.
Price: Starting at $226/person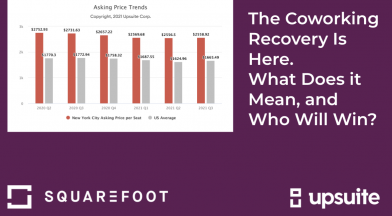 Coworking Trends: The Coworking Recovery Is Here.  What Does it Mean and Who Will Win?…
The average cost per person for a coworking space in 2021 is $494.16. Find more about coworking space costs.