Top 8 Best Coworking Spaces in Hollywood
Finding the right space for coworking in Hollywood means putting together a list of your priorities. Do you and your team need specialized spaces or upgraded technology? Do you need collaborative spaces or private offices? Will you be meeting with clients? Hosting events? What location is most convenient for everyone? How much is your budget?
A Google search is just not enough to determine whether or not you'll be happy with your coworking space. Therefore, Upsuite makes site visits and puts together the information you need so you can better evaluate the market, amenities, and services you're looking for. That way, you know that the space you find for coworking in Hollywood will be the right one for everyone on your team.
With a 40-person screening room, a recording studio, and a production room, this is the space that Hollywood dreams are made of. An array of luxe amenities ensure that you never need to look elsewhere for meetings, client pitches, or special events. Exceptional design and an iconic location — so what's not to love?
From its prime Wilshire Boulevard location to its spectacular interior design, you'll love working in this beautiful landmark office space. Make a terrific first impression on clients and colleagues, hold memorable meetings and conferences, or make your next training event truly special. Offering a variety of suite sizes, you and your team have room to grow. 
Forget cookie cutter workspaces. Here you'll enjoy the opportunity to customize the setting for your specific needs. Feel inspired by some of the most iconic landmarks in Hollywood so you can create your own piece of Tinseltown history. Penthouse spaces, private offices, event spaces and more ensure you can do it all right here. 
You'll be inspired by the history you'll find all around you in this eclectic workspace. A former Hollywood prop house, costume house, and even a violin factory, you'll enjoy the opportunity to work alongside some of the most talented and creative minds in the business. In-house services, event space, and amenities ensure you have the tools to bring your best ideas to life.
Find the spectacular setting for your professional life, with a host of ways for you to connect with your colleagues and teammates. Enjoy a variety of space configurations, including everything from small group settings to large meeting spaces and high-tech conference rooms. Here you'll find flexible, short-term options, so your space works however you want it to. 
This spectacular Koreatown space offers you a picture-perfect setting for events of any size. When you're hosting clients, training events, conferences, or meetings, you'll find customizable spaces dedicated to your success. Host everything from holiday parties to pop-up promotional events — and all set against an iconic Hollywood backdrop.
If you're in charge of choosing your team's next space for coworking in Hollywood, Upsuite has the information you need including pricing options, space availability, and helpful reviews so that you can make better decisions.
Are you the operator of a coworking space in Hollywood? Upsuite can help you find more member teams to fill your space through our listing service.
If you're a Hollywood commercial real estate broker, you can connect with Upsuite and do more business by registering as an Upsuite broker partner.
Upsuite is here to help with your search for Hollywood coworking space. Contact us today — we're ready to get started.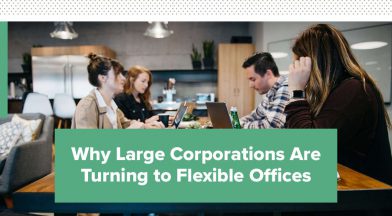 Coworking isn't just for startups and remote workers anymore. Over the last few years, the…
The average cost per person for a coworking space in 2021 is $494.16. Find more about coworking space costs.