7 of the Best Coworking Spaces in Nashville [2021]
Choosing among the available Nashville coworking spaces comes down to your most important priorities. How do you and your team work? What features do you need? Which location works for you and the members of your team? What is your budget?
Such an important decision should require more than a Google search. That's why Upsuite visits each space and evaluates all of these elements in order to give you a smart, reliable, and meaningful analysis of your chosen market and the coworking spaces that are right for you.
You and your startup will find energy, inspiration, and room to grow in this coworking space located in Nashville's vibrant Financial and Arts Districts. Close to the 5th Avenue corridor and the Tennessee Performing Arts Center, you'll benefit from user-friendly space inside and an exciting setting that makes you look good to local clients and colleagues.
Featuring a host of on-site services and amenities means you'll love the space you find in this West End coworking space. Here you'll enjoy a connected garage, convenient access from downtown and major roads, and a glass building overlooking Nashville, Vanderbilt, and Belle Meade. This all-suite space gives you and your team the privacy you need to work so you can conquer your most exciting projects. 
Located in downtown's exciting SoBro District, so you'll be close to some of Nashville's most iconic landmarks. Enjoy dedicated desks, suites, and flexible common areas designed to help you collaborate with colleagues and close that new client. Take advantage of in-house services so  your day is easier and your team more productive. 
Located in the heart of Nashville's legendary music district, you'll find everything you're looking for to make the most of every day. A variety of workspaces, meeting spaces, and event spaces ensures you've got the right setting for every meeting and every project. Nearby dining and entertaining options so you're always where the action is.
If you're part of a small team or are in the middle of scaling up, then you'll love the host of collaborative spaces here. Located in the One Nashville Place skyscraper, your whole team is sure to leave the design and location of this exceptional shared office environment. With a host of ways to work and play, you'll find just what you need (and want) right here.
Whether you're an entrepreneur or a remote-working member of a team, you'll love the location, atmosphere, and sense of community you'll find here. Launchpad features private phone booths, meeting rooms, and event spaces. That means you'll find the right setting for everything from one-on-one client pitches to training events.
Is event marketing part of your strategy? Large or small, you'll experience streamlined event planning and in-house services in order to simplify your next training, collaboration, or celebration. Workspaces, storage options, and more make it possible for you to find everything you need in one location. That way, you're always ready for your business's next phase.
Are you in charge of choosing among Nashville coworking spaces for your business or team? You can find pricing, space availability, and insightful reviews so you can make your decision.
Are you a Nashville coworking operator who's looking for more member teams to fill your space? Upsuite's listing service may be right for you.
Maybe you are a Nashville commercial real estate broker who wants to connect with Upsuite. Register as an Upsuite broker partner and do more business.
Whatever you need, Upsuite is here to help. Contact us today and let's get started on your Nashville coworking space search.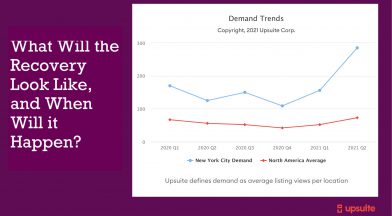 Coworking Trends: What Will the Recovery In the Coworking and Flexible Office Markets Look Like,…
The average cost per person for a coworking space in 2021 is $419.5. Find more about coworking space costs.