How To Find Flexible Office Space Providers?
Early 2020 and the challenges posed by COVID-19-related shutdowns created a sea-change in the commercial real estate industry. As businesses shifted to work from home (WFH) conditions — often successfully — many began to question their space needs, both short term and long term. In the aftermath, innovative and proactive landlords and building owners began to pivot from traditional commercial space leases, adopting models more closely associated with coworking and flexible office spaces.
For building owners, this pivot allowed them to take on short-term tenants as needed to fill newly opened commercial spaces, often without the need for wholesale renovations or build-outs. For tenants, this shift may open up highly desirable commercial spaces that were formerly out of their reach financially.
Some of the most prominent building owners making this shift include the following:
Studio by Tishman Speyer
Located in multiple markets in and around New York City, this brand offers upscale amenities and services with a focus on the growth and development of its tenants. 
Workstyle by Boxer Property
Launched in 2013 and serving markets in and around Dallas and Houston, Workstyle offers flexibility to individuals and small companies alike. They offer enhanced spaces and amenities and configurations ranging from individual desks to executive suites.
Heyday Properties by MRP Realty
With desirable locations in Washington DC, Nashville, and Philadelphia, these properties include hotel-style coworking space and desirable amenities.
Emerge 212 by SL Green
This New York City-based flexible office provider has expanded its previous coworking focus to encompass virtual office spaces, ideal for work-from-home teams and startups.
Learn more about this ongoing trend and contact us to find out what building owners are shifting to flexible office and shared spaces in your market. You may just find that your favorite location is newly available on a short-term basis.
Why Use Upsuite?
Largest Selection of Coworking and Private Workspace
No Cost Advisor
Save 90% of Time Looking for Space
Save 15 to 50% on Rent
Upblog: Coworking, Private Workspace, and the Future of Work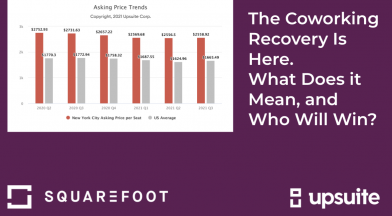 Coworking Trends: The Coworking Recovery Is Here.  What Does it Mean and Who Will Win?…
Thanks for all your help – Upsuite provided very excellent service.
Had a really great experience working with Upsuite! Very professional, fast service – Upsuite helped me find the perfect space within days.
Thanks for all you did in helping Techstars secure a facility in Denver. The process was seamless.