Flexible Office Space: What to Know
Finding the right flexible office space is about more than interior design or configuration. It's really about understanding yourself and your team and finding a space that works for your unique needs.
– First: What is a flexible office space?
A flexible office space offers a variety of possibilities, often including individual desks, dedicated workspaces, private offices, and more. There will also be collaboration spaces and, in some cases, event spaces, outdoor spaces, and on-site services.
– What makes a good flexible office space?
Besides fitting your team's needs, a good flexible office space offers room for growth. There should be a convenient location, in-house amenities, and whatever support services you and your team need to succeed.
– What should you consider before renting a flexible office space?
Before you rent a flexible office space, you'll first want to consider the location. Make sure it is central to your team for easier commutes or central to a central business hub for easy access to clients and colleagues.
– What are the benefits of renting a flexible office space?
Taking ownership of your own commercial property is an expensive proposition, especially if you are just starting out. Long-term leases may not be practical if your team or small business is still in growth mode. A flexible office space offers cost savings and flexibility so that you can shift gears when needed.
– Schedule a meeting with an advisor
Your Upsuite advisor has the boots-on-the-ground insight and knowledge you need to find a flexible office space that works for you and your business. Contact us today to schedule a free, no-obligation consultation.
Why Use Upsuite?
Largest Selection of Coworking and Private Workspace
No Cost Advisor
Save 90% of Time Looking for Space
Save 15 to 50% on Rent
Upblog: Coworking, Private Workspace, and the Future of Work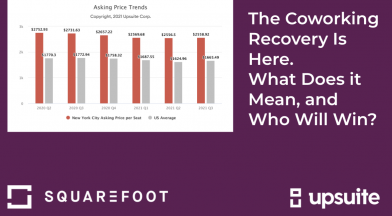 Coworking Trends: The Coworking Recovery Is Here.  What Does it Mean and Who Will Win?…
Had a really great experience working with Upsuite! Very professional, fast service – Upsuite helped me find the perfect space within days.
Thanks for all you did in helping Techstars secure a facility in Denver. The process was seamless.
Upsuite was quite easy to use as Upsuite dominated the generic Google search for shared office space in Boulder. A quick single recommendation of 3 spaces was all we really needed.