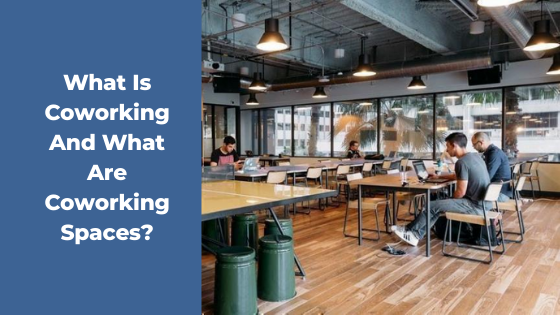 Rates of entrepreneurship in the US and Canada are among the highest in the developed world. At the same time, increasingly generous work from home policies promise to decentralize work environments for millions of professionals. This growth is contributing to an unprecedented increase in the need for alternative workspaces, collaborative spaces, and meeting spaces outside of the traditional office environment. That is great news for the thousands of coworking space operators throughout North America.
However, the question remains: What is coworking and what are coworking spaces?  How can you determine which type of coworking environment is right for you? What is the future of coworking and how can you put its potential to work for you and your team? This deep dive will walk you through the coworking landscape and help you determine which flexible office space is the right fit for the unique needs of your company or team.
What Is Coworking?
While many people are familiar with the basic concept of coworking, the wide variety of ways in which people use coworking spaces is less well-known. Far from simply encompassing an extra desk and shared wi-fi, coworking can be individual or collaborative, full-time or part-time, and can include an almost unlimited variety of space types.
Though you may think of coworking as the province of solopreneurs and startups, more and more corporations are putting the potential of coworking to use when making staffing and space utilization decisions. As large campuses fall out of favor and remote workers are increasingly sought after, coworking environments offer added flexibility without compromising on infrastructure and amenities. Learn more about coworking at our blog.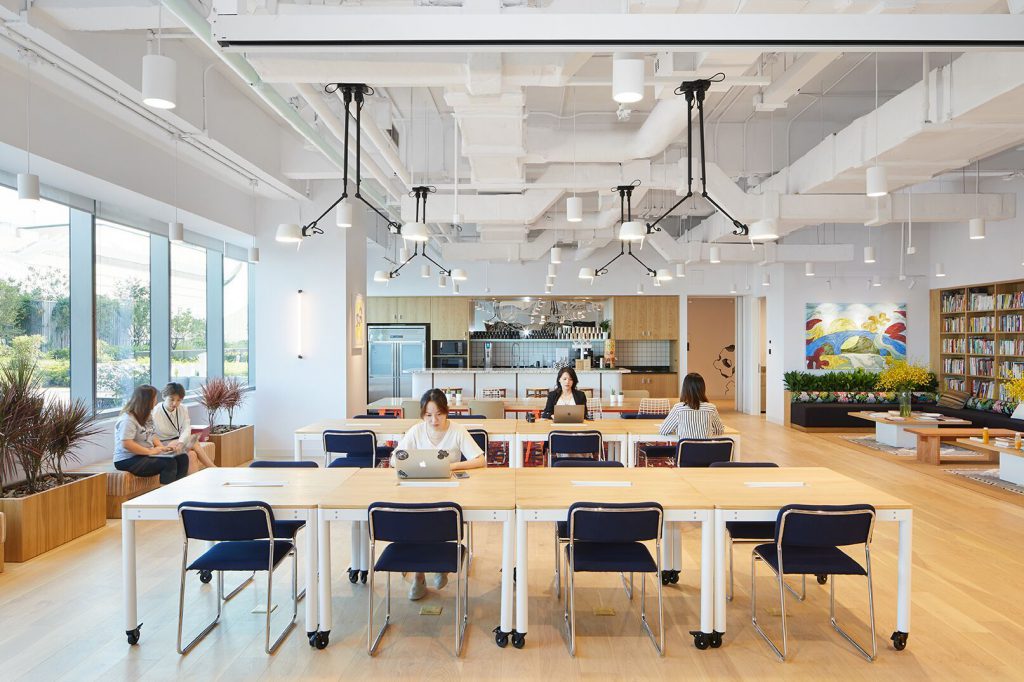 Is It "Coworking" Or "Co-working"?
In common parlance, many people use coworking and co-working interchangeably. However, from a grammatical perspective, there is a subtle difference. Coworking refers to people from many companies working together in the same space, while co-working generally refers to people from the same office or group working together.
Of course, coworking spaces serve both of these audiences and many others. In many writing and editorial style guides, coworking is the preferred, all-encompassing term for those who work on their own in a coworking space alongside people from other companies as well as those groups who use coworking spaces for collaborative projects.
Coworking Space definition 
The old-fashioned vision of a coworking space is a cavernous hall full of desks with a couple of seating areas and a common kitchen, at most. That outmoded concept has little to do with the way that startups, teams, and companies use coworking spaces today.
Now, you'll find coworking spaces that cater to an endless assortment of businesses and coworkers, offering amenities that you would normally find in a sophisticated corporate headquarters. You'll find an array of space types as well, from private offices to common workspaces, and from conference rooms to expansive event spaces.
In addition, some coworking spaces are geared toward niche interests and industries, offering the opportunity to work alongside potential mentors and collaborators. That's why you'll find spaces specially designed for creative types, tech companies, women entrepreneurs, and more. 
Many city centers boast workspaces primarily used by attorneys, advocacy groups, and others due to proximity to courthouses and government offices. Alternatively, tech hubs may feature workspaces with advanced technology integrations and upscale amenities to woo top talent.
The Concept of a Coworking Space
Coworking originated in 2005 in the Mission District of San Francisco in a small collective that was open just two days each week. Over time, that first group began to expand exponentially and resulted in the booming growth that coworking is currently experiencing. While the space and practice of coworking may be relatively new, the concept is an old one.
For as long as people have been coming together in teams and partnerships, they have been taking advantage of some of the benefits inherent in coworking. By working with like-minded professionals you are privy to the energy that comes from group endeavor. In addition, for startups or small corporate teams, coworking offers a way to obtain dedicated office space in pricey urban and exurban markets at a fraction of the cost of traditional commercial real estate options.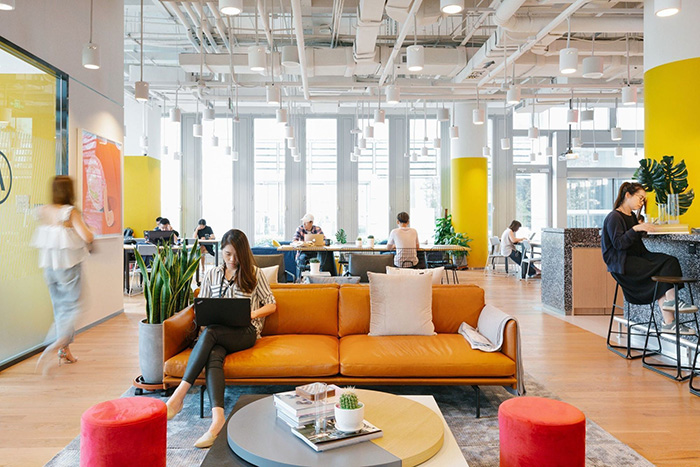 What Is the Idea Behind Coworking Spaces?
While the idea behind coworking spaces first took shape in San Francisco, coworking spaces are not limited to big cities or tech companies. In fact, the concept has been applied to a grab-bag of professions and company structures, from real estate brokerages to artist collectives.
More than anything, coworking spaces are designed to provide a secure, convenient space from which to operate without the frustrations and distractions of working from home or at the local coffee shop. They offer the best of both professional services and setups and total flexibility and accessibility.
Advantages of Coworking Spaces
You may be unsure whether a coworking space is right for you and your team or you may have some misconceptions about the way coworking spaces are designed. Far from being simply a work home for freelancers and solopreneurs, coworking can work successfully for practically any type of team or small business. 
What are the advantages of working with others at a coworking space rather than in isolation? They include:
Collaboration
Whether you are working with your own small group or are part of a larger team or company, collaboration is key to maximum efficiency and effective communications. By creating both space and opportunity for regular face time with colleagues, coworking spaces ensure top-notch performance from the whole team or company. 
Cooperation
Similarly, coworking colleagues are better able to delegate tasks, check in on workflow, and exercise greater oversight on long-term projects. The cooperation fostered by the shared work environment is an essential part of maximizing operational efficiency and project momentum.
Mentoring
Coworking spaces offer many opportunities to participate in advanced training, workshopping, and collaborative work with leaders in the geographic area or the professional field. This can allow coworking colleagues to get to know potential mentors and make connections that pay dividends throughout their professional life.
Affordability
Rather than trying to acquire and maintain a commercial real estate space — which often requires long-term contracts and exorbitant prices — small teams and businesses can take advantage of the opportunity to rightsize their space and watch it grow as they do. In addition, coworking spaces offer many options for short-term rental of larger spaces, like those needed for training, meetings, client pitches, and events. Instead of maintaining those specialty spaces full time, members of a coworking community have on-demand, affordable access.
Flexibility
Whatever you are looking for — bright open-concept space, an exceptional location, upscale amenities, a dedicated support staff — you can find it in a coworking space. Some spaces can create custom build-outs designed to your unique specifications. Others offer dedicated, individual offices along with collaborative workspace so that your company can work in any number of different ways.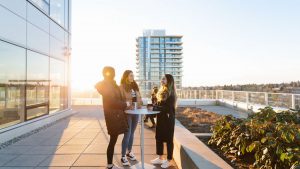 Accountability
Your coworking colleagues become an informal community, providing connections that keep you on track. As you discuss your goals and learn from each other, you build a support network that will help keep you accountable and focused.
Networking
Similarly, the connections you'll make in your workspace help create exponential growth in your professional network. You'll find this invaluable for building referrals, getting to know leaders in your field, and staying abreast of the latest trends and developments throughout your market.
Support
Many coworking spaces include support staff and services that you would normally expect to find only in larger companies. These may include administrative support, mail and package delivery, front desk reception, and office management. In addition, coworking spaces with event facilities may include event planning, catering, and a host of other services along with tech support to facilitate remote conferencing and presentation capabilities.
Amenities
Many coworking spaces offer amenities normally found in luxury office towers or campuses. These may include fitness studios, shower rooms, relaxation rooms, and other wellness facilities. In addition, you may be able to take advantage of onsite dining, coffee shops, or social spaces offering regular opportunities to connect with colleagues or host clients.
Location
Coworking spaces aren't only found in big cities; many suburban and exurban areas have them as well. These may be somewhat smaller and offer fewer amenities than many of their urban counterparts. However, these coworking spaces offer big convenience and time savings, with reduced commutes and locations close to home.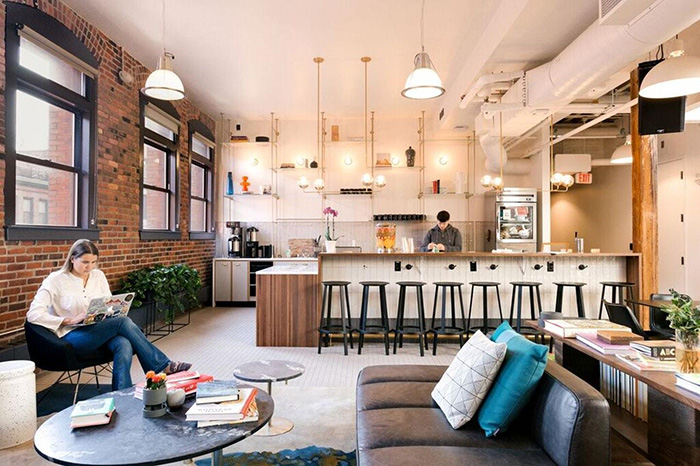 Growth And Statistics Related to Coworking
During the latter part of 2020, companies like LexisNexis, Boeing, and REI began to put into operation plans to sell off their major corporate campuses, leaning into remote work policies and divesting themselves of many of their corporate real estate holdings. In many cases, these suddenly rootless employees and teams will turn to coworking for dedicated office and collaboration spaces. 
After a temporary dip in the second quarter of 2020, many coworking spaces began to see a return to Q1 levels during the second half of the year. Current trends in commercial real estate, work-from-home policies, and geographic distribution favor the overwhelming growth of coworking for everyone from small businesses to large enterprise-level companies.  
As commercial real estate continues to decline, in many markets it will be replaced by new and existing coworking spaces. In addition, the large-scale population shift from in-town areas to suburban enclaves favors the growth of coworking spaces in those newly in-demand residential areas.
Finding the Right Coworking Environment
Coworking environments are as individual as the people and teams working there. Aesthetically, you'll see everything from sophisticated urban highrise offices to ultra-modern downtown spaces. You'll even find rustic corporate campus environments with outdoor meeting and event spaces.
The different types of coworking environments offer flexibility in price, location, and amenities, among other factors. These include:
Conventional/Open
These are the open-concept spaces most people think of when they first consider a coworking space for their team or startup. They are generally larger and feature an abundance of common spaces for collaboration.
High-End/Full-Service
These spaces may include upgraded amenities, sophisticated design, robust in-house services, and event and conference space. 
Corporate/Professional
Frequently these spaces feel like a traditional office environment with an emphasis on affordability, privacy, and quiet.
Private Workspaces
These spaces exist within a larger coworking environment offering lockable, private areas and dedicated common spaces like a private kitchen or exclusive access to meeting space.
Minimal/Bare Bones
Here the emphasis is far more on cost than upgrades or design, with a focus on providing essential services at an affordable price.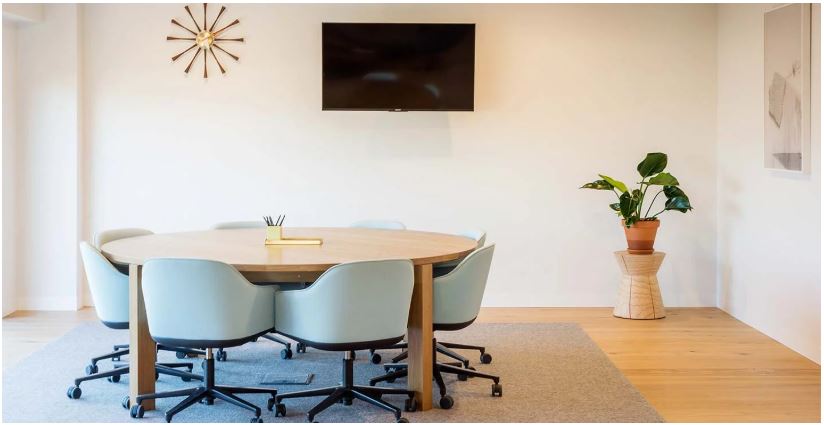 Shared Space/Subleased
These spaces may be rented from a current workspace member, thus dedicated spaces and features will be minimal but costs may be lower.
Lifestyle
These spaces are often found in desirable locations surrounded by shopping, dining, entertainment, arts and culture or are situated in multi-use developments featuring both residential and commercial spaces.
Industry-Specific/Specialized
Specialized environments are often geared towards a specific type of company and may include services, technical features or space configurations that are specific to their target audience.
Venture/Accelerated
These spaces are frequently geared toward the tech industry and offer affordability along with an emphasis on creativity and collaboration.
Meeting Space
Many coworking spaces offer meeting spaces for training and presentation as well as remote conferencing. These may be rented to non-members on a short-term basis.
The benefit of this variety is that it offers coworking members the ability to work on their terms. Members can choose based on their preferred setting, priorities, and budget. This is important not just for employee recruitment and retention but for connecting with new and existing clients.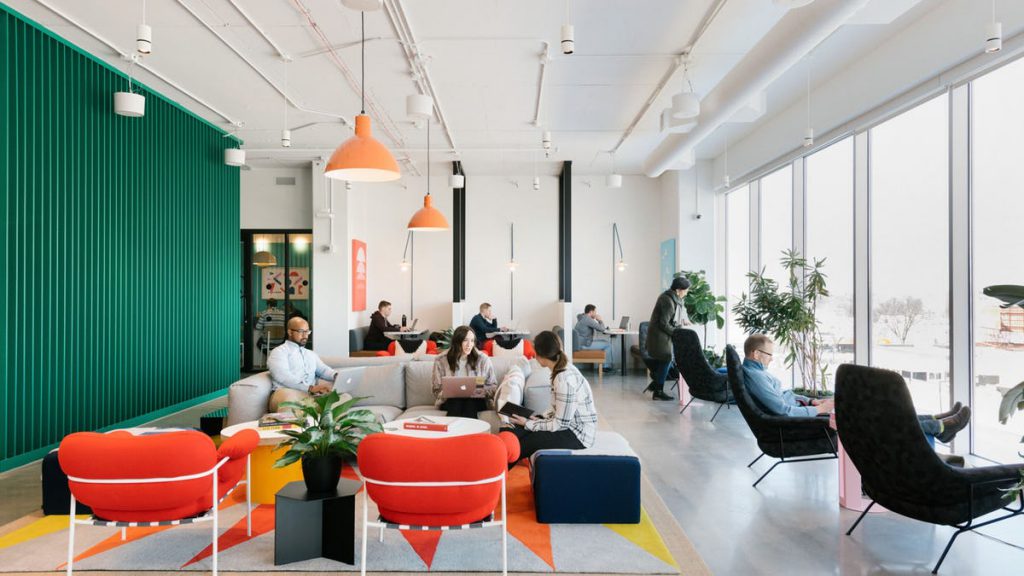 Coworking Vs Workspace
Many people use the terms coworking and flexible workspace interchangeably. There are, however, some differences that are important to consider as you begin planning a move into an office environment. In essence, the difference lies in the concept and design of the space itself — and who is making essential decisions. 
Coworking spaces often have their own culture and personality, driven by the coworking space operator. Many operators take into account the preferences and feedback of coworking space members. However, they will ultimately decide the direction of the space and market that space accordingly. 
You may have options for the type of space you'll occupy, including private offices, collaborative space, or hot desks. However, you'll have little influence on the overall operation of the space and the way that it is utilized.
By contrast, a flexible workspace may offer you the ability to customize your space. You can also make choices about space configuration, design, and even services. You and your team can then design an environment uniquely suited to the way you like to operate.
What Is Upsuite?
After launching in 2018, Upsuite has become North America's premier platform for finding, vetting, and touring coworking spaces in markets throughout the US and Canada. Some platforms offer only general listings. Upsuite provides in-person reviews and dedicated advisors to help teams make more informed decisions.
Upsuite guarantees "You will find a coworking space that fits your business quickly and easily, at no cost to you". Our coworking advisors back up that assurance. These experts help teams narrow down their shortlist of potential workspaces and negotiate favorable terms with coworking operators. Upsuite works with the operators themselves to gather vital information about their spaces in order to facilitate member searches.
Founded by Ben Wright, Upsuite was the result of a collaborative entrepreneurial accelerator project, designed to help streamline the workspace search and onboarding process for teams, small businesses, and enterprise clients. It currently boasts the largest selection of office space inventory of any comparable platform. In addition, Upsuite offers members a five percent discount on their space agreement.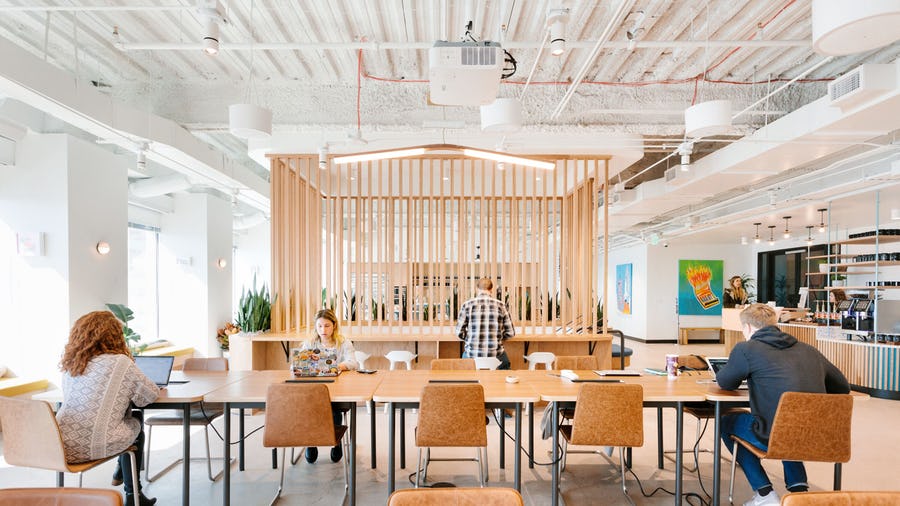 Which Cities Have the Most Coworking Spaces?
Upsuite offers an extensive selection of North America's best office spaces in markets of all sizes. The top ten cities with the most coworking spaces on the platform include:
These cities offer a diverse selection of different space types spread across their metropolitan areas. Many markets including San Francisco, Los Angeles, and New York City, include robust nearby secondary markets for even more options.
The Average Cost of Coworking Spaces
Calculating a useful ballpark cost for a coworking space is difficult because it depends on such a large number of factors. These include:
Market costs

Space size

Space type

Number of seats

Additional services and amenities

Included customizations
For example, floating desks can range from $50 per month in small suburban markets to $350 in desirable downtown areas. An office suite can range from $350 per month to $800 and up on the higher end. This price can go higher depending on customizations or special tech requirements. 
It is important to conduct thorough research before negotiating the cost of your coworking space membership. In addition, you'll want to thoroughly review your coworking space agreement in order to ensure that you have a solid understanding of what items or services are included in your monthly cost.
Who Are the Largest Coworking Companies?
Coworking spaces range from single-location specialty offices to large companies with many offices and reciprocal agreements with other providers. This can be especially useful for teams or individuals who travel frequently. It allows them access to spaces in major metropolitan areas all over the globe.
The largest coworking companies currently operating in North America include the following:
Regus (1175 locations)

WeWork (387 locations)

Spaces (130 locations)

Premier Workspaces (90 locations)

Office Evolution (79 locations)

Intelligent Office (68 locations)

Industrious Office (62 locations)

Breather (private agreements with 235 locations)

Knotel (private agreements with 170 locations)
Who Is WeWork?
Founded in New York City's SoHo district in 2010, WeWork is perhaps the most famous name in coworking spaces. While their business model with its low profit margins and high customer acquisition costs has been criticized by some financial analysts, the result has been affordability for its customers along with vigorous expansion and a significant footprint in some of the most desirable commercial properties and the most exciting markets throughout North America. 
WeWork focuses on location, amenities, and service to attract long-term clients, especially teams from enterprise-level customers. In addition, in many of the buildings where they operate, WeWork holds more than 50% of the property. That allows their members to grow as needed without having to look for a new, larger space.
What Is the Future of Coworking?
Estimates put the future of coworking at an exponential rate of growth. In fact, 6% of all US business will be done in shared spaces by 2022. Worldwide growth is expected to outpace even that of North America during that time. New enterprise and corporate clients and the rise of private workspaces indicate significant growth in the years ahead.
For team leaders, business owners, and other decision-makers, a few factors are top of mind when considering coworking spaces. 
The purpose of the office space and the amenities needed for the team members

Company culture and the need for in-person collaborative workspaces

Technical infrastructure and the need for ongoing upgrades

Recruitment and retention of employees 

Attracting and retaining new and existing clients

Office return on investment and the need for visibility

Health and safety requirements of a private office environment

Cost and space flexibility during times of significant change or growth
Coworking offers solutions to so many of the pain points business owners and team leaders face. Ongoing changes in a post-2020 commercial real estate landscape put coworking and flexible office environments in a unique position. They are better able to provide meaningful benefits to their members — both now and in the future.
Ready to learn more? Upsuite offers services designed to help you analyze your space needs, search for great spaces, and visit your shortlist. They can also help you negotiate a great deal on your monthly lease. Talk to an Upsuite advisor and find out why it's so good to have Upsuite on your side — and why we can guarantee your satisfaction.