How to Find The Best Coworking Operators? – Upsuite
Finding your area's best coworking operators involves both a sense of your ideal office environment and an understanding of what it takes to run an office space. The best coworking operators provide services and programming that enhance your team's effectiveness and efficiency for added productivity.
Of course, great coworking operators ensure that the space itself is expertly managed and maintained inside and out. That means that repairs are completed in a timely manner and with the least interruption to coworking space members. In addition, updates and upgrades to the tech infrastructure and furnishings should be completed on a regular basis.
Great coworking operators offer enhanced capabilities for space reservations, payments, and other "housekeeping" related to the space's membership. They may also make services available and ensure ongoing communication so that members always know what services are available and how to take advantage of them.
Exceptional coworking operators truly know their members and understand how to help them do more within the space. This may include not only social events and networking opportunities but also training and development opportunities geared toward the unique needs of their membership.
Contact us if you're looking for truly great coworking operators and exceptional spaces in your chosen market. You may just find that your next great idea comes from a colleague or speaker at your coworking space.
Why Use Upsuite?
Largest Selection of Coworking and Private Workspace
No Cost Advisor
Save 90% of Time Looking for Space
Save 15 to 50% on Rent
Upblog: Coworking, Private Workspace, and the Future of Work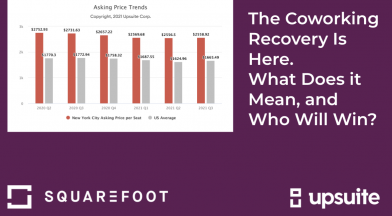 Coworking Trends: The Coworking Recovery Is Here.  What Does it Mean and Who Will Win?…
Thanks so much! Straightforward and a pleasure to work with.
Thanks for all you did in helping Techstars secure a facility in Denver. The process was seamless.
Had a really great experience working with Upsuite! Very professional, fast service – Upsuite helped me find the perfect space within days.