Despite economic uncertainty and ongoing challenges arising from the work-from-home economy, coworking trends remain strong. In Q2 2022, there were multiple reports that confirmed this strength. For example, CBRE's 2022 Spring US Occupier Sentiment Survey, published in April, concluded that "the average office worker will spend 24% less time in the office" than before the pandemic. As a result, 73% of companies planned to transition to a hybrid workplace model by the end of 2022. 
Coworking trends showed that the industry was hit hard by the pandemic, but Upsuite's Q1 data indicated that demand for flexible offices in the U.S. was higher in Q1 2022 than it was in Q1 2020, before Covid transformed the national economy. In the latest quarter, we observed a few main noteworthy trends regarding demand, hot and cold markets, and new locations opening. 
Here are our main findings from Q2 2022:
Coworking Trends:  More New Locations Opened than Closed
Upsuite tracked three times as many new vs. closed locations in North America, led by Denver, Nashville, and Atlanta. There isn't a single market that had negative growth in locations — every market remained stable or grew.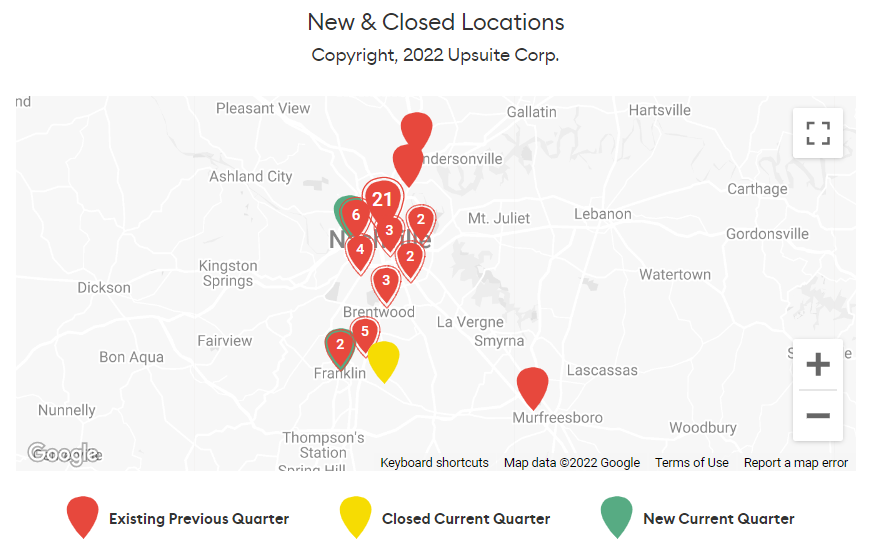 Image: Nashville market including existing, new, and recently closed locations. 
"
SquareFoot's Flex Location Services Practice is Growing 10x year over year because so many coworking operators are looking for new locations.  Some, such as WeWork, continue to close locations that are not performing well. Nearly every operator is sourcing new locations today."  
Patrick Braswell, Senior Managing Director, SquareFoot
Coworking Trends:  Asking Prices Grew or Held Steady
Nationally, asking prices either grew or held steady depending on the space offered. For example, the average price of a 4-person suite held steady between Q1 and Q2, but grew 10% annually. Private offices had a similar 9.5% annual increase despite no quarterly change. The average price of a dedicated desk had negligible quarterly differences between Q4 2020 and Q2 2022. 
Nashville had the highest quarterly increase in asking prices, up 3.1% from quarter one, but rent growth in the market varied depending on the space offered. In Nashville, asking prices for 4-person suites and floating desks held steady, but 10-person suite asking prices grew 4.4%, for example. Most other markets saw an overall small increase in prices. Those that didn't either held steady or had a fractional decline, other than Ottawa, which was a crazy outlier with a 33% decline in asking prices. 
Operators can use the Flex Office Pro Market Data and Insights Platform to access critical information on their market, including comprehensive pricing data on spaces varying from a floating desk to a 10+ person suite. 
Seasonal Trend?  U.S. Demand Declined 12.5% Between Q1 and Q2
Overall, U.S. demand (defined as average listing views per location) was down 12.5% between Q1 and Q2. At the same time, demand in Canada returned to pre-pandemic levels, skyrocketing 141% quarter-over-quarter. The Canadian market is the most extreme example of a Covid cautious market roaring back, with a high amount of pent-up demand unleashed within a single quarter. 
The Toronto (177.9%), Denver (161.9%), and Phoenix (57.1%) markets had the highest percentage growth in demand, while Atlanta (-51.6%), New York City (-51.1%), and Houston (-50.0%) had the sharpest declines. 
"
In nearly every market, we are seeing that there is significant pent-up demand related to COVID-19. Many markets such as New York that started experiencing this in Q2 2021 are seeing demand decline to more expected and seasonal levels today. Markets such as Toronto that only started to recover in Q1 2022, are in the middle of huge demand spikes today."   
Ben Wright, Head of Flexible Office Solutions, SquareFoot
It's important to look at the highest movers on both ends of the spectrum in context. Many markets that started recovering a year ago already worked through pent-up Covid demand, and are now acting with normal seasonality. Other markets, such as Toronto, took longer to go through their pent-up demand phase.
Atlanta is a good example, as the market was on a tear in the second half of 2021. Between Q2 and Q3 of last year, demand increased 35%, then exploded with a 217% increase between Q3 and Q4. Demand (shopping activity) there is now only 25% of what it was in Q4 2021 because the market already worked through its high level of pent-up demand. However, we predict that Atlanta will bounce back with a strong Q3.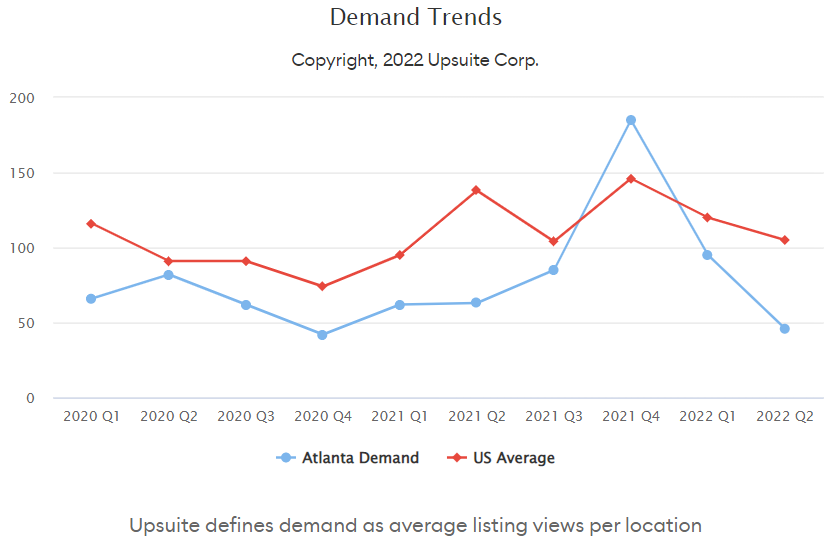 Dallas is another prime example. As is evident from the graphic below, pent-up demand caused a huge spike in Q2 2021, while demand has remained relatively stable over the last four quarters, staging around pre-pandemic levels.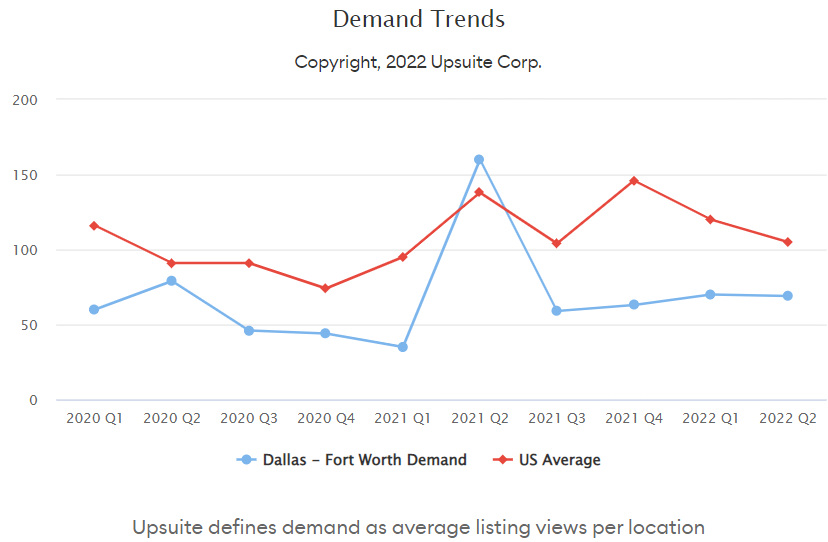 Even within large markets, certain submarkets experienced a spike in demand much sooner than others. In Los Angeles, the Hollywood/Culver City submarket experienced a massive 460% increase in demand from Q4 2020 to Q4 2021. Since then, it has come back down to reality, declining 66% during the first two quarters of 2022. Conversely, the Downtown Los Angeles submarket didn't see a large increase in demand until recently, growing 82% between Q1 and Q2 of this year. 
Coworking Trends:  What to Expect in Q3
In Q2, many of the "Covid cautious" markets came roaring back with a large amount of pent-up demand. Other markets that peaked much sooner, such as Atlanta or Houston, came crashing back down to reality. With pent-up Covid demand running out of steam, expect markets to return to more normal levels of seasonality. 
We forecast that Q2's top upward movers in demand, Toronto and Denver, will see falling levels of demand in Q3, declining 21.5% and 29% respectively. Despite declining demand, our data estimates that average asking prices will rise 1.5% in Toronto and 3.25% in Denver. 
Two of Q2's coldest markets will bounce back with strong seasonal growth in demand. We predict that demand will increase 74% in Atlanta and 41.5% in Houston, with average asking prices rising 1.9% and 0.63% respectively. New York City, Q2's second coldest market in terms of negative demand growth, will see a 93.5% increase in quarterly demand. However, average asking prices will fall 9.0%, since new locations opening (5 new with only 1 closing) will increase supply. 
As of the end of Q2, the national economy is sending mixed signals. Annual GDP growth was negative during the first two quarters of 2022, declining 1.6% in Q1 and 0.9% in Q2. By that measure, the US is technically in a recession, but economists point to a strong labor market as evidence to the contrary. So far, the US has added 2,740,000 jobs in 2022, with at least 368,000 jobs per month, reducing the unemployment rate to 3.6%. There is also no shortage of employment opportunities — as of early July, there are over 11 million job openings in the United States. 
Even though the CBRE study cited at the top of this article concluded that 73% of companies planned on transitioning to a hybrid work model by the end of the year, current economic conditions may impact the decision of employers to rent out flex space. However, strong employment numbers may be the lifeline that the flex industry needs during this uncertain economy. 
About SquareFoot
SquareFoot is a new kind of commercial real estate company that helps businesses solve all of their real estate needs. With a tech-enabled listings platform, extensive flexible office inventory, and a dedicated brokerage services team, SquareFoot creates a transparent, user-friendly office search experience for tenants. Headquartered in New York City, SquareFoot serves 30+ markets across North America. 
Flexible Office Solutions by SquareFoot
SquareFoot's Flexible Solutions Team offers businesses a tech-powered network of private office suites, shared offices, and meeting spaces, all with flexible terms.  Available through SquareFoot.com, Upsuite.com, and PivotDesk.com, and serviced by the company's dedicated Flexible Solutions Team (FST), SquareFoot's network of 50,000+ spaces allows businesses to identify and rent spaces that suit their unique and evolving needs — all while getting the best deal available.  SquareFoot's Flexible Solutions Team saves you 90% of the time you'd otherwise spend sourcing, contracting, and managing your real estate and up to 50% off of asking rents.
About Upsuite 
Acquired by SquareFoot in spring 2021, Upsuite offers coworking and flexible offices in 35+ North American markets that are conveniently located, meet your budget, and on your terms.
Unlike doing time-consuming Google searches and tours yourself, Upsuite helps you find and secure an office in 90% less time, and save as much as 50% on rental costs by providing 99% of the market inventory, actual suite availability, and pricing, and a helpful Advisor.
After buildout is over, consider the ongoing costs of maintaining a coworking space, such as taxes and maintenance.