4 of the Best Coworking Spaces in Montreal [2021]
If you're looking for coworking space in Montreal, you'll find a variety of layouts, amenities, and cultures to suit the way your team works. The focus for many teams is on locating and booking the right coworking or flex office space at the right price for your budget and in the neighborhood you prefer. The search can be long, frustrating, and confusing.
Finding the right Montreal coworking space involves a number of factors:
Are you a team who needs privacy or a team that values networking?

Do you need a glamorous space for wooing clients and hosting events or a quiet space for uninterrupted focus?

Are you working in the tech industry or looking for a space to inspire creators?
With so many options, you can't depend on a Google search to make the choice for you. 
Upsuite wants to help you make better choices. Here you'll find the right Montreal flexible office space for yourself and your team. We offer expert insight by visiting the spaces and sorting through a wide variety of options. That means that you can find the right coworking environment for the way you work.
Want a space that's bright, beautiful, and designed to inspire? La Gare Casgrain offers spaces designed for collaboration, presentation, and events. Sophisticated technology allows you to produce and present your creative ideas to clients, colleagues, fans, and followers. That help you grow your influence and your business.
Located in fabulous Old Montreal, this sophisticated space offers professional offices and office suites with an emphasis on convenience. The location is ideally situated near the waterfront and the Montreal Courthouse. That means you'll be close to the people and places who make your business run. With 24/7 access, your office space works as hard as you do.
Located in the iconic Montreal Sun Life Building, you'll love the blend of old and new, historic and contemporary. This space is designed to help you and your team thrive. Here you'll enjoy the privacy you need to focus every day. However, you'll also find the glamour of a downtown event space sure to impress clients, investors, and colleagues.
Want to take your meeting outside into an open courtyard or collaborate with your team in a large, light meeting room? This space in Montreal's arts district is built for inspiration, with optimal walkability and an art-filled neighborhood that's sure to get you up and moving. Let the vibrant Old Port of Montreal neighborhood energize your life and your business. 
How do you like to work? What are you looking for when it comes to a flexible office or coworking space? Are you:
Looking for coworking space in Montreal for a team, presentation space for a training initiative, or event space for a celebration? Follow the link to view prices, availability, reviews, photos, and detailed information.
A coworking operator in Montreal looking to expand your reach and bring in more members? Register your space with Upsuite to leverage the potential our platform offers and help you grow your business.
A Montreal commercial real estate broker looking for an opportunity to register with Upsuite and scale up your business? Our Upsuite Broker Partner program connects you with the clients and teams you need, offers up-to-date listing information, and helps you find more deals.
When you connect with Upsuite, you'll find the right space in the right location to grow your Montreal business.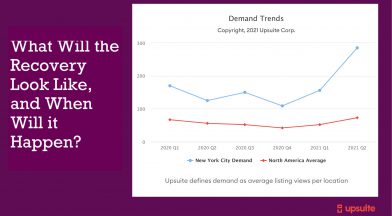 Coworking Trends: What Will the Recovery In the Coworking and Flexible Office Markets Look Like,…
The average cost per person for a coworking space in 2021 is $402. Find more about coworking space costs.