10 of the Best Coworking Spaces in Downtown LA [2021]
If you're looking for coworking space in Downtown Los Angeles, you've got some choices to make. You'll want to consider how you and your team work. What tech resources do you need? Do you need spaces for client meetings or events? What part of town is most convenient for everyone? What is your budget?
With such an important decision, you'll need more than a Google search or a friend-of-a-friend recommendation. That's why Upsuite offers you an evaluation based on site visits and a meaningful analysis of your market and the amenities you can expect to find there. We're here to help you find the coworking space in Downtown Los Angeles that are just right for you and your team
Bring a high-end workspace to the re-energized Downtown Los Angeles corridor that is luxurious in style, offers the convenience of a ground-floor entrance, super-fast CAT 6 internet, and best-in-class amenities plus networking community events.
Address: 1001 Wilshire Blvd Lobby, Los Angeles, CA 90017
Perks: Light, bright, and beautifully designed, you'll find a host of high-end services and amenities that ensure every member of your team is working at top capacity. With 40 private offices and more than 50 coworking desks — all flooded with natural light — you'll feel and work your best. A great location means you spend less time commuting and more time getting things done.
Price: Starting at $250/person
Conveniently located across the street from the Metro Expo Line and just off of restaurant row, this Downtown Los Angeles office space brings sharp, mid-century modern design to LA's urban core.
Address: 800 Wilshire Blvd, Los Angeles, CA 90017
Perks: Located just off of restaurant row, you'll love this stunning mid-century modern space offering a host of amenities and services. Here you'll find an eclectic mix of industries, so you'll get to know the people who get things done in your area. Network at events designed to help you make all of the right connections, or share a craft beer or kombucha with colleagues and collaborators.
Price: Starting at $450/person
Located in a beautiful modern building in Downtown LA's Central Business District, this building and location combination makes this one of the most desirable buildings in Downtown LA.
Address: 811 Wilshire Blvd 17th Floor, Los Angeles, CA 90017
Perks: Offering high-tech conference rooms and smaller meeting rooms, you'll experience exceptional spaces designed for discretion. Front-desk reception services provide hospitality for your most important clients and colleagues. The convenient Takami Building location keeps you and your team close to all of the action.
Price: Starting at $300/person
Kleverdog Coworking provides a professional workspace with wifi, coffee, and a dedicated spot to get your work done.
Address: 418 Bamboo Ln, Los Angeles, CA 90012
Perks: Whether you're a longtime solopreneur or are just starting out, you'll accomplish more, learn more, and connect more at this Chinatown coworking location. Here you'll enjoy 24/7 access, so you can work whenever inspiration strikes. Build your network as you get to know colleagues and collaborators in your industry and beyond.
Price: Starting at $275/person
Just a short walk from the Staples Center and Pershing Square, this premier workspace is designed with your efficiency in mind. 
Address: 600 Wilshire Boulevard Los Angeles, CA 90017
Perks: Gorgeous city views are sure to inspire your team. Dream big with a variety of spaces designed to allow your startup to grow. Enjoy amenities like free printing and free beer and snacks, along with in-house services designed to make everything easier. Pitch clients or hold events so you get your startup on the radar of the industry clients and colleagues who can help you reach the next level.
Price: Starting at $505/person
The Wells Fargo Center is a well known and prestigious building located in Downtown Los Angeles, California which offers office space, virtual offices, executive suites, meeting rooms, and so much more.
Address: 355 S. Grand Ave, Suite 2450, Los Angeles, CA 90071
Perks: Offering an exceptional location Downtown, this workspace provides a host of ways to work with your team as well as with clients and colleagues. Host events in this hip and historic neighborhood, pedestrian-friendly and located conveniently close to the Metro. Local amenities include the trendiest dining and shopping, cultural attractions, and local events from art installations to street festivals and pop-ups.
Price: Starting at $480/person
Located in the former Maxwell House coffee warehouse, our coworking space in the Arts District sets your team up for success.
Address: 1019 E 4th Pl, Los Angeles, CA 90013
Perks: With its location in the former Maxwell House coffee warehouse, it's no wonder that this workspace is made to energize your team. Here you'll find light-filled collaborative spaces, including meeting and conference rooms and informal lounges. There are also private offices and suites for focused work. Nearby, you'll find some of the area's top talent for design, media, and the arts, plus artistic and cultural venues that are designed to inspire.
Price: Starting at $400/person
Inspiring work space at the heart of downtown Los Angeles in the City National Plaza Towers.
Address: 515 South Flower Street
Perks: Spaces City National Plaza is ideal for creative entrepreneurs who are looking for a bustling community of like-minded professionals. This inspiring workspace, located in the heart of Downtown Los Angeles, sparks innovation, collaboration, and boosts productivity. Situated in the City National Plaza Towers, you'll be surrounded by a plethora of premier restaurants and shops, while being only a short distance from major highways and transit stations. The options are endless in this vibrant neighborhood.
If you're looking for a creative environment where you can accelerate your business, Spaces City National Plaza may be the perfect space for you.
Price: Starting at $350/person
Creative office space & coworking in DTLA where all your needs for your growing business or startup are met.
Address: 527 West 7th St.
Perks: The Collection 527 is an upscale creative space that combines luxury with cutting-edge technology so that you can feel your best and work your best. Committed to first-class hospitality, this space provides tech-savvy perks including, direct fiber connection to the internet backbone for maximum bandwidth, and high-tech conference rooms. Looking to host a company happy hour, business presentation, or holiday event? This location's rooftop lounge features indoor/outdoor seating, wet bar, Wi-Fi, and music, and can be reserved by all members. 
The building fuses historic elements with modern touches to create a sophisticated workspace and environment in Downtown Los Angeles. Located in the heart of Restaurant Row, you will find no shortage of first-class eateries and shopping. Consider The Collection 527 as your next workspace if you are looking for the perfect combination of luxury, creativity, and professionalism.
Price: Starting at $1,100/person
Streamline and improve your business' productivity at Carr Workplaces' Downtown Los Angeles location 
Address: 700 S Flower Street #1000
Perks: Whether you are looking for a team space for larger groups, private office for one, or event space, Carr Workplaces downtown Los Angeles offers everything you need to conquer your professional endeavors.  All private offices, conference rooms, and event space are available for film, photoshoots, or as production offices. You can even book at a professional filming session with views of the historic 7th street corridor. 
The space occupies the entire 10th floor of a LEED™ certified Gold project in the heart of downtown Los Angeles. Wine and dine a client at the on-site dining, break a sweat at the facility's fitness center or enjoy fresh air at the outdoor courtyard lounge. This vibrant workspace provides the professional and social amenities needed to stay productive and healthy. Carr Workplaces Downtown Los Angeles is conveniently located above the Plaza level metro stop and provides ample parking.
Price: Starting at $750/person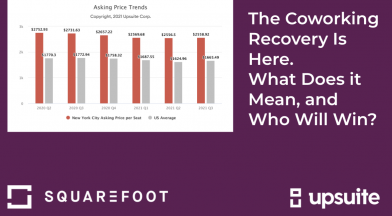 Coworking Trends: The Coworking Recovery Is Here.  What Does it Mean and Who Will Win?…
The average cost per person for a coworking space in 2021 is $499.67. Find more about coworking space costs.