10 of The Best Coworking Spaces in San Diego [2021]
Choosing among the available coworking spaces in San Diego requires expert knowledge and market insight. So much depends on your priority list: location, price, availability, and tech capabilities are all part of your analysis. Do you need a private office or room for collaboration? What about both? Do you need event space, training space, or the flexibility to do both?
We've personally visited each of the coworking spaces in San Diego you'll find on this list so we can help you better understand and evaluate your options. Whether you are focusing on budget, neighborhood, or high-tech capabilities, we can help you find the right flexible office environment for you and your team
Featuring a prominent location in the Downtown Financial District and adjacent to the historic Gaslamp Quarter, this 1913 building has been renovated to offer the latest amenities, including a rooftop deck and direct fiber internet.
Address: 1111 Sixth Ave, San Diego, CA 92101
Perks: A spectacular historic building boasting all of the latest high-tech amenities? You truly can have it all in this stunning San Diego space, featuring both private offices and coworking suites. High-tech conference rooms and meeting rooms make this the perfect setting for your next training event or collaboration, while the rooftop deck allows you to step outside and get away from it all.
Price: Starting at $287/person
East Village, San Diego, has become a nexus of redevelopment in SoCal, with the new-build Makers Quarter at its heart.
Address: 845 15th Street Floors 1 – 4, San Diego, CA 92101
Perks: As part of a mixed-use campus, you'll find an all-inclusive work environment featuring restaurants, bars, bakeries, and boutiques, all just steps away from your professional home. Need a place for a client lunch or office celebration? Want to run some errands on your lunch hour? Looking for a place for a team-building happy hour? You'll find it all right here.
Price: Starting at $226/person
The Emerald Plaza Center shares the same stunning high-rise complex as a luxury hotel and enjoys views of San Diego's bay and downtown area. 
Address: Emerald Plaza, 402 W Broadway Suite 400, San Diego, CA 92101
Perks: If location is at the top of your team's wishlist, look no further than this centrally located San Diego workspace. Minutes away from Seaport Village, Horton Plaza, and the historic Gaslamp Quarter, you're oh-so-close to it all. Rail and streetcar services, plus close proximity to the I-5 freeway, means this location is conveniently located for everyone on your team.
Price: Starting at $240/person
Located in the heart of Downtown San Diego, you'll find a unique workspace space that blends the chill vibe of a beachside city with the bustle of an urban center.
Address: 600 B St, San Diego, CA 92101
Perks: Need a super-sized workplace for your growing team or for large-scale collaborations? With offices available in sizes from one to 280, plus high-tech conference rooms, phone booths, and collab spaces on every floor, you'll have room to stretch out and tackle your biggest challenges. A dedicated elevator means more streamlined and productive workdays and events.
Price: Starting at $350/person
Our location is in the heart of East Village. The 2-story retrofitted industrial space has its own coffee shop and great views of the downtown neighborhood.
Address: 704 J St, San Diego, CA 92101
Perks: The East Village of San Diego is known as the birthplace of American punk rock, and the area still draws its share of creative types. Be inspired by the energy and atmosphere in this two-story, retrofitted industrial space. Boasting great views and an on-site coffee shop, so you'll love coming to work — and meeting clients — in this sophisticated and elegant office environment.
Price: INQUIRE FOR PRICING
Just a few steps from the Santa Fe Depot Train/Trolley station and a short walk to the Embarcadero, Downtown Works offers flexible work spaces to the quickly evolving start-up scene in San Diego
Address: 550 W B St 4th Floor, San Diego, CA 92101
Perks: When returning to work after the shutdown, it's important to have confidence in the workspace environment. With the most comprehensive COVID-19 policies in place for health and safety, social distancing, cleaning and sanitizing, meetings and more, you'll enjoy peace of mind in this San Diego coworking space.
Price: Starting at $295/person
Be part of an engaged, connected community of empowered women; build strategic alliances and grow your business.
Address: 8885 Rio San Diego Dr UNIT 237, San Diego, CA 92108
Perks: Connect with an engaged community of like-minded women as you learn, grow, collaborate, and form the professional network you need. With spa-inspired coaching rooms, workspaces, meeting and event spaces, you'll be more productive, more inspired, and more empowered to create the business of your dreams.
Price: INQUIRE FOR PRICING
COMMONS is place that has been created to be an inclusive space that is equal thriving community and inspiring workspace.
Address: 2869 Historic Decatur Rd, San Diego, CA 92106
Perks: Created as an equal parts thriving community and inspiring work environment, you'll find a variety of businesses, from solopreneur endeavors to corporate offices. Here you'll find concierge services and front desk reception so you can be sure your team and clients are taken care of. Onsite recreational opportunities allow you to build team spirit and blow off steam without ever leaving the office.
Price: Starting at $315/person
Our lively coworking space allows freelancers, contract, and remote workers a place to gather, grow, and connect.
Address: Made Factory, 2031 Commercial St, San Diego, CA 92113
Perks: With an emphasis on networking and connection, you'll find your tribe here at this stunning San Diego coworking space. Need room for a client pitch or collaboration with professional colleagues? You'll find optional meeting and event space so you can easily expand your space on-demand.
Price: INQUIRE FOR PRICING
Work in downtown's most convenient location within walking distance of the vibrant Little Italy neighborhood, the Embarcadero, the museum of Modern Art, and the W Hotel. 
Address: 401 West A Street #200
Perks: Enjoy first-class amenities at this elegeant workspace, including expansive outdoor terraces with stunning city views and on-site cafes/coffee shops. Feel inspired by the trendy eateries and shops lining Little Italy's lively neighborhood, or meet a colleague for coffee at Piazza della Famiglia. Industrious Core Columbia is perfect for those looking for an inspiring workspace with a bustling environment.
Price: Starting at $653/person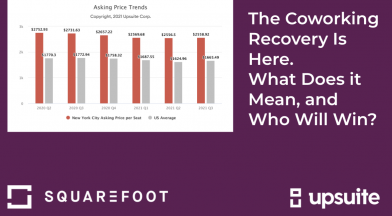 Coworking Trends: The Coworking Recovery Is Here.  What Does it Mean and Who Will Win?…
The average cost per person for a coworking space in 2021 is $392. Find more about coworking space costs.