9 of The Best Coworking Spaces in San Diego [2021]
Choosing among the available coworking spaces in San Diego requires expert knowledge and market insight. So much depends on your priority list: location, price, availability, and tech capabilities are all part of your analysis. Do you need a private office or room for collaboration? What about both? Do you need event space, training space, or the flexibility to do both?
We've personally visited each of the coworking spaces in San Diego you'll find on this list so we can help you better understand and evaluate your options. Whether you are focusing on budget, neighborhood, or high-tech capabilities, we can help you find the right flexible office environment for you and your team.
A spectacular historic building boasting all of the latest high-tech amenities? You truly can have it all in this stunning San Diego space, featuring both private offices and coworking suites. High-tech conference rooms and meeting rooms make this the perfect setting for your next training event or collaboration, while the rooftop deck allows you to step outside and get away from it all. 
As part of a mixed-use campus, you'll find an all-inclusive work environment featuring restaurants, bars, bakeries, and boutiques, all just steps away from your professional home. Need a place for a client lunch or office celebration? Want to run some errands on your lunch hour? Looking for a place for a team-building happy hour? You'll find it all right here.
If location is at the top of your team's wishlist, look no further than this centrally located San Diego workspace. Minutes away from Seaport Village, Horton Plaza, and the historic Gaslamp Quarter, you're oh-so-close to it all. Rail and streetcar services, plus close proximity to the I-5 freeway, means this location is conveniently located for everyone on your team.
Need a super-sized workplace for your growing team or for large-scale collaborations? With offices available in sizes from one to 280, plus high-tech conference rooms, phone booths, and collab spaces on every floor, you'll have room to stretch out and tackle your biggest challenges. A dedicated elevator means more streamlined and productive workdays and events.
The East Village of San Diego is known as the birthplace of American punk rock, and the area still draws its share of creative types. Be inspired by the energy and atmosphere in this two-story, retrofitted industrial space. Boasting great views and an on-site coffee shop, so you'll love coming to work — and meeting clients — in this sophisticated and elegant office environment.
When returning to work after the shutdown, it's important to have confidence in the workspace environment. With the most comprehensive COVID-19 policies in place for health and safety, social distancing, cleaning and sanitizing, meetings and more, you'll enjoy peace of mind in this San Diego coworking space. 
Connect with an engaged community of like-minded women as you learn, grow, collaborate, and form the professional network you need. With spa-inspired coaching rooms, workspaces, meeting and event spaces, you'll be more productive, more inspired, and more empowered to create the business of your dreams.
Created as an equal parts thriving community and inspiring work environment, you'll find a variety of businesses, from solopreneur endeavors to corporate offices. Here you'll find concierge services and front desk reception so you can be sure your team and clients are taken care of. Onsite recreational opportunities allow you to build team spirit and blow off steam without ever leaving the office.
With an emphasis on networking and connection, you'll find your tribe here at this stunning San Diego coworking space. Need room for a client pitch or collaboration with professional colleagues? You'll find optional meeting and event space so you can easily expand your space on-demand.
Choosing among the various coworking spaces in San Diego? You'll find pricing, availability, reviews and insights to help you make a better choice.
Are you a coworking operator in San Diego looking for more member teams to fill your space? List with Upsuite and connect with folks who are looking for you.
Are you a San Diego CRE broker? Become an Upsuite Broker Partner and do more business.
Find your new San Diego coworking space. It's easier than you think. Contact us to get started.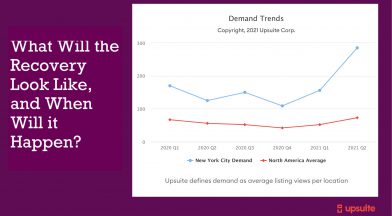 Coworking Trends: What Will the Recovery In the Coworking and Flexible Office Markets Look Like,…
The average cost per person for a coworking space in 2021 is $392. Find more about coworking space costs.