10 of the Best Coworking Spaces in San Francisco [2021]
San Francisco coworking space comes in all shapes and sizes. Different cultures, layouts, amenities, and prices, as well as a wide variety of locations, should be considered when making a decision about your next office. Do you need event space for hosting clients? What about conference space for training? Are you primarily interested in private office suites or large, collaborative spaces for creative endeavors?
It takes more than a Google search to find the right space for you and your team. That's why you need us. We've been to the spaces you're most interested in so we can help you get a real-life perspective on each. That allows you to make better, more informed decisions and find the Bay Area flexible office setup that's just right for you.
Galvanize San Francisco's coworking campus, located in the vibrant East Cut of SoMa, takes collaboration and community to a whole new level with five floors of creators, innovators and passionate learners.
Address: 44 Tehama Street San Francisco, California 94105
Perks: Located in the SoMa, you'll find five floors of creative and tech types with space for teams of up to 50. Here you'll find both indoor and outdoor spaces and a host of amenities and services. You'll increase your productivity and efficiency while you build a professional community. Planning and executing special events? High tech conference rooms and event spaces offer you the opportunity to create truly special workshops, meetings, or social functions.
Price: Starting at $550/person
Drenched in sunshine and seabreeze, our North Beach workspace space offers a picturesque location for your business to thrive.
Address: 50-60 Francisco Street San Francisco, CA 94133
Perks: Your team will feed off of the energy in this sunny North Beach location. Save time off of your commute with buses, the Muni at Emarcadero and Bay Street, Ford GoBikes, and a shuttle to the Montgomery BART Station. You'll be close by Pier 39 and a wealth of local and on-site amenities so you have more time for the things that truly matter to your business.
Price: Starting at $530/person
This center is a casual and vibrant place to lease office space in the rapidly developing Civic Center area of San Francisco.
Address: 1390 Market Street, Suite 200 San Francisco, CA 94102
Perks: Located on Market Street in the city's burgeoning Civic Center area, you'll enjoy the laid-back atmosphere of this San Francisco coworking space. Here you'll enjoy front desk reception to welcome your clients and colleagues. There's also an on-site fitness center to keep everyone energized. Situated across the street from Twitter and Uber, this space will be the setting for your biggest professional accomplishments.
Price: Starting at $300/person
This iconic location is the perfect workspace for any type of business, from touchdown space for Silicon Valley startups to quarterly meetings with your clients based in the Financial District.
Address: Four Embarcadero Center, Suite 1400 San Francisco, CA 94111
Perks: You're at the heart of it all in this cheerful space, located in the heart of San Francisco's iconic Embarcadero Center. Whether you're meeting with Silicon Valley startups or Financial District investors, you're oh-so-close and convenient. Incredible views plus conference and event space so you can host meetings of practically any size and purpose, either here or in one of the many neighboring world-class venues.
Price: Starting at $2,185/person
Covo is the first coworking space that enhances how you live, not just how you work.
Address: 981 Mission St, San Francisco, CA 94103
Perks: Looking for unparalleled flexibility and amenities? Look no further. With hourly seating and a host of on-site options, this San Francisco coworking space offers you an incredible array of options and services. Make this your professional home, bring in your team for a day of training, or use the space for a special presentation. The choice is always yours.
Price: Starting at $840/person
ECO-SYSTM is a dynamic community of creative professionals, startups, and freelancers, founded on the idea that entertainment, creativity and business can come together to offer a truly unique work experience for Bay Area professionals.
Address: 540 Howard St 2nd floor, San Francisco, CA 94105
Perks: Experience the innovation of a high-tech corporate campus as well as the flexibility and value of a coworking space. This beautiful and inspiring space allows you and your team the opportunity to work with some of the most innovative creative minds in the world. Partnerships with Mirus Art Gallery and Temple Nightclub allow you to fuel your creativity by bringing together business, music, and the fine arts.
Price: Starting at $400/person
CANOPY is an exceptional network of shared workspaces for both accomplished professionals and aspirational entrepreneurs alike – a sophisticated and diverse community of thinkers, creators, builders and innovators.
Address: 595 Pacific Ave 4th floor, San Francisco, CA 94133
Perks: With an emphasis on design, this fashion-forward space is the elegant setting for all of your most sophisticated work. A variety of spaces allows you to work the way you like. Choose from a private setting or a collaborative environment, indoors or outdoors. Your team will love the exceptional beauty of the space, while you'll love the productivity it generates.
Price: Starting at $695/person
At Bespoke, our spaces can be tailored to fit any event style.
Address: 845 Market Street, Suite 450 San Francisco
Perks: Forget business as usual. The name says it all in this endlessly adaptable environment located in the famed Tenderloin district. Here you'll find spaces that are suited for any type of event you can dream up, so there's no limit to what you and your team can accomplish. From a down-and-dirty hack-a-thon to the grandest gala — this space can truly do it all.
Price: Starting at $416/person
This three-story Oakland landmark at the entrance to Jack London Square was built in 1909 astride the terminus of the first Transcontinental railroad. 
Address: 101 Broadway, Oakland, CA 94607
Perks: Located in a landmark building at the entrance to Jack London Square, this historic property, built in 1909, offers you and your team an ideal setting for the growth and development of your business. Here you'll find a dog-friendly space featuring a host of free amenities and services along with a variety of spaces, including an outdoor terrace, makerspace, and event venue along with educational programming and second-to-none networking opportunities.
Price: Starting at $500/person
Inspiring Workplace, Ideal for networking, in Silicon Valley North
Address: 611 Gateway Blvd
Perks: The world is your oyster when you choose Spaces – Oyster Point as your next workspace.  Located in the booming Silicon Valley, this location is perfect for techies, creatives, and professionals looking for a bustling community of passionate entrepreneurs. Occupying two floors, Spaces – Oyster Point features private or shared offices, meeting rooms and more flexible options to fit your needs. 
Feel free to collaborate with like-minded entrepreneurs in the common areas. Maybe even network with your next potential business partner or just relax on the private patio. Enjoy the views of the bay and Louis A. Turpen Aviation Museum and Library, part of San Francisco International Airport, only a six-minute drive away. Spaces – Oyster Point is conveniently located close to interstate highways and features ample parking.
Price: Starting at $750/person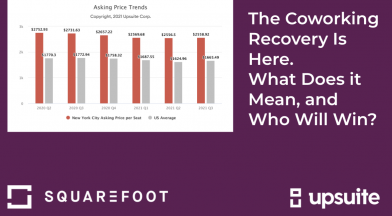 Coworking Trends: The Coworking Recovery Is Here.  What Does it Mean and Who Will Win?…