Flexible Space Agreements: All There Is to Know
If you're considering entering into a shared office space agreement, it's important to have a clear sense of your current needs as well as your upcoming, changing requirements. Whether you're just starting out with a new business venture or transitioning your team out of a larger, corporate environment, defining your space starts with a clear-eyed self-assessment.
Your shared office space agreement should start with a timeline, outlining the parameters of move-in and move-out as well as the times during which you'll have access to your office. Some spaces operate with 24/7 access while others have well-defined operating hours, so make sure that the timing works for you and your team.
Next, you'll look at the spaces that are included in the agreement. You may be renting a few dedicated desks, a well-defined office suite, or a complex of spaces including private offices, conference rooms, and collaborative common space. If your needs vary depending on your workflow, talk to the office space operator about on-demand space utilization that might better serve your needs.
Finally, of course, you'll think about how the terms of the shared office space agreement define the amenities and extras that will be included in your tenancy. What services are provided? What access do you have to common spaces, event spaces, and tech infrastructure? How often will the space be cleaned, updated, or upgraded? These items can have a major impact on your enjoyment of the space as well as on your budget.
Ready to find the right space and learn what to expect in a shared office space agreement? Contact us today, learn more about availability in your market, then begin the process of defining and booking your space.
Why Use Upsuite?
Largest Selection of Coworking and Private Workspace
No Cost Advisor
Save 90% of Time Looking for Space
Save 15 to 50% on Rent
Upblog: Coworking, Private Workspace, and the Future of Work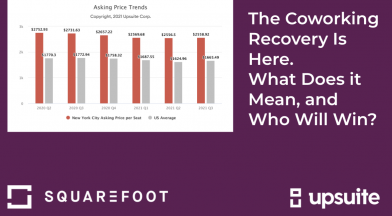 Coworking Trends: The Coworking Recovery Is Here.  What Does it Mean and Who Will Win?…
Thanks so much! Straightforward and a pleasure to work with.
Upsuite was quite easy to use as Upsuite dominated the generic Google search for shared office space in Boulder. A quick single recommendation of 3 spaces was all we really needed.
Thanks for all your help – Upsuite provided very excellent service.