10 of the Best Coworking Spaces in Seattle [2021]
Seattle has come a long way from its sleepy, logging town roots. In fact, Forbes has rated Seattle as the best city for business now two years running. This fact, along with the city's vibrant personality and unique culture, explain why it has such a diverse, thriving market for coworking space.
Now an industrial powerhouse in everything from technology and e-commerce to healthcare and aerospace, Seattle's robust economy drives an ever-increasing need for flexible office space. To help you navigate the many different choices available, we're going to examine Seattle's ten best coworking spaces and what stands out about each so you can see which is the best fit for your specific needs and goals. With a variety of atmospheres, amenities, and locations to choose from, there's undoubtedly a perfect Seattle coworking space for you.
Seattle's most creatively inspired coworking space. Located in Capitol Hill.
Address: 1424 11th Ave Ste 400, Seattle, WA 98122
Perks: Most creatives need an environment that sparks the imagination and inspires non-linear thought. In the Seattle coworking market, The Cloud Room fits that bill to a tee. Located in the appealing Capitol Hill district, The Cloud Room is a 5,000 sq ft space specifically tailored to the unique demands of graphic designers, artists, and other creatives.
Besides the typical amenities like hi-speed Wi-Fi, printing & copying facilities, mail services, and a communal kitchen, membership also includes access to an onsite bar, recording studio, wellness workshops, and more. As part of Global Collective, Cloud Room members also get free access to select other coworking spaces across the world. With a convenient location just a ten-minute walk from downtown, The Cloud Room is easily accessible from Seattle's light rail, streetcar, and extensive bus services.
Price: Starting at $160/person
Our flagship coworking space is located in a beautifully updated historic building in Seattle's oldest neighborhood, Pioneer Square.
Address: 100 South King Street, Suite 100 Seattle, WA 98104
Perks: We probably don't have to mention how much of an imprint entrepreneurship has left on Seattle's culture and economy. With names like Bezos and Gates in its rich entrepreneurial history, Seattle remains a hotbed for innovative thought. In The Pioneer Collective, Seattle entrepreneurs have flexible coworking options that fit artists and sole proprietors alike in a beautiful building at the center of the city's historic Pioneer Square.
That's not to say, however, that The Pioneer Collective is exclusive to entrepreneurs. With private offices, meeting rooms, and event space along with flexible solo memberships, The Pioneer Collective is an excellent choice for small teams as well. Amenities include fast Wi-Fi, local coffee, color printing, and even private showers, all in a convenient West Seattle location close to light rail, Metro, and Sounder train stations. The local neighborhood, filled with boutique shops, restaurants, and bars, only adds to The Pioneer Collective's unique and eclectic spirit. And for those living south of the airport, The Pioneer Collective has another location in Tacoma as well.
Price: Starting at $95/person
Located in Pioneer Square, Galvanize Seattle's coworking space and bootcamps bring top technology companies and entrepreneurs together in the city's charming and historic original downtown area. 
Address: 111 S Jackson St, Seattle, WA 98104
Perks: Technology is one of the pillars of the Seattle economy, with tech giants like Microsoft, Amazon, Google, and others continuing to drive innovation and growth throughout the area. For the city's several small to midsize tech teams and enterprises, Galvanize offers flexible office space solutions and more, including startup incubator coaching and services, technology training courses, and even a coding bootcamp.
A five-story campus located in Pioneer Square, Galvanize provides access to state-of-the-art coworking space in a collaborative, forward-thinking atmosphere. Members enjoy perks like a community kitchen, phone booths, complimentary coffee, free printing, and plenty of conference rooms for team meetings. With open seating, reserved desks, and private suites, Galvanize is an appealing coworking solution for founders, small teams, and enterprises with up to 30 employees. Just west of I-5 and Seattle's International District, this coworking space combines amazing views of Elliot Bay with a tight-knit community, tech-driven community.
Price: Starting at $200/person
Everyone's wants a desk at Washington's finest flexible workspace, 2+U. 2+U is located in downtown Seattle's business district — a home it shares with corporate giants including Amazon.
Address: 1201 2nd Ave, Seattle, WA 98101
Perks: One of the endearing qualities of shared office space is its wide range of cultures. While a relaxed atmosphere with ping-pong tables and bean bag chairs might be a perfect fit for some, others need a more professional environment. That's the area where Spaces 2 & U fits so nicely within the Seattle flex office space market – endlessly professional without being dreary and dull.
Located in a new, modern building overlooking Puget Sound, Spaces 2 & U offers all of the amenities that a professional team needs for success – fast Wi-Fi, high tech conference rooms, front desk reception, several meeting rooms, mail services, and more. Offering hot desks, dedicated desks, and private offices for up to 20 people, this facility is ideal for small to midsize teams that need a bit more privacy and a quieter environment than conventional coworking spaces might afford. That's not to say that Spaces 2 & U is somehow stodgy or lifeless, however, as it still has a pulse and spirit conducive for networking and innovation.
Price: Starting at $480/person
Ideally situated in the center of the business district, this space is located on the 11th and 12th floor of the City Center Bellevue skyscraper. 
Address: 500 108th Ave NE Suite 1100, Bellevue, WA 98004
Perks: Startups feed off of innovation and collaboration. The working environment has a lot to do with any startup's ultimate success since, as many know all too well, establishing market share requires much more than just a single good idea. Coworking space at Industrious' Bellevue location gives startups the energetic, bright, and bustling atmosphere they need to maintain an innovative and creative mindset.
Located across two floors in the City Center Bellevue building, the space is ideal for collaboration with open space, natural light, and a community of like-minded innovators absorbing inspiration. Since Industrious Bellevue is next to the Bellevue Transit Center, this location at the center of Seattle's thriving business district is easy to get to, whether by car, light rail, or bus. The space offers both floating desks and private office suites built to accommodate up to 19 people, making the location popular for solo entrepreneurs, freelancers, and small businesses.
Whatever membership level you choose, you'll have access to onsite dining options, color printing services, phone booths, conference rooms, daily breakfast and snacks, as well as all the free craft coffee you can drink. And like all Industrious sites, you'll work in a higher-end atmosphere compared to more typical, conventional space, making it an impressive environment that attracts talent and conveys the right message to customers or clients.
Price: Starting at $840/person
Our Regus office space on the 42nd floor of the Columbia Center at 701 Fifth Avenue — in Seattle's tallest building — is a great place for you to work. 
Address: 701 Fifth Avenue Columbia, Tower 42nd Floor, Seattle, WA 98104
Perks: If you're looking for coworking space that will help you and your team maximize productivity, then Regus Columbia Center is an ideal choice. Located at one of Seattle's most prestigious business addresses in the center of the financial district, this Regus site is quiet and professional – but not stuffy – to give your people an ideal place to get things done.
Aside from an environment perfect for productivity, the location also features a fitness facility, onsite coffee bar, an outdoor seating area, virtual office services, and videoconferencing in the meeting rooms. Since it's on the 42nd floor of a 76-story building, tenants have incredible views of the entire Seattle Metropolitan area, not to mention an extremely helpful and professional staff to help your operations run smoothly and efficiently.
Price: Starting at $420/person
In the heart of one of Seattle's fastest-growing neighborhoods, this premium workspace gives you instant access to the city's top dining, shopping, and entertainment. 
Address: 2033 6th Ave Suite 600, Seattle, WA 98121
Perks: Just like its sibling in Bellevue, the Industrious site in downtown Seattle gives small teams and enterprises a vibrant working environment in a much sought after location. However, the downtown location elevates Industrious' penchant for hospitality even higher with service and amenities that distinguish it from the rest of Seattle's flourishing flexible office space market.
Many organizations describe Industrious Downtown's service as a combination of a four-star hotel with the comforts of home. The space provides members with a complimentary breakfast prepared by onsite chefs, free coffee and snacks throughout the day, event space, phone booths, color printing, and more.
What truly separates this downtown location from even other Industrious sites is its incredibly helpful staff, though. They routinely go out of there way to ensure your team has everything it needs to prosper and grow. In a competitive and crowded marketplace, that level of hospitality and service goes a long way in helping your business come out on top.
Price: Starting at $735/person
Located in the historic Pioneer building, Expansive Workspace – Pioneer Building includes six stories of elegant workplaces, and a large center atrium lit by skylights. 
Address: 600 1st Ave
Perks: Looking for bright, airy and open workspace to fuel your creative and professional pursuits? Look no further, Expansive Workspace – Pioneer Building is the perfect place for you. Situated in a Romanesque-style building that earned National Historic Landmark status in 1978, this charming workspace is equipped with modern amenities for top productivity. When you join the Expansive workspace community, you are given an abundance of benefits including, top-of-the-line technology, community activation, marketing opportunities, and VIP treatment at any location nationwide.  
Expansive Workspace – Pioneer Building is committed to promoting health, wellness and safety in their space, and constantly innovates new ways to create positive environments for their members. The location features a center area that is designed to maximize sunlight and open spaces, as well as a mother's room with soft seating, dedicated refrigerator, locking door, and electrical outlets.
Price: Starting at $800/person
Located in Downtown's Seattle first building to be constructed after the Great Seattle Fire of 1889, WeWork – Holyoke Building blends historic charm with contemporary Northwest interiors.
Address: 107 Spring St
Perks: WeWork – Holyoke Building combines a historic feel with a modern vibe. The exposed brick, stone walls, and high ceilings area a historic charm, and are ideal for those looking to spark creativity. This office space provides ample open space and also features an event space on the lower level. Don't want to leave your dog alone at home? Well, you're in luck because WeWork – Holyoke Building is pet friendly!
This downtown office space is in prime location, just a few blocks away from Pioneer Square and dozens of restaurants. Whether you are looking for a community of like-minded professionals, a peaceful place to work, or event space, WeWork – Holyoke Building has it all. 
Price: Starting at $750/person
Creative working in the shadow of Seattle's spaces needle.
Address: 2815 Elliott Avenue #100
Perks: It's easy to stay productive, when your office space has unlimited, super-fast WiFi and a top notch administrative team who works around the clock to ensure that everything runs smoothly. Lucky for you, when you choose Spaces – Belltown as your next workspace, you receive all of those benefits and more. Whether you are looking for a private office, lounge, or meeting space to work in, this location has a workspace for your every need. Interested in collaborating with like-minded entrepreneurs? Spaces – Belltown is a hub for creatives and techies who are looking to grow their business and network. This old century waterfront building is perfect for sparking creativity and boosting productivity. 
Location, Location, Location. Belltown is one of the most accessible neighborhoods in the city, only five minutes from Westlake Avenue train station and the Seattle Centre Monorail, with multiple bus stops nearby. The area is also a foodie's paradise, lined with stylish eateries, as well as the renowned Bang Bang Café. Head to Spaces – Belltown to explore Seattle's most energetic workspace
Price: Starting at $750/person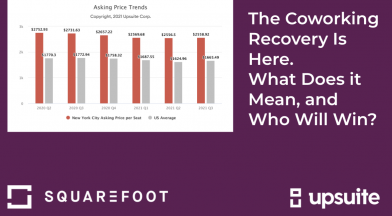 Coworking Trends: The Coworking Recovery Is Here.  What Does it Mean and Who Will Win?…
The average cost per person for a coworking space in 2021 is $409. Find more about coworking space costs.