Finding The Right Office Space Providers
When you're looking for an office space provider, you have a number of options both online and in person. You'll not only need to understand what providers serve your market, but you'll also need to know what types of features and amenities they include in their membership cost and how they will fit in to your company's space requirements.
One way to find a space provider in your chosen market is to conduct an online search. This may give you some basic information about the location of the space and the overall size. What you probably won't find from an online search is what it is like in the space, what availability they have, and whether the space will work for your team or business.
Another way to find a space provider is to pay in-person site visits to get a better sense of the area around the space and the vibe of the office itself. You'll probably need to set up an appointment to meet with the operator and tour the office. This can be time-consuming and frustrating and still may not provide all of the information you need.
One of the best ways to search for an office space provider is to work with a service like ours. We combine both online insights like space types and amenities with in-person insights and in-depth analysis of what it takes to serve teams and businesses like yours. We can help you identify the most important aspects of your space search so that you can feel more confident and comfortable with your choice.
Contact us today to begin the process and learn more about how Upsuite can help you and your team find a new home base. Let us help you develop a shortlist for a faster and more efficient decision-making process.
Why Use Upsuite?
Largest Selection of Coworking and Private Workspace
No Cost Advisor
Save 90% of Time Looking for Space
Save 15 to 50% on Rent
Upblog: Coworking, Private Workspace, and the Future of Work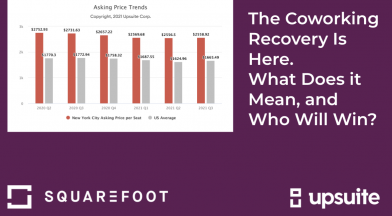 Coworking Trends: The Coworking Recovery Is Here.  What Does it Mean and Who Will Win?…
Thanks for all you did in helping Techstars secure a facility in Denver. The process was seamless.
Upsuite was quite easy to use as Upsuite dominated the generic Google search for shared office space in Boulder. A quick single recommendation of 3 spaces was all we really needed.
Had a really great experience working with Upsuite! Very professional, fast service – Upsuite helped me find the perfect space within days.