5 of the Best Coworking Spaces in Austin [2021]
When choosing a new space for coworking in Austin, it's important to consider a variety of factors. Think beyond desk space. What about presentation spaces? Event space? What kind of tech requirements do you and your team members have? How much is your budget?
A decision like this affects your team, their motivation, and the quality of their work. Why leave it to chance? Let Upsuite's smart, reliable analysis help you make the right decision. We visit each space to bring you the best of coworking in Austin so that you can make a smarter choice.
Common Desk – Far East Austin is located right off 183 and E. Cesar Chavez near some of the neighborhood's best restaurants, bars, and destinations.
Address: 2301 W Anderson Ln Austin, Tx 78757
Perks: Looking for space that's designed to inspire? Look no further than this fabulous Austin coworking space. Featuring shipping container standalone offices, indoor and outdoor workspaces, and the coolest East Austin vibe around, you'll love every day here. Add in a double decker patio, outdoor games, and weekly happy hours and you'll find out how incredible design, service, and amenities can contribute to better work-life balance.
Price: Starting at $750/person
Located in the heart of downtown in a brand-new building, this workspace is designed to support a productive workday.
Address: 201 W 5th St 11th Floor, Austin, TX 78701
Perks: Located in a brand new building in the exciting Warehouse District of Austin, this space is designed to enhance your productivity. Enjoy top-of-the-line in-house amenities and services, then take advantage of building perks like a fitness center, event space, plus dining and retail options. There's always something here to fuel your team's creativity, and easy access to the best of Austin's iconic nightlife.
Price: Starting at $645/person
Our unique workspace space in central Austin is home to a diverse mix of newly minted startups and some of the biggest names in the tech sector.
Address: 3300 N Interstate Hwy 35 Suite 700, Austin, TX 78705
Perks:  Here you have a host of options for your team's tech needs, from hard-wired ethernet to secure WiFi. This space offers on-site tech support so you keep your business up and running. In addition, with guest log-in functionality, you can collaborate with colleagues and other team members or hold professional events and panels.
Price: Starting at $410/person
The Regus Dobie Center location at 2021 Guadalupe Street is startup-friendly office space that is great for coworking
Address: 2021 Guadalupe Street Dobie Center, Suite 260, Austin, TX 78705
Perks: Located on The Drag next to the University of Texas, you'll find all of the energy your startup needs, along with access to law, tech, and professional service providers. Here you can choose from a variety of space configurations, so you and your startup can expand as you grow. Enjoy videoconferencing space, so you can expand your professional reach reliably and affordably.
Price: Starting at $330/person
Galvanize Austin is situated in the middle of a city with a long-standing history of tech innovation, sitting on the banks of Lady Bird lake with plenty of nearby coffee shops, boutiques, and restaurants.
Address: 119 Nueces St, Austin, TX 78701
Perks: Located on the banks of Lady Bird Lake, you'll experience the best of Austin-centric innovation along with a touch of Southern hospitality. Close to both the Financial and Market Districts, so your tech team will be conveniently located near all of the action for client services, professional collaboration, and project oversight. Learning workshops, mentoring programs, and a host of amenities make this the right coworking space for your Austin-based team.
Price: Starting at $125/person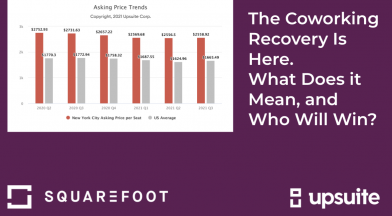 Coworking Trends: The Coworking Recovery Is Here.  What Does it Mean and Who Will Win?…
The average cost per person for a coworking space in 2021 is $514. Find more about coworking space costs.