How to Find The Largest Coworking Space Operators?
To find the largest coworking space operators working in your market, you'll want to start with some of the biggest brands in the industry. These include the following:
Regus

WeWork 

Spaces 

Premier Workspaces

Office Evolution

Intelligent Office

Industrious Office
In addition to large national brands, you may find that there are major players in your region or in your metropolitan area. These may have a greater insight into how business works in your area, with the most desirable locations and amenities that are uniquely suited to your team. Whatever the case, the largest coworking operators can offer distinct advantages over single-space operators.
If you and your team travel frequently, a large space operator may offer you the opportunity to access workspaces outside of your own city. This can be convenient, providing your team with private offices, meeting spaces, and presentation venues whenever and wherever you need them.
In addition, larger coworking space operators may be able to provide updates and upgrades on a consistent basis along with the latest service enhancements. Because they may have a greater focus on development and a desire to lead the industry in innovation, they may offer improvements before single-space or smaller operators.
Whatever you're looking for in a coworking space provider, you'll want to start with the expertise and insight Upsuite provides. Contact us so that we can talk about your requirements and connect you with the right coworking space operator — no matter the size.
Why Use Upsuite?
Largest Selection of Coworking and Private Workspace
No Cost Advisor
Save 90% of Time Looking for Space
Save 15 to 50% on Rent
Upblog: Coworking, Private Workspace, and the Future of Work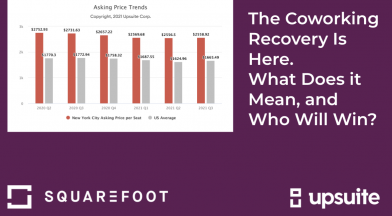 Coworking Trends: The Coworking Recovery Is Here.  What Does it Mean and Who Will Win?…
Thanks for all your help – Upsuite provided very excellent service.
Had a really great experience working with Upsuite! Very professional, fast service – Upsuite helped me find the perfect space within days.
Thanks so much! Straightforward and a pleasure to work with.