8 of The Best Coworking Spaces in Portland [2021]
Whether you're looking for a small office suite or a large, collaborative office environment, choosing among the many coworking spaces in Portland can depend on a variety of factors. You and your team may need high-tech infrastructure designed to make your next virtual conference run smoothly. Maybe you need a variety of event spaces for meetings, client pitches, or company-wide celebrations. Perhaps you're inspired by a beautiful environment or by proximity to the best shopping and dining in the city. When you're happy with your workspace, you'll enjoy greater productivity 24/7.
Finding the right coworking space requires expert knowledge of the local market and of the spaces themselves. That's why we conduct in-person visits and look at all of the options and put together our breakdown of the best coworking spaces in Portland, whether you are part of a large team, small team, or startup.
Located in the heart of Downtown Portland, our Power + Light Building office space lets you blend the line between work and play like never before.
Address: 920 SW 6th Ave, Portland, OR 97204
Perks: Located in the heart of downtown, you'll find everything you're looking for here. Boasting a variety of space accommodations, convenient transportation options, and great local amenities and venues, there's no limit to the possibilities you'll find. Cleaning policies and protocols are designed to keep you and your team operating at peak health and efficiency.
Price: Starting at $300/person
Situated in the heart of downtown, this elegant workspace offers a bird's-eye view of Pioneer Square and convenient access to public transportation.
Address: 811 SW 6th Ave Suite 1000, Portland, OR 97204
Perks: Whatever you've hoped for in your next flexible office space, you're sure to find it here. With a host of amenities, from support services to specialty spaces, you'll be happy to call this your professional home. Host clients and colleagues for events of all shapes and sizes and impress them with both the location and the hospitality they'll find.
Price: Starting at $430/person
Our Regus U.S. Bancorp Tower center at 111 SW 5th Avenue lets you lease office space on Big Pink's 31st floor
Address: 111 SW 5th Ave Suite 3150, Portland, OR 97204
Perks: Located on the border of the Pearl District in an iconic building known locally as Big Pink, this is an ideal location for your small team. Whether you favor dedicated private offices or collaborative spaces, you will love the flexibility and built-in service you'll find here. After work hours, host fun team-building events and client dinners at one of the many neighborhood restaurants or breweries.
Price: Starting at $450/person
Nestled in the heart of Portland's historic NW Slabtown you'll find the flexible offices of Spaces Slabtown.
Address: 2175 NW Raleigh St Suite 110, Portland, OR 97210
Perks: Located in the former industrial heart of Portland, you'll find everything you want, and more than you expect, in this flexible office space. Enjoy unlimited, high-speed WiFi and a variety of conference and communal spaces, so you'll have the tools you need to succeed. Exclusive access to the second-floor sky porch and outdoor wraparound eco-roofs on four provide all of the beauty and inspiration you could ask for.
Price: Starting at $226/person
We created CENTRL Office to inspire people to do the best work of their lives.
Address: 1155 SW Morrison St, Portland, OR 97205
Perks: There's no limit to what you can accomplish in this multi-faceted space located in the heart of downtown. Conveniently located and with a variety of space options, this is the perfect place to bring your team, host your clients, and meet with colleagues. High-end amenities and services mean your team has more time for the things on your business's to-do list.
Price: Starting at $195/person
Built at the behest of Gene Autry (yes, THAT Gene Autry), our 1970s brush-with-greatness building once housed local radio powerhouses KEX and KQFM, and later, Clear Channel Portland.
Address: 4949 South, S Macadam Ave, Portland, OR 97239
Perks: Whether you're leading a team of creatives or just enjoy a beautifully defined aesthetic, you'll love this space where every detail has been chosen with care. From its Hollywood roots through its radio heyday, you'll find everyday inspiration here. You'll love hosting events, from client meetings to conferences, in a variety of gorgeous dedicated event spaces.
Price: Starting at $295/person
HatchLab PDX is for local innovators and social entrepreneurs who imagine, launch and scale enterprises that improve communities.
Address: 1259 Lloyd Center, Portland, OR 97232
Perks: The name says it all — this coworking space serves innovators and entrepreneurs who want to create a better world. Collaborative and event spaces allow you to network and learn from like-minded social trailblazers. Community events encourage you to learn and grow alongside your fellow creators.
Price: Starting at $340/person
Welcome to VIDA, a coworking community designed to support modern life. 
Address: 401 NE 19th Ave #200, Portland, OR 97232
Perks: With monthly life-coaching, drop-in childcare, and daily fitness classes, plus a community-oriented professional network in-house, this Portland coworking space is designed to literally help you live your best life. With a variety of spaces available, from dedicated desks to event spaces, there are no limits to what you and your team can accomplish here.
Price: Starting at $250/person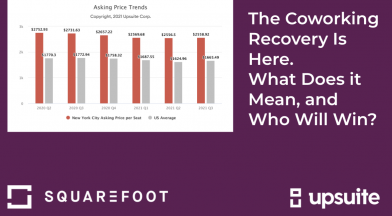 Coworking Trends: The Coworking Recovery Is Here.  What Does it Mean and Who Will Win?…
The average cost per person for a coworking space in 2021 is $357.3. Find more about coworking space costs.