FAQ
Are coworking spaces only for individuals and solopreneurs?
Coworking spaces can work for a wide variety of purposes, from hot desks for individual workers to private office environments for teams, startups, and small businesses.
Are coworking and flexible offices only available in large urban markets?
Not at all. Coworking and flexible office environments are found in big cities, suburban enclaves, and small towns as well. 
If working from home is working for my team, why should I consider an office space?
While day-to-day operations may be fine from home, your team may benefit from collaborative space or an on-demand home base. In addition, virtual offices may be a helpful way to give your team a centralized mailing address and phone answering service.
Are all office spaces open-concept and collaborative?
Office spaces come in all shapes and sizes, from open spaces to private offices and beyond. There are also event spaces, meeting rooms, and even retail and warehouse spaces.
How do I determine how much space I need?
Think through your current space needs and the growth you expect over time. Think through how you use the space and whether you need on-demand conference space for training and presentations along with your office space.
What if my space needs change over time?
One of the biggest advantages of flexible space is the shorter time commitment it offers. Communicate with your operator both upfront and consistently over time to discuss the ways that your needs are changing — and what you might need next.
Is there a way to brand my office space?
Many operators allow you to brand private office suites and other parts of your flexible office space and even to design a space that is customized to suit your requirements.
Am I locked into a contract when I reserve a flexible office space?
You may sign an office space agreement, but its terms are usually far more flexible and easy to negotiate than a commercial lease. Talk to your operator about the flexibility you're looking for before you sign.
My team travels frequently. How can flexible space work for us?
Some larger flexible office and coworking space operators have multiple spaces in cities all over North America. You may be able to secure reciprocal agreements for the use of spaces in other cities in your provider network.
How can I find space that works for my specific needs?
Contact us for the boots-on-the-ground insight and information you need to make the best decision. You can search by market, space size, and more to find the space that is perfect for you and your business.
Why Use Upsuite?
Largest Selection of Coworking and Private Workspace
No Cost Advisor
Save 90% of Time Looking for Space
Save 15 to 50% on Rent
Upblog: Coworking, Private Workspace, and the Future of Work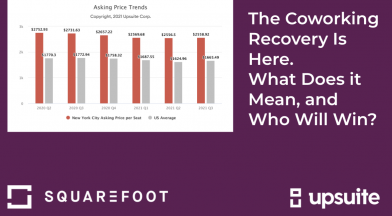 Coworking Trends: The Coworking Recovery Is Here.  What Does it Mean and Who Will Win?…
Upsuite was quite easy to use as Upsuite dominated the generic Google search for shared office space in Boulder. A quick single recommendation of 3 spaces was all we really needed.
Thanks so much! Straightforward and a pleasure to work with.
Had a really great experience working with Upsuite! Very professional, fast service – Upsuite helped me find the perfect space within days.