5 of the Best Coworking Spaces in Calgary [2021]
How will you choose the right coworking space in Calgary? Maybe price is a driving factor for your team. How about style and layout or in-house amenities? For many, location is an all-important determinant. Maybe, however, you are called upon to host clients or plan large-scale events. You and your team have unique needs, so it's important to find the right flexible office space with the right options. 
Finding a great location for your Calgary office space requires more than a simple Google search. By visiting a variety of spaces and looking at the options, amenities, and services available, your Upsuite team curates a list of the best coworking and flexible office locations in Calgary. Put our knowledge and experience to work and help your team find the space that works best for you.
There's nothing you can't do when your team is working from WeWork – The Edison. Because it's located in a vibrant hub of activity in downtown Calgary, you'll experience exceptional service and amenities with an emphasis on fun. Take advantage of the indoor basketball court, golf simulator, game room, and gym or relax during happy hour on the third-floor patio.
Located in the heart of Calgary's commercial center, you'll find the offices of insurance, banking, and oil and gas companies all within walking distance. Enjoy the view from the landmark Canada Trust Tower, a worthy professional environment perfect for impressing clients and colleagues. Plus, high tech conference rooms allow you to do more, no matter where work takes you.
Regus Altius Centre is connected to most of the major buildings in Calgary's bustling central business district by the Plus 15 walkway. You'll enjoy convenience and exceptional amenities with a mix of companies ranging from communications to energy. Here you'll find a collegial environment and an emphasis on privacy. That means you can work your way in the heart of Calgary.
With 12,000 sq ft of contemporary space, you'll find plenty to love about HustleCo Stratus. Whether you find your focus in a private office or feed off the collaborative energy in a Hotspace Lounge — this coworking space is designed for the way you prefer to work. With nearby world-class shopping, dining, and destinations, you'll love your office inside and out. 
The Collective 12|12 invites you to "collide with other people" and that's not a typo. You'll find a variety of events so you can learn, listen, and network with colleagues in the space. In addition, you'll enjoy the collaborative environment and passion from startups, entrepreneurs, and creative teams. With an emphasis on community, you'll thrive off the energy here. Let it inspire you.
A flexible office or coworking space should work for the way you work. What does that mean for you? If you are
A team lead looking for

coworking space in

Calgary,

including space for your next client presentation, board meeting, or event, you'll find prices, availability, photos, and details to help you make the right choice.

A

coworking operator in Calgary

looking to attract more member teams to your space, you'll enjoy the reach of Upsuite's platform for bringing attention to your coworking office.

A

Calgary commercial real estate broker

, you can scale up your business through the power of Upsuite's Broker Partner program.
Wherever you are — and wherever you want to be — Upsuite can help. Let us identify the perfect place to find your niche, grow your business, and create your new professional home.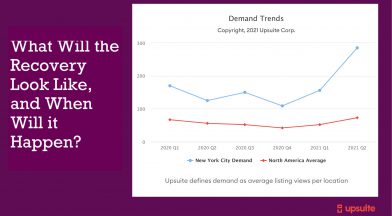 Coworking Trends: What Will the Recovery In the Coworking and Flexible Office Markets Look Like,…
The average cost per person for a coworking space in 2021 is $326.8. Find more about coworking space costs.