10 of the Best Coworking Spaces in Miami [2021]
If you are searching for coworking spaces in Miami, you may be focused on a variety of items on your wishlist. Maybe you and your team are focused on a convenient location and a short commute. Or perhaps you need a variety of workspaces for the different aspects of your business. Maybe you need event spaces, meeting space, or high-tech conference capabilities. On the other hand, maybe you are primarily focused on staying within a strict budget.
Whatever your priorities, you need boots-on-the-ground expertise — not just a Google search — so you can make the right decision. That's where we come in. We've been to the offices, checked them out for you, and found the best coworking spaces in Miami for you and your team.
Spaces Lincoln Road is an exclusive office space like no other. 
Address: 1111 Lincoln Rd, Miami Beach, FL 33139
Perks: Feel right at home in this colorful space located on a palm tree-lined avenue in glamorous Miami Beach. Here, front desk reception will make your team and your guests feel welcome. Step out for a bite to eat or a shopping excursion whenever the mood strikes — you're close to it all. With 24/7 building access, you can come and go whenever it's convenient.
Price: Starting at $226/person
WeWork is a global network of workspaces where companies grow together.
Address: 200 S Biscayne Blvd, Miami, FL 33131
Perks: Offering professional spaces ranging from private offices to suites designed for dozens, you'll love the energy of this fabulous Miami coworking space, located in the heart of the vibrant downtown business district. Dog-friendly and boasting wellness space, EVC charging stations, game space, and an espresso bar, so everything you need is at your fingertips.
Price: Starting at $770/person
Sun and surf will be your favorite new coworkers when you join our team at Las Olas.
Address: 401 E Las Olas Blvd #1400, Fort Lauderdale, FL 33301
Perks: Wow your guests and colleagues and make a great impression in this stunning Las Olas office environment. With a variety of suite designs, meeting rooms, high-tech conference rooms, and event space, there's nothing you can't do here. Surrounded by fabulous boutiques, eateries, and art galleries, so you and your team will always have just the right place for that client lunch or impromptu meetup.
Price: Starting at $700/person
Featuring a prime location between the Central Business District and the Wynwood Design District, Expansive Biscayne provides clients easy access to all that Downtown Miami has to offer.
Address: 2125 Biscayne Blvd, Miami, FL 33137
Perks: Offering fully-furnished private offices, coworking space, and technology-enhanced SmartSuites™ for teams up to 50, this gorgeous space just a block away from the waterfront offers you everything you need to accomplish more. With private phone booths, high-tech conferencing capabilities, and intimate meeting rooms, you'll find your focus whenever you walk in the door.
Price: Starting at $399/person
This impressive 33-floor building is in the center of Miami's commerce district and perfectly showcases the magnificent city skyline.
Address: 80 Southwest 8th Street, Bayview Suite 2000, Miami, FL 33130
Perks: Located in the iconic Brickell district close to Miami Beach, the Miami Convention Center, and the Port of Miami, and just across from the Metro rail, there's more to love in this Miami coworking space. If location is your primary concern, you'll experience an easier commute and a more convenient setting so your team is always at the top of their game.
Price: Starting at $300/person
Located in the heart of the vibrant Wynwood Arts District, the LAB is Miami's original coworking community.
Address: 400 NW 26th St, Miami, FL 33127
Perks: Located in the former warehouse district of Wynwood, you'll find more inspiration for your startup endeavors in this bright, high-powered environment. Members at this coworking space range from freelancers to early-stage startups, nonprofits to corporations, and creatives to tech. Learn and grow with some of Miami's most exciting and energetic teams.
Price: Starting at $300/person
Miami's Downtown and Brickell Area define the progressive American city, with a multifaceted arts scene, global dining, multicultural ambiance and world-class hotels.
Address: 990 Biscayne Blvd #501, Miami, FL 33132
Perks: Stay within your budget without sacrificing quality when you choose this Miami coworking space. You'll have front desk reception, meeting rooms, and event spaces, plus a spectacular location close to the waterfront. In this flexible office environment, you'll find everything you're looking for and more than you expect.
Price: Starting at $250/person
Our brightly lit space with bay views was designed by one of the world's most renowned architecture firms to increase both productivity and quality of life.
Address: 1101 Brickell Ave South, Tower, 8th floor, Miami, FL 33131
Perks: Change up your space to fit your needs. You can do it all in this flexible office space located in the heart of the desirable Brickell Avenue corridor. From single workspaces and private phone booths to meeting and conference rooms to larger event spaces, you and your team will have the space to get more done, expand as you go, and even host clients and colleagues in this inviting environment.
Price: Starting at $199/person
This isn't your business-as-usual co-working space. We're building a special environment where creative professionals can thrive.
Address: 8325 NE 2nd Ave, Miami, FL 33138
Perks: Located in the thriving, bustling neighborhood known as Little Haiti, this vibrant space is the perfect setting for all of your creative endeavors. Draw on the high energy of the neighborhood and be inspired by the cultural and aesthetic diversity you'll find here. You'll find meeting rooms and 24/7 building access so you and your team can meet at your convenience and on your schedule.
Price: Starting at $179/person
Miami's Downtown and Brickell Area define the progressive American city, with a multifaceted arts scene, global dining, multicultural ambiance and world-class hotels.
Address: 120 SW 8th St, Miami, FL 33130
Perks: This spectacular space will fuel your team's best ideas, allowing you to accomplish more every workday. With free printing and perks like complimentary coffee, beer, and snacks, you'll be able to power through when inspiration strikes. Need a break? Head out to the rooftop terrace to regroup and recharge.
Price: Starting at $550/person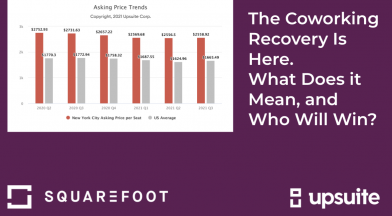 Coworking Trends: The Coworking Recovery Is Here.  What Does it Mean and Who Will Win?…
The average cost per person for a coworking space in 2021 is $364.5. Find more about coworking space costs.