8 of the Best Coworking Spaces in Kansas City [2021]
When you and your team begin the process of choosing among the many coworking spaces in Kansas City, you have to begin with your priorities. Maybe you are budget-conscious and price will be the deciding factor. Perhaps you are looking for a space with high-end amenities that's close to your favorite local hotspots. Maybe you're hosting meetings, conferences, and pitches, so event space is high on your list. Are you interested in private office space, collaborative social space, or a little bit of both?
Coworking spaces in Kansas City come in all shapes, sizes, and cultures. What you need most of all is the type of insight that only comes with in-person experience — not through a Google search. By visiting a variety of Kansas City coworking spaces, we've identified a shortlist of the ones that truly stand out.
Located in the heart of the financial district, this light, bright space is sure to inspire your team. Beautifully appointed and designed, you'll find space for teams of up to 50, plus elegant and sophisticated collaborative spaces sure to delight. Dog-friendly and featuring outdoor spaces, there's more here for you and your team to love.
This exciting space offers proximity to the businesses and venues that make KC run, while the beauty of the historic, red-brick building provides inspiration. You and your team will get more done with on-site infrastructure like high-tech conference and meeting rooms. With 24/7 building access, you and your team are free to work whenever and however you want.
Situated on the second and third floor of a stunning historic building in the heart of downtown, you'll find a layout that lends itself to a variety of workstyles. Whether you're looking for a private office space or a small collaborative space for consultation, you'll love the many amenities, the convenient transportation options, and the nearby shopping, dining, and event venues.
For small suites and dedicated desks — plus an emphasis on privacy and service — look no further than this charming flexible office space. Located in the Madison metro area, you'll find secure meeting space with state-of-the-art technology and enterprise-grade tech infrastructure. Need a larger space? On-site event space allows you to host meetings on a larger scale.
Getting the most out of your team means truly connecting — and finding a space that fosters that connection. Designed by Scott Rice, this inspiring flexible office environment is designed and curated for emotional connectedness. Service, amenities, and design all come together to create a more meaningful, motivational space for your team, clients, and colleagues.
iWerx is more than a coworking space; it's a center for entrepreneurial development, networking, growth, and support. Here you'll find collaboration opportunities and workshops so you and your team learn from KC's most exciting business leaders. With a variety of spaces from private offices to an event pavilion, you'll find a perfect setting for any event you can imagine. 
Designed with the high-tech infrastructure, meeting space, and conference capabilities your tech team needs, so you'll get more done every day. Here you'll find meeting and collaborative space for small and large teams, plus event space for up to 50 with complimentary beverage service. Give your team the tools they need to succeed right here. 
Find more value in this space that truly defines flexibility. Whether you're looking for privacy or hosting a training event, you'll find everything you need in-house. Educational programming and networking events allow you to learn and grow your business. On-site podcast studio offers even more exciting potential for marketing your business and expanding your influence.
Choosing among the various coworking spaces in Kansas City means considering pricing, location, and availability, among other factors. We're here to help you weigh your options and choose the space that's just right for you and your team.
Are you a coworking operator in Kansas City who needs to find more teams to fill your space? List with Upsuite and connect with the people who are looking for you.
Are you a Kansas City CRE broker looking to do more business and meet more local professionals? Become an Upsuite Broker Partner.
Your new Kansas City coworking space is waiting for you. Let us make it easier than ever to find it. Contact us to get started.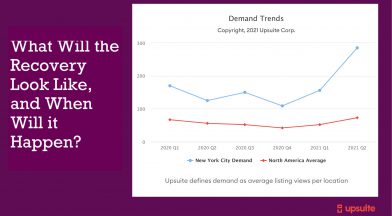 Coworking Trends: What Will the Recovery In the Coworking and Flexible Office Markets Look Like,…
The average cost per person for a coworking space in 2021 is $266.6. Find more about coworking space costs.