7 of the Best Coworking Spaces in Dallas, Fort Worth [2021]
Searching for a coworking space in Dallas – Fort Worth can be a challenge. There are so many offices to choose from and so many incredible neighborhoods throughout the metroplex. Location may be a deciding factor for you and your team — saving long commutes and providing better work-life balance.
Different flexible office spaces offer different cultures, amenities, and space configurations. These are all designed to meet the needs of your specific group and the way you work. Need collaborative space? Event space? High-tech conference capabilities?
You need a trusted advisor with boots on the ground so you can choose the right flexible office. Someone with real-life reviews and market insights so that you can find a location that's right for your team, your budget, and your business — both now and in the future. 
Looking for high-tech features to streamline your team's collaboration? This space offers everything from single desk offices to high-tech conference rooms to event space — all designed to help you meet your professional goals. Close to The Shops at Legacy and featuring a host of sophisticated amenities, you and your team will love coming to work here.
Let the sun shine in so you can be more productive every day in this light, bright workspace. Located off North Dallas Tollway between Trinity Mills and Keller Springs Road, you'll love the variety of spaces available here. Need to blow off a little steam? Take a break in the on-site fitness center, then come back refreshed to tackle your next task. 
You'll love the energy in this vibrant, colorful space, featuring a variety of ways for your team to work. Here you'll always find right-sized workspaces, whether you're hosting a small team meeting or a large training event. HIgh-tech conference rooms make everything easier and allow you to be more productive.
Grow with other entrepreneurs and startups in this innovative space backed by the resources of the Addison Economic Development and Tourism Department. Here you'll find flexible office space plus training, education, mentoring, and most of all, a community designed for built-in networking. Dog-friendly and open 24/7, you'll love the fun, high-energy atmosphere.
There's more to love in this office space built for added privacy. Covered walkways, free garage parking, and private suites offer added convenience for you and your team. Host meetings and events with on-site property management, security, and deli/catering. With 24/7 building access, you can work whenever the inspiration strikes. 
With enterprise pricing for teams of 3-20+, you'll find the right space for now, with room to grow. Amenities include  a full service coffee lounge and cafe, on-site fitness center, and the latest IT infrastructure. A beautiful building with expansive views means you'll be proud to play host to your next team or board meeting, training event, or working lunch.
Every upscale touch of comfort and beauty has been incorporated into this colorful workspace. Here you'll enjoy a variety of office spaces, event space, and makerspace to bring your most creative ideas to life. Front desk reception and professional services make this a place you'll be proud to call home and the perfect setting for your next client pitch or meeting.
Ready to start the search for your next working space in Dallas – Fort Worth? Check out our website and see space options, prices, and availability.
Are you the operator of a coworking space in Dallas – Fort Worth? Are you looking for the opportunity to fill your space with member teams who are excited to work with you? Check out Upsuite's listing service.
If you're a Dallas – Fort Worth commercial real estate broker, register as an Upsuite Broker partner. It's a great way to find new clients in your local market.
The time is right to get started on your Dallas – Fort Worth coworking space search. Contact us today for more information.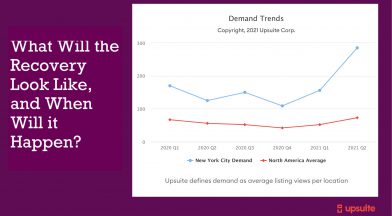 Coworking Trends: What Will the Recovery In the Coworking and Flexible Office Markets Look Like,…
The average cost per person for a coworking space in 2021 is $438. Find more about coworking space costs.