8 of the Best Coworking Spaces in Dallas, Fort Worth [2021]
Searching for a coworking space in Dallas – Fort Worth can be a challenge. There are so many offices to choose from and so many incredible neighborhoods throughout the metroplex. Location may be a deciding factor for you and your team — saving long commutes and providing better work-life balance.
Different flexible office spaces offer different cultures, amenities, and space configurations. These are all designed to meet the needs of your specific group and the way you work. Need collaborative space? Event space? High-tech conference capabilities?
You need a trusted advisor with boots on the ground so you can choose the right flexible office. Someone with real-life reviews and market insights so that you can find a location that's right for your team, your budget, and your business — both now and in the future.
Just steps away from The Shops at Legacy, our office in Plano's stunning Legacy Tower will make every workday a special one. 
Address: 7250 Dallas Pkwy Suite 400, Plano, TX 75024
Perks: Looking for high-tech features to streamline your team's collaboration? This space offers everything from single desk offices to high-tech conference rooms to event space — all designed to help you meet your professional goals. Close to The Shops at Legacy and featuring a host of sophisticated amenities, you and your team will love coming to work here.
Price: Starting at $910/person
CityCentral's North Dallas community is located in one of the hottest business hubs in the World. 
Address: 17250 Dallas Pkwy, Dallas, TX 75248
Perks: Let the sun shine in so you can be more productive every day in this light, bright workspace. Located off North Dallas Tollway between Trinity Mills and Keller Springs Road, you'll love the variety of spaces available here. Need to blow off a little steam? Take a break in the on-site fitness center, then come back refreshed to tackle your next task.
Price: Starting at $506/person
Situated in the heart of Victory Plaza, WeWork's Victory Park workspace space holds undeniable appeal for growing businesses and independent entrepreneurs alike.
Address: 3090 Nowitzki Way Suite 300, Dallas, TX 75219
Perks: You'll love the energy in this vibrant, colorful space, featuring a variety of ways for your team to work. Here you'll always find right-sized workspaces, whether you're hosting a small team meeting or a large training event. HIgh-tech conference rooms make everything easier and allow you to be more productive.
Price: Starting at $380/person
The Addison Treehouse serves entrepreneurs in the North Dallas area, providing an innovative space that combines the benefits of a vibrant coworking space and the resources of the Addison Economic Development and Tourism Department.
Address: 14681 Midway Road, Second Floor, Addison, TX 75001
Perks: Grow with other entrepreneurs and startups in this innovative space backed by the resources of the Addison Economic Development and Tourism Department. Here you'll find flexible office space plus training, education, mentoring, and most of all, a community designed for built-in networking. Dog-friendly and open 24/7, you'll love the fun, high-energy atmosphere.
Price: Starting at $200/person
III Metro Square is a professional office environment with recently upgraded lobby and covered walkways connecting the buildings. 
Address: 12300 Ford Rd #100 Dallas, TX 75234
Perks: There's more to love in this office space built for added privacy. Covered walkways, free garage parking, and private suites offer added convenience for you and your team. Host meetings and events with on-site property management, security, and deli/catering. With 24/7 building access, you can work whenever the inspiration strikes.
Price: Inquire For Pricing
WorkSuites' location at 3010 LBJ Freeway brings surprisingly affordable offices to North Dallas.
Address: 3010 Lyndon B Johnson Fwy #1200, Dallas, TX 75234
Perks: With enterprise pricing for teams of 3-20+, you'll find the right space for now, with room to grow. Amenities include  a full service coffee lounge and cafe, on-site fitness center, and the latest IT infrastructure. A beautiful building with expansive views means you'll be proud to play host to your next team or board meeting, training event, or working lunch.
Price: Starting at $700/person
Venture X Uptown Dallas features a professional, modern workspace that goes beyond desks and offices
Address: 3232 McKinney Avenue Suite 500 (5th Floor, Dallas, TX 75204
Perks: Every upscale touch of comfort and beauty has been incorporated into this colorful workspace. Here you'll enjoy a variety of office spaces, event space, and makerspace to bring your most creative ideas to life. Front desk reception and professional services make this a place you'll be proud to call home and the perfect setting for your next client pitch or meeting.
Price: Starting at $199/person
Be part of an inspiring, professional work space that will help you get more work done in less time, while being a part of a thriving collaborative community.
Address: 1617 Park Pl Ave #110, Fort Worth, TX 76110
Perks: Whether you're looking for space to collaborate with your team or simply want additional opportunities to connect with entrepreneurs and business owners in DFW, Ensemble gives you the chance to forge more meaningful professional relationships. This dog-friendly space offers a variety of ways to work together along with community and educational events that allow you and your team to grow and develop.
Price: Starting at $350/person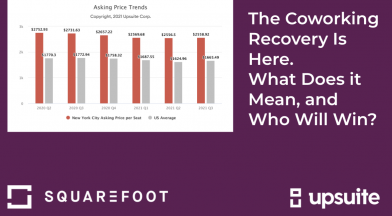 Coworking Trends: The Coworking Recovery Is Here.  What Does it Mean and Who Will Win?…
The average cost per person for a coworking space in 2021 is $438. Find more about coworking space costs.