5 of the Best Coworking Spaces in Ottawa [2021]
There are a wide variety of fabulous shared workspace and coworking spaces in Ottawa, all with different layouts, amenities, and cultures. Finding and booking the right coworking or flex office in the most convenient neighborhood is a priority. However, finding the right space at the right price for your team's budget can be both frustrating and time-consuming.
Some Ottawa coworking space is ideally suited for networking and collaboration. Other spaces offer an emphasis on privacy, spectacular spaces for wooing clients or hosting events, infrastructure for attracting tech talent, or design that inspires creative types. With so many variables, a simple Google search can't guarantee you the right space.
In order to find the right flexible office space for your team's needs, it's important to draw on expert insights into Ottawa's wide variety of spaces. That's where we come in. At Upsuite, we visit the spaces and sort through the options in order to bring you the best office spaces for you, no matter the size of your Ottawa team or the type of work you do.
Coworkly is located in charming Vanier, minutes away from Downtown Ottawa, with many hip food choices nearby.
Address: 261 Montréal Rd #310, Vanier, ON K1L 8C7, Canada
Perks:  Located in a hip enclave offering the best dining and shopping options around, creative types will love the vibe in this spacious coworking hub. Coworkly Vanier features an expansive studio space with a recording studio for podcasting or video production. There are also high tech conference rooms for presentations and pitches. This is truly an ideal option for in-town creators.
Price: Starting at $125/person
A distinctive building that's highly visible from Highway 417 is where you'll find the 343 Preston centre in Ottawa, Canada.
Address: 343 Preston St 11th Floor, Ottawa, ON K1S 1N4, Canada
Perks: Located in a distinctive and highly visible building in the heart of Ottawa, 343 Preston offers the features, amenities, and services you're looking for to run your business. With a sophisticated front desk reception space, high-tech conference rooms, and a variety of meeting rooms at your disposal, you'll find the right setting for every busy day. From private client meetings to larger presentations, you'll find your ideal space here.
Price: Starting at $510/person
Surrounded by the historical and cultural allure of Downtown Ottawa, this central building strategically anchors the southwest corner of Bank and Queen Street. 
Address: 8500 & NE223, 675 Ponce De Leon Ave NE Suite 7500, Atlanta, GA 30308
Perks: If you ever find yourself struggling to stay focused, you'll love the many ways iQ Offices' Queen Street space helps you maximize privacy and stay on track. Here you'll find private offices with privacy screens and white noise, ergonomic furniture, including standing desks, and built-in phone booths for distraction-free dialing. Equipment and events are all designed to make you more productive and more successful.
Price: Starting at $558/person
Impact Hub Ottawa is a community and coworking space located in downtown Ottawa that inspires, enables and supports people working to create meaningful change in the world.
Address: 123 Slater St. 6th floor, Ottawa, ON K1P 5H2, Canada
Perks: Want to feel like your space is truly customized for the way you work? With variable space configuration at this coworking space, you'll create your own layout for maximum collaboration. Create content and present it with professional audio and interactive presentation tools. The emphasis here is on maximizing the value of your team.
Price: Starting at $40/person
Whether you're a freelancer, entrepreneur, small business, or remote worker, Collab Space gives you a place to create, innovate, and even collaborate with other like-minded professionals.
Address: 70 Bongard Ave, Nepean, ON K2E 7Z9, Canada
Perks: Collab Space's value proposition is all about maximizing productivity, especially for startups and small teams who need more structure in order to get things done. Spaces are designed to help workers optimize focus and stay organized. Collab Space helps individuals do more while also providing options for meetings and presentations as needed.
Price: Starting at $299/person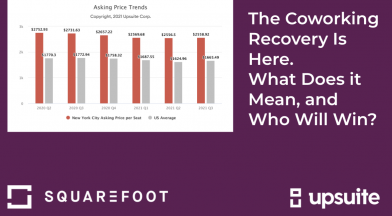 Coworking Trends: The Coworking Recovery Is Here.  What Does it Mean and Who Will Win?…
The average cost per person for a coworking space in 2021 is $469.9. Find more about coworking space costs.