Why Consider a Temporary Office Space?
You may find that your current office space plan is no longer working. Maybe you've been working from home and need to rethink your process. Maybe you're located in a large office and need breakout space for a team project. Whatever the case, temporary office space may be the answer — and we can help you find the perfect option.
– First, what is a temporary office space?
Temporary office space is a fully functional commercial environment that is available on a short-term basis. It may include amenities and administrative services like you'll find in a large commercial office environment, along with tech support and event or meeting spaces.
– The benefits of temporary office space
The primary benefit of temporary office space is encapsulated in the first word — temporary. Whether you're using it as a stopover while you build out something more permanent or as a short-term home base while you rethink your office needs, a temporary office space provides all of the support you need without a huge time or financial commitment.
– Is a temporary office space right for your business?
Think about your short-term and long-term plans for your team or business. If you think that you may be making some changes — either through growth or contraction, a transition to a new office environment, or by establishing a presence in a new market — a temporary office space may make sense.
– How to find the right temporary business space?
To find the right temporary space, you'll need to consider both the size and location of your team. You'll also need to take into account your need for private and collaborative space, as well as staffing and amenities that will help you optimize your performance and productivity.
– How to book temporary office space
Ready to find a temporary office space in your market? Contact us and we'll help you locate the right option then book it for the timeframe you need. We can also help you determine whether you can extend your stay if needed or whether you need a hard-and-fast exit date.
Why Use Upsuite?
Largest Selection of Coworking and Private Workspace
No Cost Advisor
Save 90% of Time Looking for Space
Save 15 to 50% on Rent
Upblog: Coworking, Private Workspace, and the Future of Work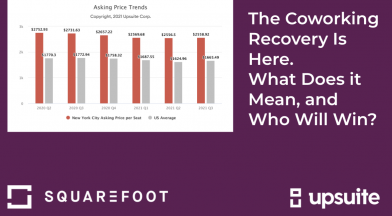 Coworking Trends: The Coworking Recovery Is Here.  What Does it Mean and Who Will Win?…
Had a really great experience working with Upsuite! Very professional, fast service – Upsuite helped me find the perfect space within days.
Upsuite was quite easy to use as Upsuite dominated the generic Google search for shared office space in Boulder. A quick single recommendation of 3 spaces was all we really needed.
Thanks so much! Straightforward and a pleasure to work with.