How to Save In Private Office Space Costs?
In the US, private office space through a commercial real estate lease can range from $8 to $23 per square foot. However, private office space through a flexible office space provider can be considerably less, while offering many of the amenities and perks of traditional commercial office leases.
In a traditional office lease, the tenant may incur significant private office space costs both upfront and month-to-month, depending on the type of lease negotiated. These can relate to the build-out, branding, and furnishing of the space as well as ongoing maintenance and regular updates. 
By contrast, a flexible office environment may offer you plenty of options for customizing your space without the financial outlay of a traditional lease, and furnishings, maintenance, and upgrades are often provided as part of the membership-based pricing.
In addition, in a commercial lease, you will be responsible for all of the staffing and services you and your team require. In a shared office environment, you may have access to significant in-house resources including mail and package rooms, front-desk reception, and tech support as well as other specialized services like catering and event planning.
Want to learn more? Find out how coworking space costs compare to private office space costs under a commercial lease, then contact us to find out about office spaces that are perfectly suited to your budget and requirements.
Why Use Upsuite?
Largest Selection of Coworking and Private Workspace
No Cost Advisor
Save 90% of Time Looking for Space
Save 15 to 50% on Rent
Upblog: Coworking, Private Workspace, and the Future of Work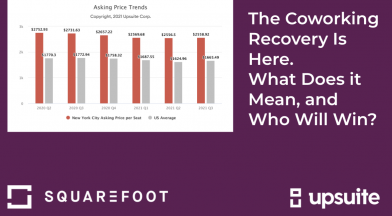 Coworking Trends: The Coworking Recovery Is Here.  What Does it Mean and Who Will Win?…
Thanks for all your help – Upsuite provided very excellent service.
Upsuite was quite easy to use as Upsuite dominated the generic Google search for shared office space in Boulder. A quick single recommendation of 3 spaces was all we really needed.
Thanks for all you did in helping Techstars secure a facility in Denver. The process was seamless.