8 of the Best Coworking Spaces in Philadelphia [2021]
Choosing among the available coworking spaces in Philadelphia can feel like an overwhelming task. With so much to choose from — all with different cultures, space types, and amenities — locating the right space at the right price may have you frustrated. Perhaps your team favors a collaborative environment but still needs private workspaces. Maybe you need event space for client pitches or celebrations. Location may be a determining factor so that you spend less time in traffic and more time at work.
Finding the right coworking space requires expertise and market knowledge. That's where we come in. With site visits, analysis, and real-life reviews, we offer the information you're looking for so that you can find the Philadelphia coworking space that's right for your team, your budget, and your business's needs.
Connect with other bright minds in one of Philadelphia's most exclusive and desirable neighborhoods. 
Address: 1626 Locust St, Philadelphia, PA 19103
Perks: Find the Wow Factor you've been looking for in this beautifully designed and inspiring space. Located in one of Philadelphia's most exclusive neighborhoods, you'll be close to everything so that your team and clients can enjoy unparalleled convenience. Take advantage of a variety of desk configurations, so you can spend time in private meetings or large-scale collaboration — the choice is yours.
Price: Starting at $226/person
Conveniently located two blocks from Suburban Station and 15th Street Trolley station, this location offers 10 office suites that total 202 workstations, as well as 300 individual coworking memberships with flexible monthly and annual terms
Address: 30 S 17th St, Philadelphia, PA 19103
Perks: This chic, sophisticated space provides the perfect setting for your workday, whether you're looking for a private place to work or a collaborative meeting space. Event spaces and a five-star culinary program mean that you always have the right place for a power lunch, meeting with a client or colleague, or large-scale promotional event.
Price: Starting at $350/person
Tap into a creative community of entrepreneurs and trendsetters at our Rittenhouse Square center.
Address: 1626 Locust Street. Philadelphia, PA 19103, USA
Perks:  An emphasis on entrepreneurship makes this the right choice for your solopreneur or startup venture. There are a variety of space sizes and designs so your flexible office space lives up to its name. Let your space grow with your business while you gain insights from working alongside colleagues who share your professional journey.
Price: Starting at $390/person
Led by the Fitler Club team, this is the only collaborative workspace to embody the lifestyle of today
Address: 2400 Market St #200, Philadelphia, PA 19103
Perks: Part of the exclusive members-only Fitler Club complex, Offsite offers a higher degree of style, sophistication, and service for you and your team. Professional concierge services, an on-site culinary team, and hotel access, plus a host of luxury amenities, so that every day is more exciting, more inspiring, and more productive.
Price: Inquire For Pricing
Pipeline is a high-design shared workspace used by a diverse community of entrepreneurs, startups, independent professionals and small business teams.
Address: 30 S 15th St 15th floor, Philadelphia, PA 19102
Perks: This purpose-built environment is designed to serve your business no matter where you are in your lifecycle. Here you'll find a variety of options, including short-term and flexible plans, so that your space can grow with you. The on-site staff is responsive and focused on facilitating your team's needs for greater productivity and better results.
Price: Starting at $199/person
Kismet Cowork brings together a community of creators and innovators all across Philadelphia for a new approach to productivity.
Address: 12 W. Willow Grove Ave., Philadelphia, Pennsylvania 19118
Perks: With an emphasis on hospitality and a variety of events designed to take your team to the next level, there's nothing you can't do in this spectacular space. Here you'll enjoy a creative community that comes together to learn and grow, with relevant programming and unparalleled opportunities for business development.
Price: Starting at $350/person
Old City Collective (formerly Soiree Philadelphia, est. 2006) offers a unique approach to the shared space concept.
Address: 222B Race St, Philadelphia, PA 19106
Perks: Looking for the advantages of a dedicated space at a fraction of the cost? You'll find it here. You and your team can reserve time and occupy the entire space for a low monthly fee. With convenient online scheduling, storage, and key access, you'll enjoy all the perks of ownership more affordably than you ever thought possible.
Price: Starting at $350/person
Station Coworking is is a hip campus with vintage structures reimagined into creative, one-of-a-kind open workspaces.
Address: 300 Brookside Ave, Building 18, Suite 50 Ambler, PA 19002
Perks: You can't help but feel energized by this sprawling and exciting featuring vintage spaces reimagined into a variety of workspaces and centered on an outdoor gathering space. Here you'll find everything from warehouses to traditional office environments to loft and flex spaces, so your business has no limits. With a host of event possibilities, including an outdoor theater and beer garden, you can create memorable meetings, presentations, and celebrations.
Price: Starting at $199/person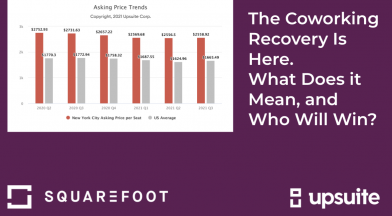 Coworking Trends: The Coworking Recovery Is Here.  What Does it Mean and Who Will Win?…
The average cost per person for a coworking space in 2021 is $351. Find more about coworking space costs.