How to Find The Right Collaborative Office Space
Soaring spaces, inviting design, and amenities that inspire — you'll find them all in a premium collaborative workspace. Here's how to find one that works for you and your team so that you can accomplish more.
– What is a collaborative office space?
A collaborative workspace offers open spaces that are built for everything from casual conversations to ongoing projects to conferences, events, and more. Designed for facetime, collaborative workspaces help your team work together and work with clients and colleagues for ongoing communication and better outcomes.
– Collaborative office space or shared office space?
Many of the best shared office spaces include collaborative workspaces as part of their design. You may find large common areas, bookable conference rooms, and even elegant event spaces within a shared office environment.
– Why would a collaborative space suit you?
Every project has different phases, from the conceptual to the practical to the presentation. This may require space for training and meetings, private space for quiet individual work, then collaborative workspace for sharing with clients and colleagues. A collaborative space offers the options you need to get from Point A to Point B.
– Get expert help
To find the right space, you need someone who knows all of the best workspaces in your market and understands all that they have to offer. You can find the expert help you need when you contact us. Tell us how you work and we'll help you locate the space that works for you.
Why Use Upsuite?
Largest Selection of Coworking and Private Workspace
No Cost Advisor
Save 90% of Time Looking for Space
Save 15 to 50% on Rent
Upblog: Coworking, Private Workspace, and the Future of Work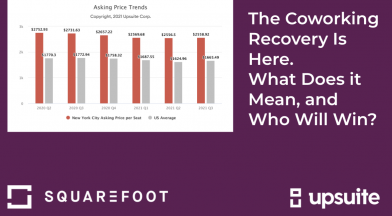 Coworking Trends: The Coworking Recovery Is Here.  What Does it Mean and Who Will Win?…
Thanks for all your help – Upsuite provided very excellent service.
Had a really great experience working with Upsuite! Very professional, fast service – Upsuite helped me find the perfect space within days.
Upsuite was quite easy to use as Upsuite dominated the generic Google search for shared office space in Boulder. A quick single recommendation of 3 spaces was all we really needed.