Finding The Right Shared Office Space
Identifying shared office space is key for developing your team or small business. A shared office space can offer you a home base — often in a desirable commercial building — with a variety of amenities and support services built-in.
– Shared office space explained
Unlike owning or leasing your own commercial office space, a shared office space provides great location and the services and infrastructure you need without the logistical hassles and financial commitment. A shared office environment can involve everything from collaboration and conference space with a few dedicated desks to an enclosed, branded, lockable office.
– Office sharing vs. coworking
While coworking is a great option for individual entrepreneurs or small businesses, you may find that you need more privacy for collaborative work, training, client presentations, or training events. Office sharing offers you the chance to create a space that feels personal and unique while maintaining the convenience and services you'll find in the coworking environment.
– Shared office space elements
Shared office space elements may include the ability to design or build out your space for your particular needs. You may be able to brand your office space so that it is virtually indistinguishable from a private office or commercial property. 
– Shared office space benefits
Shared office space can give you all of the services and amenities you'll find in a private office without the financial or time commitment. You don't have to hire support personnel or upgrade the tech infrastructure — it's all done for you by your shared office operator.
– Talk to an advisor
Ready to find out how a shared office can work for you and your team? Want to learn more about shared office environments in your area? Contact us today to talk to an advisor and search for shared offices near you.
Why Use Upsuite?
Largest Selection of Coworking and Private Workspace
No Cost Advisor
Save 90% of Time Looking for Space
Save 15 to 50% on Rent
Upblog: Coworking, Private Workspace, and the Future of Work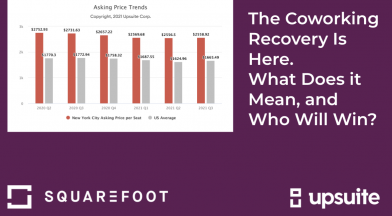 Coworking Trends: The Coworking Recovery Is Here.  What Does it Mean and Who Will Win?…
Thanks for all your help – Upsuite provided very excellent service.
Upsuite was quite easy to use as Upsuite dominated the generic Google search for shared office space in Boulder. A quick single recommendation of 3 spaces was all we really needed.
Thanks so much! Straightforward and a pleasure to work with.