10 of the Best Coworking Spaces in Houston [2021]
Coworking spaces in Houston come in a variety of locations and sizes, with different amenities and space configurations. That's why finding the right space for your team can be so challenging, requiring you to evaluate different features at different prices.
In addition, you have to evaluate the way you use your space. Do you host clients and events? Does your space need high-end amenities for recruiting new talent? Do you need an ideal location to simplify your team's commute?
Houston has many coworking spaces to choose from, so it's important to draw on expert knowledge and boots-on-the-ground experience. That's where we come in. We've visited the spaces and sorted through all that they have to offer in order to bring you our list of the ten best coworking spaces in Houston for you and your team.
Located in the heart of Houston's Central Business District, 720 Rusk provides cool space in a great location at an affordable price.
Address: 720 Rusk St, Houston, TX 77002
Perks: With both private office and collaborative spaces, you'll always have the right setting for your small business. High tech conference rooms provide the logistical support you need to stay connected with in-person and remote clients and colleagues. A great central location means you're always close to the people and places that make your business run.
Price: Starting at $199/person
Welcome to Downtown Greenstreet, a creative workplace with sparks to spare.
Address: 1201 Fannin Street, Houston, TX 77002
Perks: Located in the heart of Houston's central business district you'll find this workspace boasting a comprehensive suite of amenities and services. From hospitality provided by the friendly administrative staff to an on-site cafe, this is an ideal professional home for your team. Host everything from collaborative meetings to client events on the rooftop deck.
Price: Starting at $330/person
We believe every professional deserves a sanctuary of their own, so we created an environment that empowers our members to do what they do best.
Address: 2200 Post Oak Blvd Suite 1000, Houston, TX 77056
Perks: With upgraded design and cleaning protocols geared toward today's socially distant office environments, you'll love this forward-thinking Houston coworking space. Here you'll find adjusted traffic flow, additional maintenance staff, and up-to-date processes and procedures designed so your team stays healthy, happy, and productive.
Price: Starting at $800/person
A centerpiece of Uptown Houston, The Galleria is a Texas-sized commercial hub home to 400 stores and restaurants, two high-rise hotels, and three office towers.
Address: 2700 Post Oak Blvd, Galleria Office Tower I, Houston, TX 77056
Perks: Located in the iconic Galleria commercial hub you'll find three floors of light, bright workspace catering to Houston's law, finance, and tech communities. Front desk reception and mail and package handling services provide the support you need, and you'll love the cheerful vibe in this dog-friendly environment.
Price: Starting at $275/person
Grow your team in our flexible coworking space in West Houston, Texas, which features offices calibrated for ease of scalability and collaboration at every step
Address: 2101 CityWest Blvd 1st floor, Houston, TX 77042
Perks: With a one-of-a-kind social pyramid and a WiFi-enabled outdoor patio, you'll find the fuel for your team's productivity in this Houston workspace. An on-site fitness center promotes movement and wellness. Event space allows you to host meetings, training, or client events on-site, while a wide variety of space options provides room to grow.
Price: Starting at $650/person
Workplace 1919 is Houston's newest Co-Working space, located in a beautifully restored historic building in the heart of the Old Sixth Ward.
Address: 1919 Decatur St, Houston, TX 77007
Perks: Located in a restored historic building in the heart of the Old Sixth Ward, this stunning space is designed to inspire. Here you'll find a variety of spaces for the way you like to work, from collaborative space to dedicated desks, conference rooms, and flexible meeting space. You'll have a full kitchen in-house, plus access to a host of great local restaurants.
Price: Starting at $250/person
The Annex HTX is an innovative and exciting co-working community in East Downtown Houston.
Address: 2007 Commerce St Houston, TX 77002
Perks: Here you'll find a focus on freelancers, designers, writers, artists, small business owners, and other entrepreneurs. That allows you to build your professional network while you build your business. There are professional services and a fabulous downtown location, so it's easier than ever to start and scale your next big idea.
Price: Inquire for Pricing
With our productive environment, low-cost, and great networking, your business is guaranteed to grow.
Address: 2500 Yale St ste b, Houston, TX 77008
Perks: From caffeine to comprehensive services, you'll find everything you're looking for in this Houston Heights flexible office environment. Enjoy exceptional opportunities for networking and collaboration with your fellow Lab partners. There are spaces ranging from desks to private offices to meeting rooms, so you'll accomplish more in this budget-friendly coworking space.
Price: Starting at $89/person
We've created a unique coworking space experience that combines a homey Texan atmosphere with a heavy dose of southern hospitality. 
Address: 1220 Blalock Rd #300, Houston, TX 77055
Perks: The emphasis here is on services and amenities that make you and your whole team feel right at home. This unique environment is all about flexibility, with a fitness studio, dance studio, yoga room, personal training space, and physical therapy space. You'll find a variety of office and event spaces so there's virtually nothing you can't get done in your workday.
Price: Starting at $400/person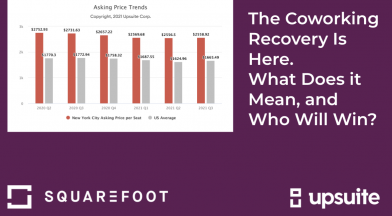 Coworking Trends: The Coworking Recovery Is Here.  What Does it Mean and Who Will Win?…
The average cost per person for a coworking space in 2021 is $422.4. Find more about coworking space costs.