7 of the Best Coworking Spaces in South Bay [2021]
The vibrant South Bay area of Los Angeles is a great place to set up shop. How do you choose from the various coworking spaces in South Bay and find one that fits your business? What are your priorities? Do you need specialized technology and high-tech spaces? Does your team prefer to work collaboratively or put a premium on privacy? Do you meet with clients in your space? Pitch projects or host events? What is the right location for everyone and how much is your budget?
Site visits are time consuming and a Google search isn't enough to determine which space is right for your space needs. That's why Upsuite does the hard work for you. We visit these spaces and evaluate the market, amenities and services they offer, so we provide the insight you need to choose the right South Bay coworking space for everyone on your team.
Our South Bay coworking and office space is centrally located in El Segundo, California.
Address: 1730 E Holly Ave, El Segundo, CA 90245
Perks: Centrally located, you and your team will enjoy the unparalleled convenience you find in this light, bright coworking space. From its roots in the aerospace industry, this area has blossomed into a hub for the burgeoning tech sector. Bolstered by a focus on live-work balance, this beautiful and inspiring space provides all of the convenience and flexibility you're looking for.
Price: Starting at $275/person
Serving as a local bar for 50 years, Unità Manhattan Beach is reclaimed by an award winning architectural team as Unità's newest workspace
Address: 516 N Sepulveda Blvd, Manhattan Beach, CA 90266
Perks: After more than half a century as a local bar, this coworking space was reclaimed by an award-winning architectural team and reimagined as your new professional home. You'll find a podcast room, AR/VR room, and an assortment of workspaces and meeting rooms, so you'll be inspired and excited to come to work here. The lounge features art exhibits and performances by local bands, making the workday a lot more fun.
Price: Starting at $400/person
Welcome to El Camp. A dynamic coworking space designed to spark innovation and accelerate growth.
Address: 2150 Park Pl #100, El Segundo, CA 90245
Perks: Experience wilderness views and a high-tech campus vibe with more than 50,000 square feet of workspace. This stunning building offers a variety of ways for your team to work, from collaborative spaces — both indoors and out — to small office suites. Here you'll find exceptional amenities and built-in services, so there's plenty of room for your business to grow.
Price: Starting at $350/person
Known for its charming downtown strip and some of the cleanest beaches in SoCal, our workspace space in El Segundo has everything your business needs to thrive.
Address: 222 Pacific Coast Hwy, El Segundo, CA 90245
Perks: This 135,000 square foot space is the largest WeWork location in Southern California. Here you'll find a variety of workspaces, including event space and high tech conference rooms. You'll also find so many ways to play, including an outdoor recreation area and on-site fitness center. Most importantly, you'll keep your team moving and motivated in this exciting coworking space.
Price: Starting at $299/person
Leasing work space here gives you modern amenities in an affluent beach city.
Address: 2447 Pacific Coast Hwy 2nd Floor, Hermosa Beach, CA 90254
Perks: Find ocean views and an ideal central location, so you and your team will find the perfect setting for every day here. Workspace, meeting space, video conferencing capabilities, and a host of in-house amenities mean there's nothing you can't do. Friendly front desk reception greets your clients and colleagues, and a drop-in business lounge so you can grab meetings on the go.
Price: Starting at $390/person
Located on a 33-acre modern campus next to LA's thriving Silicon Beach, you have never experienced a workplace like this.
Address: 6060 Center Dr 10th Floor, Los Angeles, CA 90045
Perks: Experience your own corporate campus with coworking in one building, enterprise-sized canvas suites in others, event space, and an on-site restaurant. Large teams and small teams can find dedicated suites that are just right, including collaborative workspaces and meeting spaces for a variety of ways to work.
Price: Starting at $575/person
Officially opening our doors to the startup, freelance, work-at-home, and solo-preneur communities in January 2015, LAX Coworking is excited to share their space, community, resources, and connections with our LAX Coworkers.
Address: 9100 S Sepulveda Blvd #210, Los Angeles, CA 90045
Perks: Conveniently located near public transportation, you'll find a friendly and convenient setting for your solopreneur endeavors. You'll also find the tools you need to make your next big idea a reality. Front desk reception and high tech conference rooms facilitate dynamic meetings with clients and colleagues. An on-site fitness center brings balance to your workday.
Price: Starting at $159/person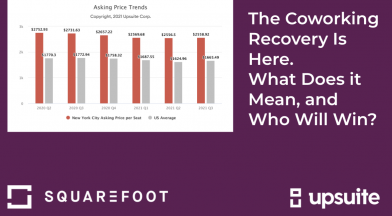 Coworking Trends: The Coworking Recovery Is Here.  What Does it Mean and Who Will Win?…
The average cost per person for a coworking space in 2021 is $468.68. Find more about coworking space costs.