4 of the Best Coworking Spaces in The Bronx [2021]
Boasting some of the most famous gardens and zoos in the New York City area, not to mention the New York Yankees, The Bronx is one of the best boroughs of NYC. If you're looking for coworking space in The Bronx, you may have a variety of items on your wishlist. Meeting space as well as private office space provides options for your team's workstyle. Specialized technology for your business's unique needs may be important. You're probably also focusing on a location that's convenient for everyone as well as an ideal neighborhood.
When there's so much to consider, a Google search just won't do. Upsuite takes the guesswork out of your search for shared workspace in The Bronx, with in-person evaluations and thoughtful reviews. We'll tell you about the building and its amenities and services, so that you can make a more informed decision. That allows you to find coworking space that's just right for you and your team.
Flexible Coworking Space, Virtual Office, and Event Space in the Northeast Bronx at an affordable price. 
Address: 3010 Eastchester Rd, Bronx, NY 10469
Perks: Offering flexible office space, meeting rooms, and event space — all at an affordable price — this Northeast Bronx space provides both variety and value. Enjoy the flexibility of changing up your space as your team grows and your needs change. With a location close to public transportation and the East Coast Greenway, your whole team will love the convenience.
Price: Starting at $250/person
Our mission goes beyond entrepreneurs, small business, freelancers, and startups calling us home. 
Address: 749 E 135th St, Bronx, NY 10454
Perks: Here you'll find a beautiful space that's sure to inspire, with a variety of amenities to keep your whole crew energized. An on-site fitness center with showers ensures that you can come in for an early morning workout, then transition to the workday without missing a beat. Alternatively, take a midday workout break then come back to work refreshed and ready to conquer your next challenge.
Price: Inquire For Pricing
Bronx Coworking Space is a short walk from trendy restaurants and bars which have recently been written up in The Real Deal, The NY Times, Wall Street Journal, Grub Hub, Time Out New York and Crain's New York.
Address: 2825 3rd Ave., Bronx, NY 10455
Perks: Located across from Roberto Clemente Plaza and near some of the trendiest restaurants and bars in The Bronx, you'll feel the excitement every day in this South Bronx coworking space. Here you'll enjoy truly flexible space, whether you need private office space, meeting rooms for client pitches, or collaborative spaces.
Price: Starting at $325/person
The new BXL Business Incubator (BXL) is the first state-of-the-art incubator and co-working space in the Hunts Point neighborhood of the South Bronx.
Address: 1231 Lafayette Ave 2nd Floor, Bronx, NY 10474
Perks: This state-of-the-art space located in the Hunts Point neighborhood of the South Bronx offers a variety of services designed to help you do more every day. Beautifully designed space and 24/7 access means you and your team can work together whenever inspiration strikes. This space offers flexibility, so you can change up your space as you grow your business.
Price: Starting at $225/person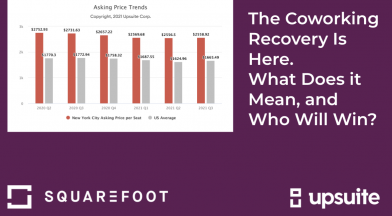 Coworking Trends: The Coworking Recovery Is Here.  What Does it Mean and Who Will Win?…