Find The Perfect Meeting Room
While your day-to-day work style may be one-on-one, you may find that you sometimes need meeting space as well. Find out when meeting space might be the right choice and how you can affordably access the space you need when you need it.
– What is a meeting space?
There are a variety of types of meeting spaces for various purposes. Some may include high-tech infrastructure while others may be more focused on elegant interior finishes and event services.
– Types of meeting spaces
Meeting spaces can range from small conference rooms to large event spaces. They may offer high-tech video conferencing capabilities or fully integrated, in-house catering services. From training to presentations to celebrations, there are meeting spaces for every business need.
– Guidelines for renting meeting rooms
Some office spaces provide meeting rooms as part of your dedicated space, integrating a conference room or collaborative area into the configuration you choose. In other cases, you may rent meeting space on a case-by-case basis, or you may have a certain number of days in the month when you can reserve a space at no extra charge.
– Why do we need meeting spaces?
The need for meeting space is as individual as your business. Maybe your team needs to host clients or colleagues. Maybe you just want to get some large group facetime each week. Flexible meeting spaces offer plenty of options that you can tap into.
– How to book a meeting space?
Want to test drive a meeting space for your next client presentation or team meeting? Contact us to find a flexible office environment with fully integrated conference or event space and in-house services.
Why Use Upsuite?
Largest Selection of Coworking and Private Workspace
No Cost Advisor
Save 90% of Time Looking for Space
Save 15 to 50% on Rent
Upblog: Coworking, Private Workspace, and the Future of Work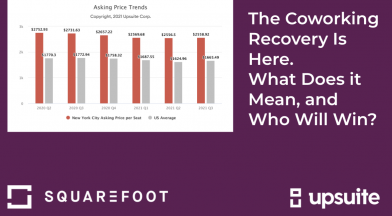 Coworking Trends: The Coworking Recovery Is Here.  What Does it Mean and Who Will Win?…
Had a really great experience working with Upsuite! Very professional, fast service – Upsuite helped me find the perfect space within days.
Thanks so much! Straightforward and a pleasure to work with.
Thanks for all your help – Upsuite provided very excellent service.