Getting to Know Coworking Operators
There are a variety of ways to find coworking operators in your market from a location-based search to a search based on the type of space you need. You may want to start your search online then follow up in-person or work with a service like ours to obtain boots-on-the-ground insight and knowledge.
One place to start your search is in a location that is convenient to your team. This could mean finding a space that is close to major commuter routes or finding a space that is centrally located equidistant from everyone's home. 
In other cases, you may be motivated more by the proximity to industry-specific areas in your local market. For example, law-related firms may be looking for office space close to the courthouse. Creative firms or teams may be looking for space close to the area's artistic center or near a major studio.
In some cases, your choice of coworking operator may be focused on the value-added services they provide within their spaces. These may include virtual offices, reception services, podcast and creator studios, and other specialized features. 
Finding the right space usually requires more insight than a quick Google search can provide. Upsuite offers the best boots-on-the-ground insight and expertise along with industry knowledge that can help you find a coworking operator offering exactly what you are looking for. Contact us today to find out more and start your search.
Why Use Upsuite?
Largest Selection of Coworking and Private Workspace
No Cost Advisor
Save 90% of Time Looking for Space
Save 15 to 50% on Rent
Upblog: Coworking, Private Workspace, and the Future of Work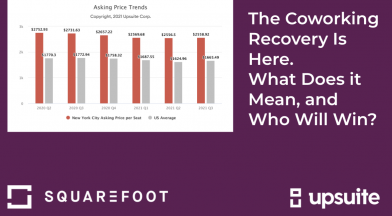 Coworking Trends: The Coworking Recovery Is Here.  What Does it Mean and Who Will Win?…
Thanks so much! Straightforward and a pleasure to work with.
Thanks for all you did in helping Techstars secure a facility in Denver. The process was seamless.
Had a really great experience working with Upsuite! Very professional, fast service – Upsuite helped me find the perfect space within days.