6 of the Best Coworking Spaces in SoHo [2021]
When it comes to a SoHo coworking space, you have plenty of options. Different spaces offer different space configurations, amenities, and cultures. While that much choice can be a good thing, it can also make your search process more time-consuming. That's where we come in. By visiting a wide range of spaces, Upsuite sorts through the options and determines which type of space is right for you and your team.
Maybe you have a business that relies on collaboration. Maybe location is a deciding factor. You may need highly specialized tech infrastructure or event space for wooing new clients. Whatever works for you, your team, your startup, or your small business, we can help you find it — so that you can get more done every day.
At the junction of Little Italy and Chinatown, WeWork's workspace space in New York City's Soho neighborhood is a thriving home for your business.
Address: 148 Lafayette St Floor 3, New York, NY 10013
Perks: Bright, open, and energetic, you'll love this historic space nestled on a beautiful street. Dog-friendly and offering a variety of spaces for small or large teams, you'll find more to love in this gorgeous space. Front desk reception and high tech conference rooms make this the perfect setting for your next client pitch or team meeting.
Price: Starting at $2,150/person
Our biggest Wing (and first Little Wing location!) finds it home in the heart of SoHo, with work space, skylights, a dedicated printing room, and the Perch cafe, perfect for a power lunch.
Address: 52 Mercer St, New York, NY 10013
Perks: Geared toward the unique needs of professional women, this is The Wing's largest location and first Little Wing location. Featuring a Mother's Room, showers, and the Perch cafe, you'll enjoy all of the ways this beautiful space makes doing more possible. Here you'll find events, workshops, and a community of like-minded women to help you grow personally and professionally.
Price: Starting at $150/person
Lease Manhattan office space in our Regus Hudson Square business center at 101 Avenue of the Americas
Address: 101 Avenue of the Americas SoHo, 8th and 9th Floor, New York, NY 10013
Perks: Find everything you're looking for including a great SoHo location and access to the city's best technology companies and creative professionals. Offices here put a premium on privacy, so you can meet with clients or collaborate with colleagues more easily. Meeting rooms and high-tech conference rooms give you space to host your next conference or training event.
Price: Starting at $510/person
Lair East is an innovative technology hub and co-working space with emphasis on Blockchain, A.I. and Big Data (B.A.B.).
Address: 424 Broadway #602, New York, NY 10013
Perks: The product of a Chinese-American partnership, this SoHo coworking space places an emphasis on teams involved with blockchain technology, artificial intelligence, and big data. Here you'll find a flexible workspace and a setting for growth, with resources customized to the needs of pioneering innovators in the tech field.
Price: Inquire For Pricing
The Farm was built by hand (literally, by our own hands) and crafted with a love for nature and organic design.
Address: 447 Broadway 2nd floor, New York, NY 10013
Perks: Located in a classic NYC building, you'll find everything from individual workspaces to fully branded floors in this spectacular setting. Rooftop access and stunning interior design make this the perfect place to launch or grow your business, while bringing the energy and inspiration of the city into every beautiful workday.
Price: Starting at $179/person
Studio at 175 Varick Street is located in SoHo's vibrant Hudson Square neighborhood, a neighborhood known for its mix of creative industries including advertising, architecture, film, tech, and communication. 
Address: 175 Varick StNew York, NY 10014
Perks: Find more to love in this spectacular space where the focus is on luxurious interior design and onsite amenities in one of the city's most desirable neighborhoods. Known as a hub for creativity, with leading advertising, architecture, film, tech, and communication firms nearby, your team will enjoy convenient proximity to both the Village and TriBeCa. With a wide variety of collaborative spaces in-house, this studio offers you an unparalleled setting for your next meeting or client event.
Price: Starting at $400/person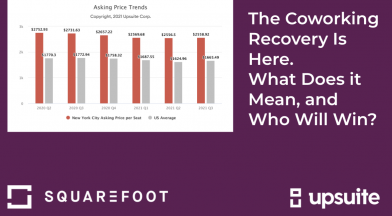 Coworking Trends: The Coworking Recovery Is Here.  What Does it Mean and Who Will Win?…
The average cost per person for a coworking space in 2021 is $748.4. Find more about coworking space costs.