7 of The Best Coworking Spaces in Silicon Valley [2021]
Finding a great coworking space in Silicon Valley requires an honest assessment of your priorities. Are you looking for collaboration and support from the members of your space? Do you want to take advantage of social and networking opportunities? Do you want a gorgeous space so that you can wow your clients? Is location a deciding factor? Is budget the bottom line?
You don't have time to run all over town looking at various coworking spaces and trying to find the right fit for you and your team. Fortunately, you don't have to. We've already done the work for you, sorted the options, and created this list of the best coworking spaces in Silicon Valley so that you and your team can get down to business.
The Techmart Center's striking and impressive design, matched by a beautiful atrium, provide a professional and stylish environment.
Address: 5201 Great America Pkwy Suite 320, Santa Clara, CA 95054
Perks: Overlooking the Santa Clara Golf Course, adjacent to the convention center, and located just three miles from the San Jose airport, this coworking space in Silicon Valley offers a bright environment with an emphasis on privacy. High tech conference rooms, meeting rooms, and a responsive staff help you and your team accomplish more. Host out-of-town colleagues or clients or an off-site training session — the choice is yours.
Price: Starting at $570/person
Featuring a prime location in North San Jose, this Expansive location offers proximity to key corporate campuses such as Apple, PayPal, and eBay, as well as easy access to San Jose International Airport
Address: 2150 N 1st St, San Jose, CA 95131
Perks: You'll love this vibrant and exciting space located close to the campuses of Apple, PayPal, eBay, and other powerhouse Silicon Valley companies. Here you'll find a variety of spaces including private offices, collaborative environments, and customized SmartSuites, plus a host of amenities and services on-site. That means there's nothing you can't do here.
Price: Starting at $287/person
A collection of resources that provide nearly endless opportunities to accelerate growth.
Address: 2955 Campus Dr #110, San Mateo, CA 94403
Perks: As an "innovation ecosystem for high-growth startups," this Silicon Valley coworking space serves as a full-service work environment designed to accelerate your company's accomplishments. Featuring a variety of amenities, perks, and space configurations, you and your team will get more done — and do it more effectively — while working alongside world-class talent.
Price: Starting at $350/person
We provide low cost coworking office space to select tech startups, a three month accelerator program for high quality startup companies, and seed stage investment through our private syndicate fund.
Address: 2 N 1st St 5th floor, San Jose, CA 95113
Perks: Expect more in this Silicon Valley coworking space focused on helping the best area startups with a variety of innovative amenities and services. With a private syndicate fund, you can obtain seed-stage investment opportunities, while an accelerator program fuels your growth. Launch or scale your business with the help of this space that's designed to help you do more.
Price: Starting at $200/person
Bordering San Jose, Cupertino and Sunnyvale, this is the perfect location to launch your game changer business.
Address: 3120 Scott Blvd, Santa Clara, CA 95054
Perks: What is the vision you have for your business? Bordering San Jose, Cupertino, and Sunnyvale, so you'll be centrally located to make your biggest professional dreams come true. Built to help you accomplish more, here you'll find a design that's made to inspire. Indoor and outdoor spaces allow you and your team to work together in a way that best suits your needs.
Price: Starting at $450/person
Enerspace is a professionally designed shared office space in Palo Alto, offering coworking and private offices.
Address: 2225 E Bayshore Rd #100 Palo Alto, CA 94303
Perks: Whether you and your team need private offices or a collaborative workspace, you'll find everything you're looking for here. With event spaces on-site, there's no limit to what you can do, from client pitches to appreciation events.  Located in Palo Alto, you'll love the setting, services and amenities, as well as proximity to the people and places that help fuel your growth.
Price: Starting at $250/person
OnePiece Work San Jose is our first location, and it centrally located a block from Santana Row.
Address: 3165 Olin Ave San Jose, CA 95117 United States
Perks: Be inspired, both by this Silicon Valley coworking space and by the creatives you'll share it with. Here you'll find a variety of elegant and warm spaces designed so that you and your team collaborate beautifully. Offering an easy commute as well as a variety of nearby hangouts, you and your team will love making this the backdrop for your next big idea.
Price: Starting at $250/person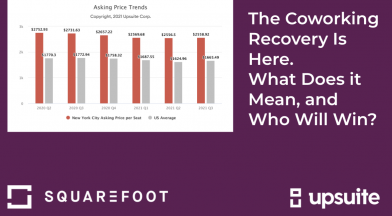 Coworking Trends: The Coworking Recovery Is Here.  What Does it Mean and Who Will Win?…