Corporate Coworking: Why Large Corporations Are Turning To Flexible Offices [May 2021]
Coworking isn't just for startups and remote workers anymore. Over the last few years, the industry has grown by leaps and bounds as organizations of all shapes and sizes have discovered the many benefits that coworking and flexible office space provide.
However, because many enterprises are either new to coworking or unfamiliar with the concept, we wanted to discuss why so many large companies are turning to flexible office space. In this brief guide, we'll discuss the most relevant topics for enterprises and coworking space, including:
The evolution of coworking in enterprises
Large corporations already using coworking space
The benefits of coworking for large companies
As you'll see, coworking office space and it's unique characteristics give enterprises customizable benefits and flexibility that traditional office space simply cannot provide.
The Evolution of Coworking in Enterprises
While the concept of coworking space traces its roots back to the 1990s, it's still a relatively new idea for larger enterprises. Microsoft was really the first massive, well-known organization to integrate flexible office space into its operations back in 2016, announcing that several of their teams would work from WeWork locations in various markets.
Several Fortune 500 companies have followed suit, including:
Facebook
Bank of America
Salesforce
HSBC
Ernst & Young
Jaguar Land Rover
Shell Global
IBM
UBS
Of course, given the rapid evolution of coworking space – both in general and for large enterprises – the list of large corporations using flex space in some capacity is growing quickly. In fact, just looking at WeWork alone, large corporations now make up over a quarter of the company's membership and revenue, with its corporate customer base growing by 370% year-over-year in 2018.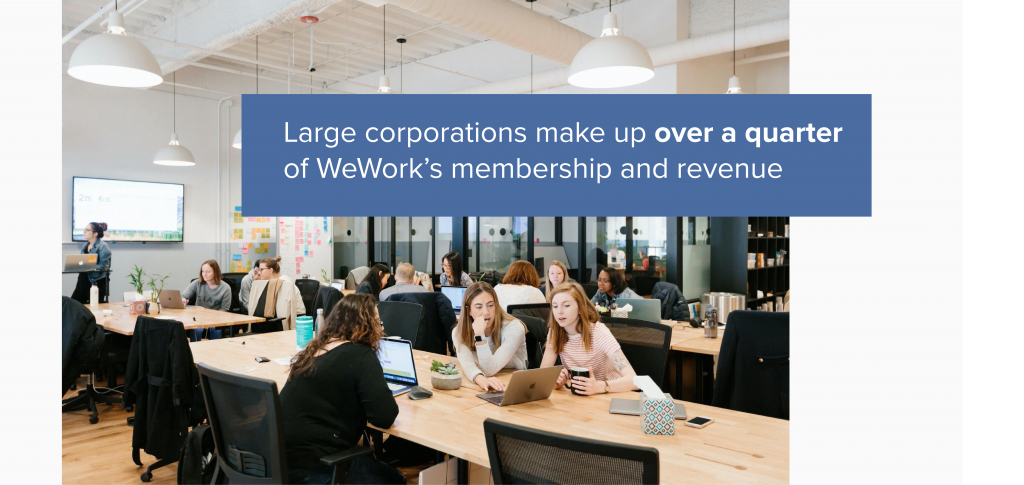 To accommodate this explosive growth, coworking space providers – WeWork, as well as others – are now creating standalone locations for some of their largest corporate clients. While the individual uses of these private flex spaces and custom buildouts differ from company to company depending on their needs, many enterprises choose coworking space to house specific branches of their company or even isolated R&D labs.
Why Do Large Companies Use Coworking Space?
But what exactly is driving such rapid growth, though? The answer, once again, varies according to the needs and goals of the enterprise. However, in general terms, five common drivers are propelling this enormous move towards flexible office space.
1. Business Dynamics
Many industries in today's marketplace – perhaps even most – change very quickly. Therefore, businesses have to follow suit to keep pace with a dynamic customer base and field of competition. If, for example, a company wants to launch a new initiative or product and add a sales team in a particular market, coworking space provides them the speed and agility they need to efficiently and effectively address that new market. A skunkworks project – perhaps a small R&D group researching an innovative technology – is another common use for coworking space, where a long-term agreement simply isn't necessary for success. Given the complexities of a traditional office space agreement that requires time, effort, and resources, a flexible space option is often a better choice when flexibility and time are at a premium.
2. Geography & Footprint

Many large corporations have massive footprints extending over several regions, countries, or even continents. If an enterprise has its headquarters in Asia but a growing customer base in North America, it can quickly open a new office using flex space to meet the demands of those new customers. With customer service being so vital in the modern marketplace, an enterprise can still quickly pivot to an ever-growing or changing customer base to meet expectations effectively, all while enjoying anywhere between 20% and 40% lower costs than traditional space.
3. Talent Acquisition & Retention
Finding talent willing to uproot their lives and move for a new job is becoming more of a rarity by the day. Large corporations use flexible office space when they want to find and maintain specialized talent, often for development, sales, creative, or any number of roles. Put another way, coworking provides enterprises with the flexibility needed to cater to the individual needs of critical talent rather than expecting people to disrupt their lives for a job.
4. Accounting & Valuation Benefits
Lease accounting has undergone significant changes in recent years. Large public corporations must now list leases of one year in duration or longer on their balance sheets as a liability. Large private companies must follow suit in 2020. In other words, they can still use flexible office space with short-term agreements – less than a year – without negatively impacting the balance sheet, and, thus, making their valuations potentially more appealing to investors.
5. CRE Market Timing
Large corporations tend to be particularly savvy at reading fluctuations in trends in the commercial real estate markets. If a local market is either nearing or at a peak, forward-looking enterprises will recognize that signing a traditional, longer-term agreement at the height of the market isn't their financial best interests. Instead, a flexible office lease allows them to either enter or remain in that market and wait for price points to move away from their peaks.
Flexible Office Space Benefits for Enterprises
Aside from those five common reasons why enterprises use flexible office space, other corporate coworking benefits are more intrinsic to the nature of coworking space.
Talent, Culture & Engagement
The modern workforce has different expectations than employees did just a decade or two ago. Likewise, large corporations now better understand the benefits of a more collaborative and innovative work environment, especially relative to the rows of identical cubicles and generic decor so prevalent in the past.
A more open and collaborative environment creates an atmosphere where employees learn critical skills faster, make more and deeper connections with coworkers and people within their network, and feel more engaged with their employer and team. As studies have shown, as employee engagement improves, so does corporate culture and all of the different dynamics that it drives within an enterprise.
In this sense, flexible office space can help a company improve its culture with a more innovative and unified spirit, driving everything from productivity levels to retention rates and talent acquisition. Today's workforce, particularly millennials and Gen Z, place a significant amount of importance on intangibles that go past salary and benefits. They want to work in an atmosphere and organization that mirrors their own ideals and outlook.
While coworking, at least in the traditional sense with small companies and freelancers in a shared space, isn't necessarily suited for the specific needs and culture of a larger enterprise, integrating some of those common coworking traits can provide both employees and companies with the best of all worlds. An enterprise can develop space within their office that is open and casual, creating that spirit of collaboration and innovation, even if they're not working in a "shared" space with other companies. Employees feel more engaged while employers realize the boost in productivity and retention.
Imagine being a young, talented candidate for a job with a large corporation, taking a tour of flexible office space that boasts the same energy and engagement as a smaller coworking space for freelancers and the like. Companies that create such an atmosphere have a distinct advantage over others still using the prototypical lines of cubicles and siloed teams. Needless to say, coworking can provide a tremendous boost to an enterprise's recruiting efforts by merely increasing its appeal to talent.
Amenities
Coworking space, whether for a small business with five employees or a large one with hundreds, offers many conveniences that traditional leases rarely – if ever – provide to an organization. Going far beyond just reliable Wi-Fi and physical space, flexible office providers also eliminate the need for companies to furnish their space, create break rooms, or provide kitchen facilities.
Moreover, many coworking providers outfit the space with cutting-edge technology for conferences and virtually any other facet of operations that a company might need to remain competitive.
Branding & Customization
One of the most attractive characteristics of a flexible workspace for large enterprises is the ability to customize the space to a company's unique culture and needs. More often than not, especially when willing to sign a longer-term agreement, coworking space providers will work with an organization to provide custom buildouts that adhere to an enterprise's particular demands and expectations for the space.
Therefore, without the complexities of something like an improvement allowance in a traditional lease, flex space providers will create unique spaces with branding elements and other nuances that the tenant either needs or prefers. This could include anything from physically moving or eliminating walls to providing frosted glass or increased network security for privacy issues. The resulting private flex spaces are cost-efficient for the tenant, provide space according to their specifications and branding needs, but still afford a far greater degree of flexibility when compared to restrictive, complicated long-term traditional leases.
Ultimately, coworking space is a tremendous asset to large corporations by giving them flexible office space options that allow an enterprise to pivot according to a highly dynamic marketplace. As it stands, one in every seven employees of companies with 100 people or more already uses coworking space during at least a portion of their workweek. Although the average use is less than a day per week for a typical employee, just that small amount of access to a coworking environment yields over 16% greater worker effectiveness and a 22% better workplace experience.
Suffice it to say, flexible office space is already an essential part of operations for many large enterprises. As more companies realize that coworking isn't just for freelancers, startups, and small businesses anymore, the percentage of corporations using flexible space will only continue to rise. We look forward to helping more large enterprises choose the ideal coworking space to meet their goals, finding the flexibility, appeal, and efficiencies needed to compete for customers and talent alike.