Why Enterprises are Finding Flexible Workspace to Replace their Traditional Office
In the wake of the global pandemic, many large companies are finding that they can adjust their real estate strategies to meet the current and future needs of their workforce, and the needs of their P&L. Why are some enterprises choosing to find workspace to replace their traditional office, rather than going fully remote? Simple — to office, or not is no longer a binary question. Finding space that is flexible can save cost, offer optionality, and provide reliable infrastructure and service in an incredibly uncertain time.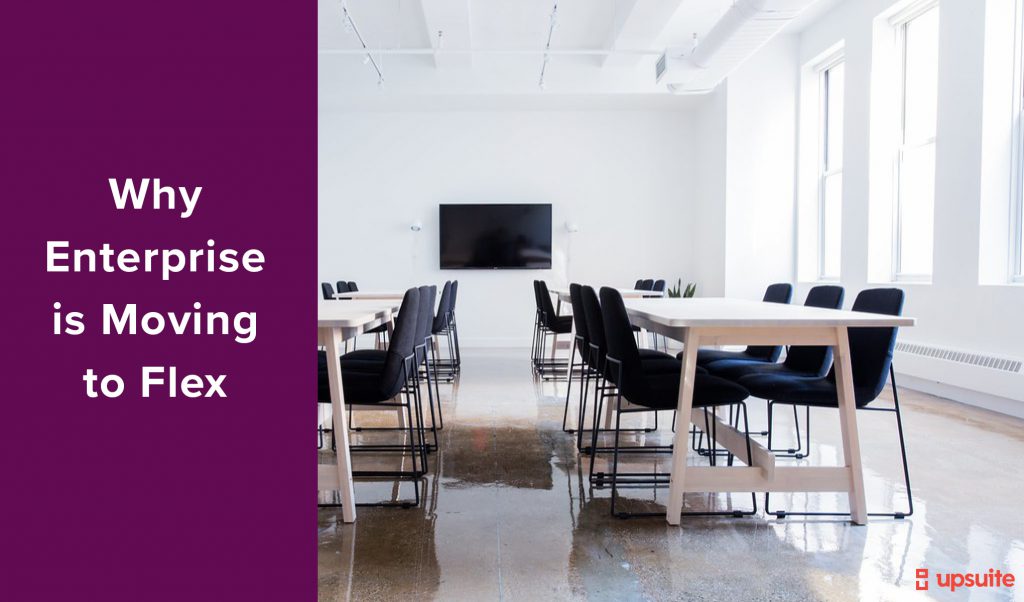 Right now, enterprises are spending millions of dollars maintaining traditional office space — and some are making changes. For the first time, companies are realizing that they may not need an office anymore. While one approach may be to cut spending and go virtual, there are other ways in which this investment could go further. With novel benefits like WFH packages, the price per square foot is no longer the most accurate measure of the total cost of the office. Companies are realizing that to find the right solution, it's worth comparing the entire lifecycle cost of a traditional office, work from home, and flexible workspace solutions, and aligning this with their organizational goals. Flying brand new office furniture to every employee's home may or may not be the most economical, or the most sensible solution for your business goals. But don't listen to us: look at the numbers, and consider the options.
Workspace is Moving into New Realms to Meet the Needs of Today's Workforce
The pandemic hit, and companies rapidly transitioned to remote work and online collaboration. Two quarters later, this pendulum is starting to swing back. As workplace needs shift outside of the "physical" office space, the idea of the office is reaching new dimensions. Workplace, as we're collectively learning, isn't limited to where we work, but also how it works for us and our particular organizational goals. As companies calibrate their workplace strategies to meet the rapidly evolving needs of their workforce, many are exploring hybrid models that are neither fully physical nor fully remote. Strategic planning with optionality is now more prevalent than ever before. Today's "office" offering operates on a spectrum.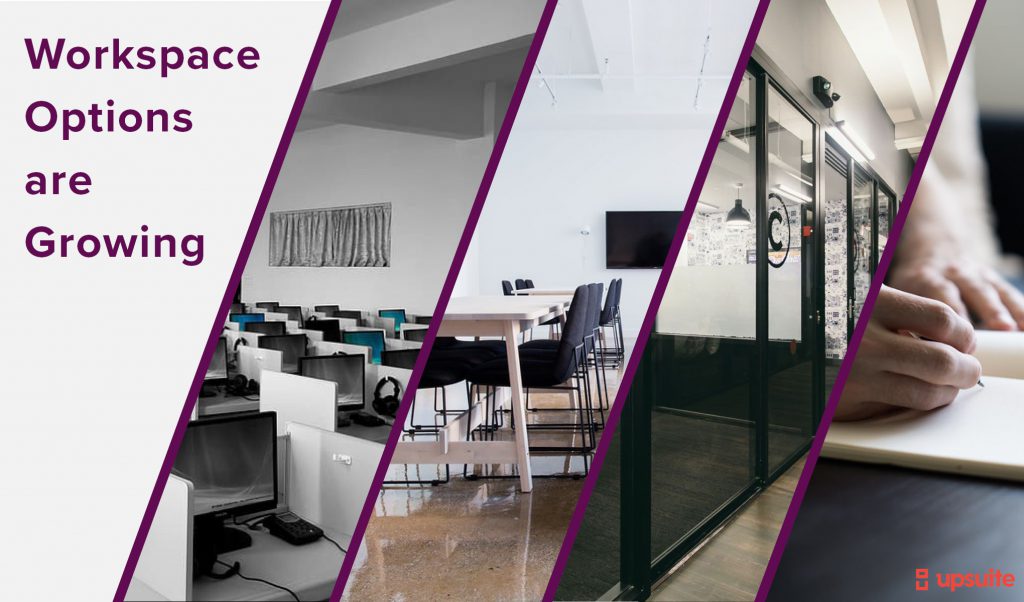 1. Traditional Office
Socially-distanced headquarters are commercial real estate's last bid to maintain a foothold on a traditional office market. In an effort to increase occupancy, traditional office spaces are being "repackaged" with plexiglass dividers, one-way circulation, new cleaning policies and temperature checks to draw employees back to the office. These thinly-veiled efforts during a global workplace reckoning may make sense for some, but many companies are questioning the viability of these long-term commitments. However, while enterprises are sitting on hundreds of thousands of square feet of empty space in the wake of remote work policy announcements, there are still some companies signing new spaces. Facebook's Farley Post Office redevelopment and Amazon's plan to move 2,000 employees into the old Lord and Taylor store recently made headlines in Manhattan.
2. Work from Home
Meanwhile, a number of tech giants have seemingly renounced physical office space almost entirely, with a newly-minted remote-first approach. Twitter, Microsoft, Square, Facebook, Google, Uber, American Express, Airbnb, (deep breath), and others have shifted to extended work-from-home policies. Dropbox is leading this charge with a recently announced permanent remote policy. It is worth a mention, however, that this will still be supported by "studios" in key cities for employees who need to collaborate (hear that "swish"? It's the pendulum swinging back).
3. Coworking
Serviced workspace in the cloud: it's 2020, and you can have it all. One tool that large companies are increasingly exploring is coworking. Previously a bastion of startups and creatives, this "Space-as-a-Service" workplace product is now solving a mainstream need: flexibility in the face of uncertainty. Big enterprise is no stranger to coworking, with WeWork's own "Powered-by-We" offering growing to 30% of its business in 2019. But the pandemic has resulted in the asks evolving, and today's coworking offering is tested by the pragmatic needs it meets for businesses and employees.
4. Flexible Office
Companies that need flexibility but cannot compromise on enterprise requirements will be very interested in Private Workspace, a physical hybrid that falls somewhere between traditional office and coworking. Private entrance, security, reliable technology, high-speed internet, utilities, community staff: it's all included?! Sounds pricey — and while it does come at a premium at face value, it may cost less in the long run. The flexibility and services included warrant a hard look at traditional office pricing. In fact, anyone who has operated an office space will agree that per square foot pricing is archaic. The true cost to find a workspace, building it out and operate it (or paying an operator instead) goes far beyond rent. Instead, it's worth investigating the ROI in terms of the Total Cost of Office, and aligning this with your organizational goals to capture full value.
Weighing Workplace Options
To find a workspace that suits the current needs of any company, it comes down to two very simple factors. First, find a workplace offering that aligns with your company goals. Second, verify that the total cost of the office fits with the intended budget and timeline. Right now, as many companies are examining the true value of physical workspace to their organization, optionality is increasingly important. Traditional office is already well understood (we've got about 200 years of data), but there are other options as needs change. Flexible office as a hybrid solution ticks a lot of boxes, especially mid-pandemic.
Executive Benefits
Facilities/Real Estate
Flexible Private Workspaces are easy to procure, and easy to move into, streamlining the sourcing and management of a company's real estate portfolio. Flexible terms reduce the negotiation process and enable companies to provide multiple locations for employees to congregate, a few days per week. Dedicated Private Workspace allows real-estate teams to right-size the portfolio to what is required now, while still meeting facilities requirements, including robust cleaning and maintenance policies.
Human Resources
In a flexible office, staffing is covered by the provider with all-inclusive services — no need to hire additional personnel to restock printers, welcome guests, clean or create programming.
Finance
In a traditional setting, lease negotiations and subsequent buildout result in months of spending and separate bills. In flexible, Private Workspace offerings, it's all on the same, predictable rent **ticket, and FF&E is included. Flexible workspace takes the guesswork out of financial planning.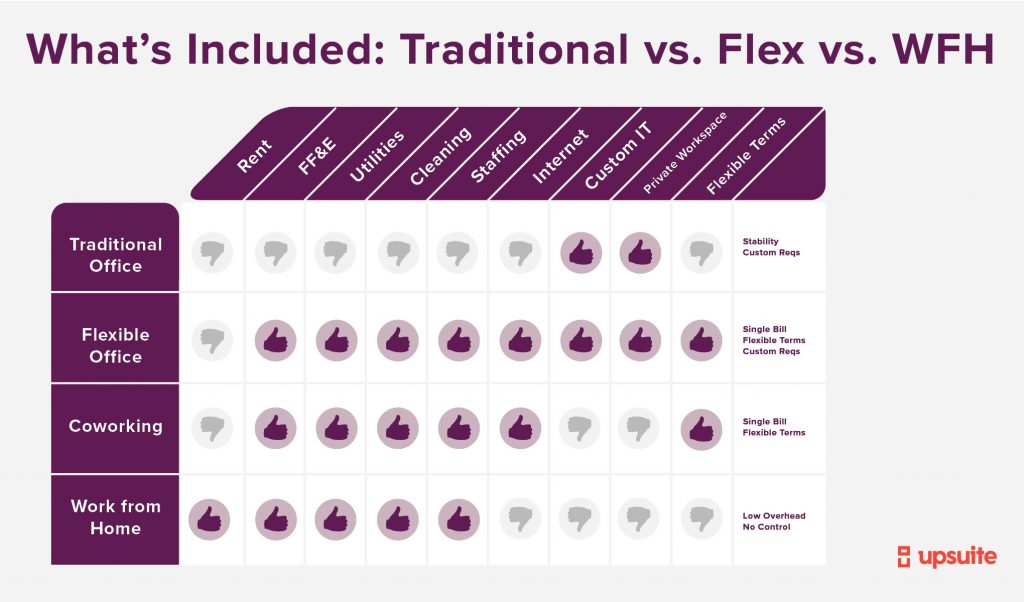 Other Benefits
Less Liability
Private workspaces can provide the highest quality cleaning services to keep employees safe. Many organizations are keeping their traditional office space closed as they grapple with liability concerns. Who will be responsible if an employee gets sick? With private workspace, the answer is, "not you". Space-as-a-Service providers can take this liability off your hands, as one less thing to worry about. Their robust cleaning policies are clearly posted for peace of mind for your employees and stringently followed to provide the highest standard of care to fight the virus.
Easier to Manage Tech Requirements
Private workspaces provide robust server rooms, Internet connectivity, and more custom IT at a lower cost. In many coworking spaces, IT requirements can be a fast disqualifier for larger organizations. Private workspace offerings account for this and offer opportunities to customize everything from security to server rooms. In addition, while coworking has often been criticized for a lack of both visual and physical privacy, private workspace allows for access control and physical separation. Essentially, it allows companies to find a workspace that meets their office standards, with far fewer headaches.
It's Time to Think about Total Cost of Office
It's time to throw out price-per-square foot and get friendly with equations (don't worry — there's a calculator). When comparing traditional workspace to flexible options and WFH, there's a lot more to consider than rental rates. Upsuite's calculator breaks out rent, buildout, and recurring costs. Spoiler alert: on a 36-month deal for 60 employees, a flexible office actually saves money.
Private workspaces are saving companies half or more compared to traditional long term leases. This comes down to an equation that considers not only rent but the total cost of fitting out and operating a space. With flexible workplace policies, such as remote-first, or part-time work-from-home, flexible office allows companies to find a workspace that eliminates underutilized space and redistributes physical infrastructure quickly to meet the needs of a more distributed workforce.
Companies need less space/ they can use only what they need
Companies don't have to buy furniture
Companies don't have to build out space
Companies don't need it full time
Companies can share large amenities such as kitchens, conference rooms, and more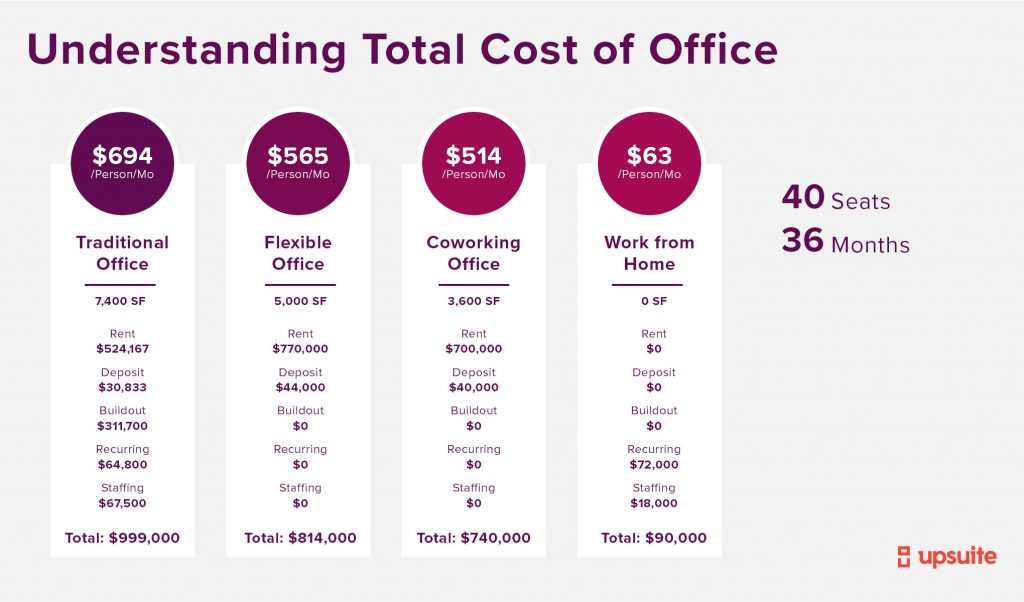 Over the full lifespan of a 36-month lease, after factoring in rent, buildout and recurring, the total cost of office per person per month is $694 for traditional, $565 for flexible, $514 for coworking, and $63 for WFH. While remote work is obviously the cheapest, it's not always the best deal. Flexible workplace options can strike a healthy balance between access to collaborative space, low capital outlay, and robust technology.
Rent
For 60 employees, let's assume a company requires 40 seats.
In a traditional office space, this would amount to around $185 sf/person, or 7,400 square feet. At an average $25/SF/YR, that's $185,000 annual rent.
At a monthly cost of $500/seat, coworking adds up to $240,000 annual rent.
At a monthly cost of $550/seat, flexible office comes out to $264,000 annual rent.
WFH does not incur commercial rent.
Buildout
In a traditional office deal, the onus of buildout falls on the tenant. While landlords usually agree to pay TI, this can still result in hundreds of thousands of dollars up front. In the above example, at an average $80/sf buildout budget, a traditional office tenant would shell out $296,000 after an even split with the Landlord before employees ever set foot in the office. For WFH, coworking and flexible office, this cost does not exist. It's $0.
Recurring Costs
It costs money to operate an office space. In a traditional office, internet, utilities, cleaning fees, kitchen supplies, coffee, and printing add up. These costs can add another $21,600 annually. For WFH, it comes down to $24,000 annually in internet costs for a single employee. In a serviced offering like coworking or flexible office, these features are all included. That's $0. Again.
Staffing
Another convenience, and money-saver, of serviced workspace offerings like coworking or flexible office, is that office management is included. While there are additional staffing needs to consider in a traditional office setting, and even to manage a remote workforce, flexible workspace is fully staffed with community and facilities at no additional fee.
For companies deciding to find workspace in 2020, the options are greater than ever before. As enterprise fundamentally questions the need for physical office space, the future of workplace centers on alignment: how does the physical workplace advance the company goals? The answer is evolving, and it's far more nuanced than price per square foot.
We hope that this post is helpful as you decide what to do next.  If you have questions or want to talk, please schedule a call with us to discuss your options.  We are here to help.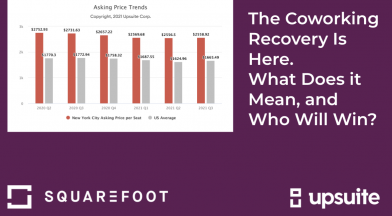 Coworking Trends: The Coworking Recovery Is Here.  What Does it Mean and Who Will Win?…